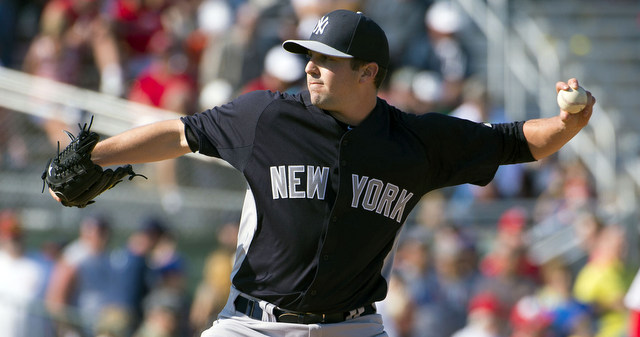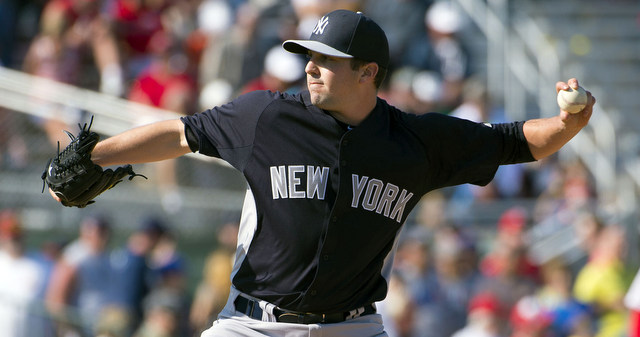 The Yankees have outrighted right-hander Joel De La Cruz off the 40-man roster, the team announced. He is with Triple-A Scranton. Also, the Marlins have claimed southpaw Matt Tracy, who was called up for a day and designated for assignment as part of that long man revolving door last week. Miami says they've optioned Tracy to Triple-A. There are now 39 players on the 40-man roster.
De La Cruz, 25, was with the Yankees for a few days last week but did not appear in a game. I don't even think he warmed up. He had a 4.44 ERA (4.09 FIP) in 121.2 innings split between Double-A Trenton and Triple-A Scranton last season. De La Cruz was the guy the Yankees tried to trade to the Cubs for Alfonso Soriano rather than Corey Black two years ago.
The 26-year-old Tracy allowed three unearned runs in two innings in his only game with New York last week. He had a 3.75 ERA (438 FIP) in 151 innings between Double-A and Triple-A last summer. Tracy was an interesting sleeper prospect a few years back but never did that next step in his development. I assume De La Cruz will step into the Triple-A rotation spot Tracy was expected to hold down this year.