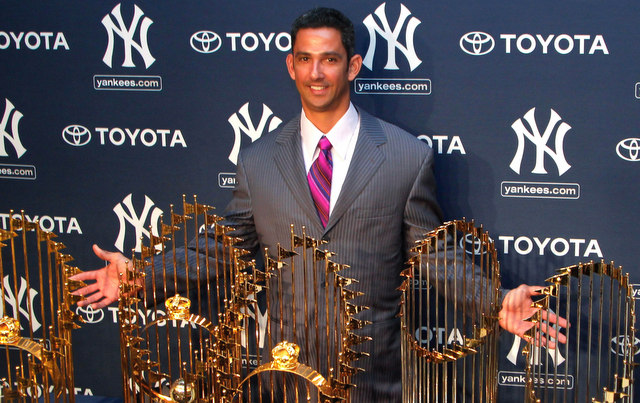 Like many all-time greats before and after him, the end of Jorge Posada's playing career was not pretty. Posada hit .235/.315/.398 (92 wRC+) in 387 plate appearances as a 39-year-old in 2011, down from the .248/.357/.454 (119 wRC+) batting line he put up in 2011. By catcher standards, Jorge remained remarkably productive in his mid-to-late-30s. That's why he's a borderline Hall of Famer.
Posada's time as a full-time catcher started to come to an end back in 2008. He caught only 30 games that year due to shoulder surgery, caught 100 games in 2009, then only 83 games in 2010. The Yankees signed Russell Martin and moved Posada to DH full-time for the 2011 season. Jorge once said he thought the team's decision to move him from second base to catcher in the minors was the "worst decision ever," and now two decades later he was being moved out from behind the plate.
In his upcoming book "The Journey Home: My Life in Pinstripes," Posada opens up about just how bitter he was following the club's decision to move him to DH, and about the way the end of his career played out in general. Sherryl Connelly has some snippets.
"I'll put this as plainly as a I can," writes the man who caught 1,574 games for the Bronx Bombers, "When you take me out from behind the plate, you're taking away my heart and my passion."

…

"I knew that my role with the club was changing, but I don't think that anyone making those decisions knew how much the things being done hurt me," he confesses.

…

"To have even that taken away from me without adequate explanation, hurt me and confused me," he writes.
From the sound of it, the Yankees simply decided to move Posada out from behind the plate without consulting him. That seems a little harsh even though we all know Jorge would have fought the move. The only way the Yankees were going to get him to stop catching was by taking the equipment away from him.
It's important to remember the Yankees didn't just move Posada to DH for the hell of it. Yes, his defense was terrible, but they were also looking out for his health. Posada had concussion issues later in his career, including one in September 2010 that Jorge himself said was "scary, I have to admit." He described the test results as "not good."
Still, Posada was hurt by the decision to move him off catcher, and once his offensive production became untenable in 2011, he was upset about being moved down in the lineup. Joe Girardi penciled Posada into the ninth spot in the lineup for a nationally televised game against the Red Sox in August, which upset Jorge, who refused to play.
"I felt like I wasn't being treated right, that people weren't always being as straightforward with me as I wanted them to be or treating me as I deserved to be treated, and I exploded.

"I'd just put up with enough."

Posada claims he was truly regretful and expressed that to management but "those sentiments were never returned."
I think Girardi's a really good manager, but I also think he handled that situation poorly. It's easy to understand why Posada was upset when he found out he would bat ninth for the first time in years on a nationally televised game against the Red Sox. I don't think Girardi did it to intentionally embarrass Posada, but it was still a bad move. Does that mean refusing to play was the right move? No. Neither side handled it well.
Posada also discusses his relationship with Girardi in the book and how Girardi was different than Joe Torre, who Jorge considered his "father on the field." Apparently a turning point was Girardi's decision to communicate daily lineup decisions via text — he'd simply text "catcher" or "DH" to let Posada know where he was playing on a given day. Girardi still does that to this day because, well, it's 2015 and people communicate via text. Still, Posada felt it hurt their relationship.
While Jorge was upset with the way the end of his career played out, it hasn't fractured any sort of relationship with the organization. Posada has yet to appear at an Old Timers' Day but has been back at Yankee Stadium several times in recent years, most notably throwing out the ceremonial first pitch at the 2012 home opener and being on hand for farewell ceremonies for Derek Jeter, Andy Pettitte, and Mariano Rivera. Heck, he was in the YES booth this past weekend. He's also been to Spring Training as a guest instructor.
The Yankees will retire No. 20 in Posada's honor later this year and I think it is absolutely, 100% deserved. He's one of the best players in franchise history and was a linchpin during the club's four most recent World Series titles. I'm disappointed to hear Posada was so upset with the Yankees towards the end of his career — the Yankees brought some of that on themselves, for sure — but I'm happy this is all in the past and two sides have what appears to be a good relationship these days.