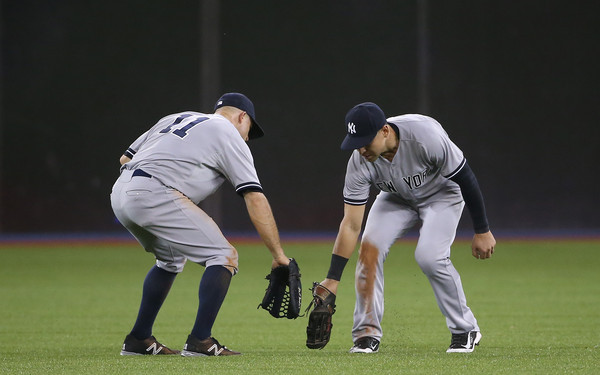 When the Yankees missed the postseason in both 2013 and 2014, the offense was the main culprit. Sure, there were other factors like injuries, bad team defense, and just an okay pitching staff, but the Yankees really struggled to score runs and it was the reason they lost more often than not. They hit .244/.307/.378 (88 wRC+) in over 12,000 plate appearances as a team from 2013-14. I mean, come on.
Thankfully the story has been much different so far this year. The Yankees are averaging 4.85 runs per game, up considerably from 3.91 runs per game last year and well-above the 4.19 league average. They're hitting .244/.321/.418 (104 wRC+) as a team overall, which is oh so much better than what we sat through the last two seasons. Much of the improved offense is thanks to power — the Yankees have a team .174 ISO this after .134 from 2013-14.
The Yankees are also benefiting from the best one-two lineup punch in baseball. Jacoby Ellsbury and Brett Gardner are both off to tremendous starts, especially hitting for average, getting on-base, and running the bases. The power isn't really there, but that's not their game. Look at these numbers:
| | AVG/OBP/SLG | wRC+ | SB/CS | K% | BB% |
| --- | --- | --- | --- | --- | --- |
| Ellsbury | .358/.433/.415 | 143 | 11/4 | 12.5% | 9.2% |
| Average Leadoff Hitter | .262/.320/.389 | 99 | 4.4/1.8 | 17.7% | 7.1% |
| Gardner | .309/.404/.444 | 141 | 8/1 | 12.4% | 11.3% |
| Average No. 2 Hitter | .261/.321/.405 | 105 | 1.1/0.6 | 18.3% | 7.7% |
The only other team in baseball getting something even remotely close to Ellsbury/Gardner production from the one-two spots this year are the Angels thanks to my boy Kole Calhoun (139 wRC+) and the amazing Mike Trout (167 wRC+). Calhoun recently spent a few days hitting lower in the order as Mike Scioscia tried to generate more offense too, so he hasn't even been a full-time leadoff guy.
Of course, traditional lineup construction plays a big role in only one other team having two hitters his productive atop the lineup. Just about every team has two above-average hitters these days, yet managers continue to adhere to the whole "the best hitter bats third" theory. Teams are slowly starting to come around on batting their best hitters second — Josh Donaldson and Jose Bautista have taken turns batting second for the Blue Jays, Joey Votto has batted second for the Reds, etc. — though it's hardly common practice.
Joe Girardi deserves credit for batting his two best hitters in the top two lineup spots. It certainly helps that they are leadoff types who should hit near the top of the order, but Girardi could easily split them up saying he doesn't like back-to-back lefties atop the lineup and no one would really question it. It's sorta silly, yeah. It's one of those things managers do though. Aside from occasionally sitting Gardner for Chris Young, Girardi has stuck with Ellsbury and Gardner atop the lineup.
"We definitely push each other," said Brett Gardner to Chad Jennings earlier this week. "It's a lot of fun hitting next to (Ellsbury) in the lineup. Feels like every time I come up, he's on base. I feel like he makes me better, and hopefully he feels the same about me. Like I said, we push each other. We take a lot of pride in getting on base, and that's our job at the top of the lineup. We feel like we're two leadoff hitters, and we can get on base for those guys in the middle of the lineup and give them RBI opportunities."
As a result of these two atop the lineup, the Yankees' number three lineup spot has batted with at least one man on-base in 66 of 124 plate appearances this year, or 53.2%. Last year it was 44.8% and the league average is 45.0%. (The rate for the cleanup spot is nearly identical to last year and the league average, in case you're wondering.) We're talking about an improvement of nearly ten percentage points from one year to the next. Ellsbury and Gardner are table-setters and man, they couldn't possibly be doing a better job right now.
Lineup protection is not a myth. It just exists in a different way than everyone's been saying for the last century. The best protection is not having a great hitter behind you — that helps! but lots and lots of research has shown it doesn't help that much — it's having runners on base when you're at the plate. MLB hitters have put up a .239/.299/.377 (90 wRC+) batting line with the bases empty this season and .262/.332/.407 (104 wRC+) with men on base this year. It's not a sample size issue either. The league wide split was 93/101 last year and has been similar for years and years and years.
Batting with Ellsbury and/or Gardner on base is the best protection a Yankee can have this year and it's not just because of those bases empty/men on base batting splits either. Those two guys are not typical base-runners. They draw attention when they're on base because they're threats to steal. Remember when Clay Buchholz threw over to first base even though Ellsbury was literally standing on the bag (twice!) a few weeks ago? That's what they do to pitchers. They're unnerving. I'm not sure it's possible to quantify that but we see it game after game.
Last season the Yankees were hamstrung atop the lineup by Derek Jeter, a legacy Yankee the team was unwilling to drop in the order. Jeter's an all-time great, we all know that, but the 2014 version of Derek hit .256/.304/.313 (73 wRC+) and snuffed out rallies on a nightly basis. That's not happening this year. Girardi is able to use his two best hitters atop the lineup and the offense has benefited in a big way. The Ellsbury/Gardner duo is a legitimate game-changer and they're a huge reason the offense has improved so much 27 games into 2015.
"They get our offense going," Girardi said to Jennings. "That's their job, and they've been really good at it. You look at the stretch we've been in, they've played extremely well. They had a tremendous weekend; a big part of our success in Boston, and we need it to continue. You can't expect Jake to get on six times every night. It would be nice, but both of these guys have an ability to change the game in a lot of ways, and that's what they've been doing."