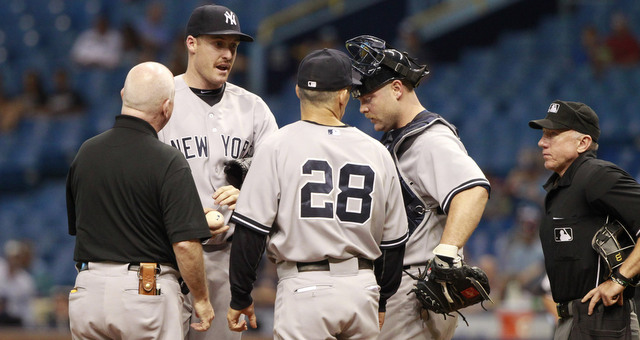 Monday, 4:36pm: Whitley will indeed undergo Tommy John surgery, the Yankees announced. Team doctor Chris Ahmad will perform the procedure tomorrow. Not unexpected, but damn. Sucks. See you next year, Ace Whitley.
Friday, 6:05pm: Whitley does have a torn UCL, Girardi told reporters this afternoon. No decision has been on surgery yet. He'll see another doctor in New York first. Capuano will start Sunday and push everyone else back a day.
5:51pm: As expected, the Yankees placed right-hander Chase Whitley on the 15-day DL this afternoon. He has a right elbow sprain, the team announced, which means his ulnar collateral ligament has been compromised somehow. Whitley went for tests today and Jon Heyman hears the initial diagnosis is indeed a UCL tear, so Tommy John surgery is a real possibility. The Yankees haven't said anything about the exact nature of the injury yet.
Whitely, 25, left last night's start in the second inning with an elbow injury. He told reporters after the game that his elbow had been bugging him for a while now, but he didn't tell anyone and tried to pitch through it. "Tonight (the discomfort) just carried over to the game. I've been able to get through it in the game, and tonight obviously you could pretty much tell," said Whitley to Chad Jennings.
If Whitley does indeed need Tommy John surgery, he would be the second Yankees starter to blow out his elbow on the Tropicana Field mound within the last 13 months. Ivan Nova tore his UCL in a start at the Trop last April and had Tommy John surgery soon thereafter So I guess we can blame the Rays, right? Heyman says Whitley will likely seek a second opinion before having surgery. I'd ask for a second opinion before having my moneymaker cut open too.
In four starts this year Whitley had a 4.19 ERA (4.59 FIP) in 19.1 innings. One start was good, one start was great, one start was bad, and one start was cut short by the injury. Whitley nearly made the team out of Spring Training, but the Yankees opted to send him to Triple-A so they could use him as an occasional spot starter to rest everyone else in the rotation. Masahiro Tanaka's wrist/forearm injury pushed Whitley into the rotation full-time.
Joe Girardi confirmed Chris Capuano will replace Whitley in the rotation following last night's game. Capuano threw six innings in his latest minor league rehab start earlier this week as he works his way back from a quad injury, so the timing worked out well. It's unfortunate he's coming back under these circumstances though. Girardi isn't sure when Capuano will make his first start just yet. The Yankees have two off-days next week and don't need their fifth starter again until May 26th.
For the time being, righty reliever Jose Ramirez has been called up from Triple-A to give the bullpen an extra arm. Presumably he or someone else (Branden Pinder?) will be sent down once Capuano is ready to be activated. There's no need to activate Capuano just yet, so the Yankees get to carry an extra reliever for a few days. Ramirez, 25, has a 2.95 ERA (2.71 FIP) in 18.1 innings for the RailRiders this year.