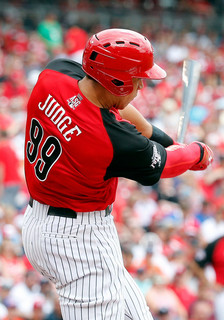 Thanks to the 2015 amateur draft and one minor trade, the Yankees added a swarm of new prospects to the farm system over the last several weeks, since I posted my Pre-Draft Top 30 Prospects List. Now that the draft signing deadline has come and gone, it's time for a system update, because who doesn't love prospect lists?
I considered waiting another week or so before posting this because of the upcoming trade deadline, but I figured it was worth posting now, as a snapshot in time before prospects are potentially traded away. I do expect the Yankees to make a deal or three at the deadline. They're too good and too flawed not to, right? Chances are someone on this list won't be in the organization this time next week.
Anyway, the only player to graduate to the big leagues since I posted by Pre-Draft Top 30 is Chasen Shreve. He's two outs over the 50-inning rookie limit. As I did with the Pre-Draft Top 30, rather than post a simple 1-30 list, I'm going to break the prospects into groups because that's more interesting. And remember, this is my personal list. You're welcome to disagree. The cool thing is we can all be right — there's no correct way to rank prospects. We all have opinions and they all stink. Away we go.
The Top Two
1. OF Aaron Judge (Pre-Draft Rank: 1)
2. RHP Luis Severino (Pre-Draft Rank: 2)
Same top two as before the draft and before the season. No reason to change things up. Judge hasn't played in a week due to a supposedly minor day-to-day injury — he's not on the DL and no, I don't think he's not playing because of some of kind of trade, that makes absolutely zero sense and the Yankees have never done anything like that before — but that's not going to change my rankings. Both Judge and Severino are among the 50 best prospects in baseball, arguably among the top 30, and clearly the two best in New York's system.
The Next Four
3. C Gary Sanchez (Pre-Draft Rank: 3)
4. RHP James Kaprielian (Pre-Draft Rank: N/A)
5. SS Jorge Mateo (Pre-Draft Rank: 7)
6. 1B Greg Bird (Pre-Draft Rank: 5)
Yeah, so things aren't too clear after the top two. Slotting Kaprielian in was more difficult than I thought it would be — I think there are valid reasons to rank him as high as third and as low as sixth in the system. Can't see him any lower than that. I think the perception he is low-upside is very unfair — I'm not saying he's an ace, but he's not exactly David Phelps either — in fact I think he's the kind of pitching prospect who could exceed expectations as a four-pitch guy with command, especially if his late-spring velocity spike was legit. I like Kaprielian's combination of medium-ish upside and high probability more than Mateo (high upside, low probability) and Bird (medium upside, medium probability).
The Injured Four
7. LHP Ian Clarkin (Pre-Draft Rank: 4)
8. 3B Eric Jagielo (Pre-Draft Rank: 6)
9. C Luis Torrens (Pre-Draft Rank: 8)
10. LHP Jacob Lindgren (Pre-Draft Rank: 12)
Gosh I wish I knew what was up with Clarkin. The latest reports say he hasn't had elbow surgery but that isn't exactly encouraging when he's still yet to begin pitching in games. I can't help but think back to Manny Banuelos in 2012, when he missed the season with a bone bruise in his elbow, then blew out his elbow during his rehab and needed Tommy John surgery in October. Yuck. Jagielo (knee), Torrens (shoulder), and Lindgren (elbow) are all out long-term with injuries too. Jagielo and Lindgren might come back late in the season but Torrens is done for the year. I love Torrens as a prospect and think the other three guys are safe bets to big leaguers of various calibers, assuming they get healthy.
Around The Horn, Sorta
11. SS Tyler Wade (Pre-Draft Rank: 10)
12. 2B Rob Refsnyder (Pre-Draft Rank: 11)
13. 3B Miguel Andujar (Pre-Draft Rank: 9)
Three very different infield prospects. Wade's a no-doubt shortstop with zero power but good bat-to-ball skills and speed. Refsnyder is a bat first guy with questionable defense who is as big league ready as he's going to get. Andujar is the most well-rounded player and has the highest upside of the three, but his overall performance hasn't been great in the minors, and at some point it would be cool if the numbers start to come consistently.
The Four Righties of the Prospectocalypse
14. RHP Bryan Mitchell (Pre-Draft Rank: 13)
15. RHP Rookie Davis (Pre-Draft Rank: N/A because I'm an idiot)
16. RHP Drew Finley (Pre-Draft Rank: N/A)
17. RHP Brady Lail (Pre-Draft Rank: 20)
Kinda cool (and convenient) the four right-handers landed back-to-back-to-back-to-back like this. Mitchell spit hot fire out of the big league bullpen for a few weeks and is ready to help in that role, though the Yankees want him stretched out, which is understandable. Davis has made tremendous strides since being the team's 14th round pick back in 2011, especially with his command. He's a classic bulldog pitcher. Finley is sort of like the 2011 version of Davis but more projectable and with better draft day command. Lail is a high probability starter with four pitches and know-how. The Yankees did a tremendous job turning him into a legitimate prospect after taking him in the 18th round of the 2012 draft out of a high school in friggin' Utah.
Low Ceiling, High Ceiling, And Everything Between
18. OF Ramon Flores (Pre-Draft Rank: 14)
19. OF Jake Cave (Pre-Draft Rank: 16)
20. SS Abi Avelino (Pre-Draft Rank: 21)
21. SS Thairo Estrada (Pre-Draft Rank: 29)
22. OF Leonardo Molina (Pre-Draft Rank: 26)
23. SS Kyle Holder (Pre-Draft Rank: N/A)
A collection of position players with different skill sets. Flores is an MLB ready lefty swinging outfielder who could end up carving out a ten-year career as a platoon bat. Cave is basically that as well, but a little further away and center field capable. Avelino, Estrada, and Holder are all lower level shortstops. Avelino (speed guy) and Estrada (contact guy) are both better hitters than Holder, who's a better defender than those two as well as every other shortstop in the system. None of the three are gonna hit for power. Or at least aren't expected to long-term. Molina is the most long-term project in the system — he has incredible natural tools and instincts, but is (still!) only 17 and not yet close to fully mature physically. The ultimate boom or bust prospect.
Reclamation Prospects
24. OF Tyler Austin (Pre-Draft Rank: 18)
25. RHP Domingo German (Pre-Draft Rank: 17)
26. RHP Austin DeCarr (Pre-Draft Rank: 19)
27. OF Mason Williams (Pre-Draft Rank: 22)
28. OF Slade Heathcott (Pre-Draft Rank: 23)
29. RHP Ty Hensley (Pre-Draft Rank: 28)
30. RHP Jose Ramirez (Pre-Draft Rank: 24)
All seven of these guys are trying to come back from something and rebuild their prospect stock. Austin has been hurt both this year and the last several years, and he's not hitting in Triple-A at the moment. German, DeCarr, and Hensley are all working their way back from Tommy John surgery. Williams (shoulder) and Heathcott (quad) are currently on the MLB DL — they've both exhausted their rookie eligibility due to service time, but I don't worry about that, it's too much of a hassle — after, uh, turbulent careers to date. Turbulent's a good word. Ramirez's stuff is electric but the results don't match, and his injury history is scary.
The Next Five
RHP Domingo Acevedo (Pre-Draft Rank: N/A)
SS Angel Aguilar (Pre-Draft Rank: 25)
LHP Jordan Montgomery (Pre-Draft Rank: 27)
RHP Branden Pinder (Pre-Draft Rank: N/A)
2B Tony Renda (Pre-Draft Rank: N/A)
No specific order here, the players are listed alphabetically. Acevedo has touched triple digits with his fastball and his frame is ridiculous (listed at 6-foot-7 and 190 lbs!), but his command is spotty and his breaking ball isn't defined. The upside is incredible. The chances of him reaching his ceiling are also microscopic. Montgomery, Pinder, and Renda are all boring-ish lower upside guys who are safe bets to contribute at the MLB level in some capacity, even if they're only extra players. Pinder's done that already. Aguilar has as much offensive upside as any of the team's shortstop prospects aside from Mateo, but, you know, they can't all be in the top 30.