The trade deadline is a week away now and I've got a dozen questions in this edition of the mailbag. Remember to use the "For The Mailbag" form in the sidebar to send us questions throughout the week.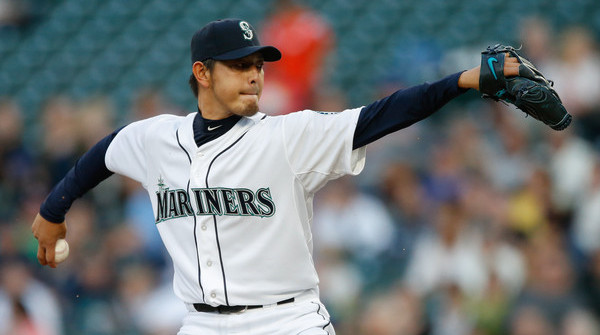 Mike O. asks: Any interest in Hisashi Iwakuma of the Mariners? Pending free agent, looked good his last two starts after coming off the DL, could be a good buy low candidate.
Make it three good starts since coming off the DL — he allowed two runs in seven innings against the Tigers yesterday. Iwakuma missed a bunch of time with a lat strain this year and has 4.50 ERA (5.14 FIP) in 42 innings overall, with all of the major damage coming back in April before the injury. The 34-year-old had a 3.52 ERA (3.25 FIP) in 179 innings last year and a 2.66 ERA (3.44 FIP) in 219.2 innings the year before, when he finished third in the Cy Young voting.
Iwakuma doesn't strike out a ton of batters (career 20.8%) but he never issues walks (5.0%) and does keep the ball on the ground (50.0%), which is a good combination. He's a sinker/splitter/slider guy like many Japanese hurlers. He is, dare I say, Hiroki Kuroda-like. Iwakuma and Masahiro Tanaka were teammates with the Rakuten Golden Eagles from 2007-11, so the Yankees have access to firsthand knowledge of him as a teammate and person. I'm not sure I'd say you'd be buying low on Iwakuma, he's awfully good and I don't think the lat strain is going to scare too many teams away, but he would be a fine rotation addition.
Sean asks: If you had to give up either Aaron Judge or Luis Severino, who would it be?
Severino for sure. First and foremost, pitchers have a much higher attrition rate due to injury. Scott McKinney's research has shown top 20 pitching prospects bust much more often than top 20 position player prospects — position players busted 40.8% of the time, pitchers 62.7% (!) — and that right there is reason enough to deal Severino before Judge in my opinion. Also, if you look at the Yankees specifically, I think their need for a potential impact bat in the next year or two is greater than their need for a potential impact pitcher. Trade Severino before Judge all the way. But keep both, preferably.
Carl asks: What are the odds that a setup man wins the Mariano Rivera Award this season? Dellin Betances and Wade Davis both make strong cases.
I highly doubt it only because the nine-man voting panel — Rivera, Dennis Eckersley, Rollie Fingers, Goose Gossage, Bruce Sutter, Lee Smith, John Franco, Billy Wagner, Trevor Hoffman — is a bunch of ex-closers. Of course they're going to vote for closers. Greg Holland won the Mariano Rivera Award last year despite not even being the best reliever on his own team. I'm surprised they didn't just give it to Fernando Rodney because he led the league in saves. This isn't a sophisticated award. It's going to be the best closer in the league each year. Simple as that. Setup men don't stand a chance.
J.R. asks: In the Orioles series preview you mention, "This club hasn't had a top pitching prospect max out since Mike Mussina." Who was the last Yankees pitching prospect that maxed out?
Andy Pettitte. Chien-Ming Wang was never a top prospect. I mean a top top prospect. A top 100 guy. The Yankees have been really bad at getting their top pitching prospects (top prospects in general, really) to max out and reach their ceiling. It has undeniably been a problem. The Yankees never had top picks though. The O's used top ten draft picks on Kevin Gausman, Dylan Bundy, Matt Hobgood, Brian Matusz, Wade Townsend, Adam Loewen, and Chris Smith since 2000. Hobgood, Townsend, and Smith never reached MLB, Loewen threw 164 big league innings (85 ERA+) before becoming an outfielder, Bundy's been hurt most of the last two years, and Gausman's been jerked around. Matusz, a lefty specialist, the best of the bunch by default at this point. Egads.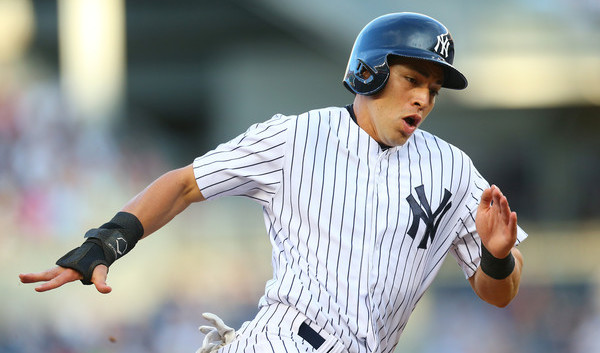 Kevin asks: Is it just me, or have the Yankees been struggling to go from first to third on a single and scoring from first on a double? It seems this is especially true with noted speedsters Alex Rodriguez and Mark Teixeira. How much is this hurting the Yankees offense?
Yes, that is definitely true. Brett Gardner and Jacoby Ellsbury are the only guys on the team who can really run — Didi Gregorius and Stephen Drew are next best runners on the team and they're average-ish — so the Yankees don't rate too well on the bases. The FanGraphs all-encompassing base-running stat says the Yankees have added 1.5 runs on the bases this year, which is middle of pack. That includes stolen bases, first-to-thirds, advancing on wild pitches, everything.
As a team, the Yankees take the extra base 37% of the time. They got first-to-third on a single 28% of the time, second-to-home on a single 52% of the time, and first-to-home on a double 39% of the time. The MLB averages are 39% (taking the extra base in general), 28% (first-to-third on a single), 57% (second-to-home on a single), and 42% (first-to-home on a double). First-to-third hasn't been a problem, it's the scoring plays. Perhaps that's a third base coach Joe Espada thing? Maybe he's really conservative. I wouldn't blame him, necessarily. This offense is pretty good and can score in a hurry. No need to be super aggressive. The Yankees have been a tick below average at taking the extra base but not terrible — last year they took the extra base only 33% of the time.
Matt asks: The Yanks seem to score a lot of 1st inning runs. Any way to see how they compare to all other MLB clubs?
Oh yes, the Yankees are the undisputed kings of first inning runs this season. They've scored 86 first innings in 2015. 82! The Rockies rank second with 65. The gap between the Yanks and Rockies is the same as the gap between the Rockies and the 15th ranked team (Braves and Diamondbacks). They can thank Ellsbury, Gardner, A-Rod, and Teixeira for that. The top four of the lineup has been crazy productive. The White Sox, by the way, rank dead last in MLB with 27 first inning runs. The record for first inning runs is 147 by the 2000 Cardinals. The Yankees are on pace for 148. It'll be close!
John D. asks: What about Juan Uribe? As a former SS, could he fake it at 2B for 2+ months?
I love Uribe, he's one of my favorite players in baseball and I'd love to see him in pinstripes, but he's played six innings at second base since 2012. He hasn't played the position with any sort of regularity since 2011. Uribe is hitting .272/.331/.409 (107 wRC+) this year and he's an excellent defender at third base despite his portliness, plus he's been a big part of two World Series teams (2005 White Sox and 2010 Giants), so that experience would be welcome. If there was a way to add Uribe to the bench — he's hitting .288/.362/.596 (164 wRC+) against lefties and would make a fine platoon partner for Chase Headley — I'd be all for it. Starting second baseman probably isn't happening at age 36 though, even for a relatively short period of time.
Dan asks: Do you think the Mets are only one or two deadline deals away from being able to legitimately contend with the Nationals for the division?
I do! They need two bats, which I know is easier said than done. Ben Zobrist would be a huge upgrade for them, and with Michael Cuddyer banged up, they could use another outfielder as well. Yoenis Cespedes is reportedly out there and he's a rental, so they wouldn't have to take on a long-term deal. Carlos Gonzalez, Jay Bruce … why not? Even someone like Gerardo Parra would be a big upgrade. The Mets have saved something like $4.5M in salary this season thanks to Jenrry Mejia's suspension and insurance on David Wright's contract. If the Wilpons don't put that money back into the roster, MLB should just force them to sell the team. This is getting ridiculous. A New York team with a bottom third payroll for several years running is embarrassing for the league.
Andrew asks: Does Chasen Shreve get a few ROY votes at the end of the season?
Nah. Shreve has been awesome but middle relievers usually don't much Rookie of the Year love. Voters have only three slots on the ballot and at this point Carlos Correa, Devon Travis, Roberto Osuna, Carson Smith, Andrew Heaney, and Billy Burns are ahead of Shreve in the Rookie of the Year race, among others. (Those guys aren't in any sort of order, that's just off the top of my head.) That's fine. Shreve's been awesome. He doesn't need Rookie of the Year votes to validate his great season.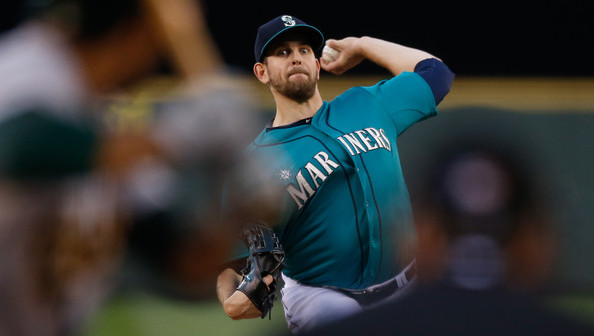 Chris asks: There's been a lot of talk of Jack Z. getting a bit desperate and trying to make a huge deal. As unlikely as it is, do you think he's crazy enough to trade James Paxton and Alex Jackson for Jacoby Ellsbury?
Why would the Yankees do that? I think Ellsbury's contract is really bad but at least he's still a very good all-around player on a contending team. That seems like someone the Yankees should keep for the time being. Jackson is hitting .256/.300/.352 (85 wRC+) this summer and while Paxton has been impressive the last two years (3.33 ERA and 3.69 FIP), he's only thrown 132.1 innings due to all sorts of injuries. Finger this year, lat strain last year, knee trouble in the minors. The Yankees are a win now team and that's not a win now trade at all. That's a "dump the contract and hope Paxton figures out how to stay healthy" trade a non-contender makes. The Mariners would absolutely make that trade, assuming ownership okays the money. Ellsbury is a huge upgrade over Jackson and they won't even notice Paxton is gone because he hasn't been on the mound since May anyway.
Liam asks: What are your expectations of Greg Bird? He's been struggling a bit in Scranton, but a promotion and an injury can have that effect, plus he is still only 22. Is he a future big leaguer or did the fanbase hype him up a bit too much?
Don't fans hype up every prospect too much? I believe the answer to that is a resounding yes. Bird has been much better the last few games with the RailRiders (since the question was sent in) and I do think he's a future big leaguer. He's not too different from Logan Morrison back during his prospect days — a left-handed hitting first baseman with great plate discipline and power potential, though Morrison is a better glove man and struck out less while Bird seems to have better makeup, which absolutely matters.
I will say this: Bird has to hit and hit big to have value. The offensive bar at first base is fairly high (MLB average at the position is .256/.330/.434 with a 111 wRC+) and Bird has to clear that by a decent margin to a positive contributor. He's not much of a defender and there are concerns about his ability to handle lefties, not to mention his sneaky scary injury history. Top first base prospects also have a shockingly poor track record of reaching their ceiling. Use ctrl + F to search "1b" and scroll through Baseball America's all-time top 100 prospects list page. There are a few gems in there, but man, it's ugly.
Mitch asks: Rob Manfred has discussed both expansion and shortening the schedule this week. What's the earliest you could see either happening? Would you prefer expansion or more playoffs to offset the lost revenue from a shortened schedule?
The shortening the schedule thing seems almost impossible. There are major economic issues there — assuming they cut back to 154 games, owners would have to be willing to give up four home dates, plus they'd have to work it all out with the television contracts. Those deals have minimum broadcasting requirements that need to be met. Also, if they do cut eight games (approximately 5% off the schedule), are the owners going to ask the players to take a 5% pay cut? I wouldn't put it past them. The players are the ones asking for fewer games, after all. If they do go to a 154-game schedule, I don't think it'll happen for very long time. I think it's more likely they add a few more off-days and stretch the season out over a longer period of time.
As for expansion, I think that could happen reasonably soon. Within five years or so. (That doesn't mean it will happen, of course, just that it's feasible.) Baseball is certainly healthy enough financially to add two more teams, and there are no shortage of cities able to support an MLB franchise. San Antonio, Portland, hell, New York could support a third team in Brooklyn or northern New Jersey. (The Yankees and Mets would never ever ever ever let that happen though.) If I had to pick between expansion or more playoffs, I'd go expansion. I don't want MLB to turn into the NBA or NHL, where more than half the league gets into the postseason.