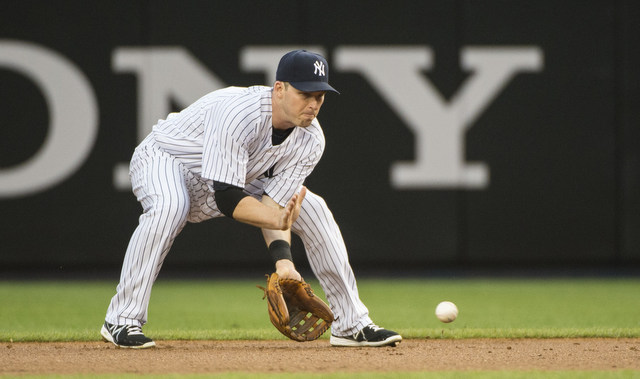 Even after struggling offensively these last seven or ten days, the Yankees still rank second in baseball with an average of 4.62 runs per game. Only the absurd Blue Jays (5.48!) have been better. Yes, the Yankees hit better at home than on the road, but for the most part the offense has been very good this season. It's nice knowing a two or three-run deficit is no longer insurmountable, isn't it?
The Yankees have fielded such a strong offense despite having a total black hole at second base. The team's second basemen are hitting a combined .182/.246/.339 (57 wRC+) in 313 plate appearances, the third worst second base production in the game, better than only the Royals (51 wRC+) and White Sox (24 wRC+). ChiSox second basemen are hitting .189/.234/.227 this year. Good gravy. Imagine watching that everyday? Geez.
Anyway, most of New York's second base damage comes courtesy of Stephen Drew, and I don't mean damage in a good way. He's hitting .178/.251/.364 (67 wRC+) overall, far below league average despite eleven home runs, the second most at the position behind Brian Dozier (16). Other fill-ins like Jose Pirela and Gregorio Petit haven't contributed much either. Second base has been a black hole all season.
The Yankees have waited very patiently for Drew to turn things around and it hasn't happened. There aren't even signs of it maybe, possibly happening in the coming weeks either. Exit velocity? Drew is averaging 85.9 mph off the bat, ranking 288th out of the 321 players with at least 100 at-bats. His exit velocity is not even trending upward either:
Drew is hitting .170/.243/.329 (55 wRC+) since resurfacing last year and that's in 565 plate appearances. That's spread across two seasons obviously but the excuses have all been exhausted. He had a full Spring Training this year, there haven't been any injuries, nothing. It's a full season worth of terrible, unplayable, just about any other player would lose his job production.
As it stands right now, second base is the only flexible position on the Yankees. They're locked into players at every other position either developmentally (Didi Gregorius) or contractually (everyone else), at least once Jacoby Ellsbury and Carlos Beltran return. The outfield is a bit of a mess until then. Still, there is no long-term obligation to Drew or anyone else at second base, and the season is now halfway complete. We're firmly in "time to make a change" territory.
The Yankees only have one in-house second base alternative in Rob Refsnyder, who hasn't exactly forced the issue with his play in Triple-A. He hasn't been bad (.281/.378/.386 and 127 wRC+), he just hasn't been great for a bat first prospect, and you'd like to see a non-elite prospect force the issue before a promotion. Then again, the Yankees have not been shy about trying out young players this year, specifically in the outfield and in the bullpen. Refsnyder could be next.
I feel like a trade is inevitable. The Yankees are atop a very tight yet winnable division, and you know Hal Steinbrenner & Co. are terrified of the prospect of a third straight postseason-less year and all that lost playoff revenue. I would be surprised if they don't make a trade at the deadline. The second base market isn't very good though. There's the perfect for everyone Ben Zobrist and then a bunch of retreads like Brandon Phillips and Dustin Ackley. Hopefully the market spits out some more names in the three and half weeks before the deadline.
Either way, the Yankees have reached a breaking point at second base. They're already carrying one soft spot at the bottom of the order in Gregorius and can't afford to carry another despite the lineup's strong offensive production overall. The AL East race is too close to let this go on any longer. Drew has given the Yankees no reason to think he will start hitting, and if the team doesn't think Refsnyder is the answer, then they have to start aggressively looking for help outside the organization.