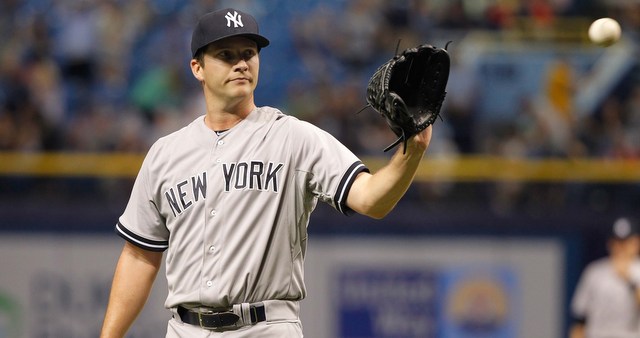 Six weeks ago the Yankees took Adam Warren out of the rotation and demoted him to the bullpen for reasons that were unspoken but also crystal clear. Ivan Nova had returned from Tommy John surgery and the team wasn't prepared to remove CC Sabathia from the rotation because of his contract, so to the 'pen Warren went. He was the low man on the totem pole.
At the time Warren had a 3.59 ERA (4.14 FIP) in 14 starts and was trending in a positive direction, with a 2.96 ERA (4.07 FIP) and an average of 6.1 innings per start in his final eight starts. He seemed to be getting comfortable as a big league starter, but the Yankees said they needed another reliable right-handed reliever, and Warren was bumped from the starting five.
Warren had quite a bit of success as a reliever the last two years, first as a long man in 2013 and then as a short reliever in 2014, so while removing him from the rotation stunk, the move figured to improve the bullpen. Andrew Miller was on the DL at the time and the Yankees were searching for a reliable righty to pair with Dellin Betances — David Carpenter was out of favor by this point — and Warren seemed perfect for the job.
Instead, Warren has become something of a low-leverage multi-inning reliever, the guy who comes in to soak up some innings when a starter does the five-and-fly thing. Since being moved to the bullpen, Warren's average leverage index when entering the game is 0.63. 0.63! Esmil Rogers was the epitome of a low-leverage mop-up man and he had a 0.67 LI with the Yankees this year. A 0.63 LI would rank 132nd among the 138 qualified relievers in MLB. (A LI of 1.0 is average. The smaller the LI, the less important the situation.)
Instead of being that second righty setup man we all kinda assumed he would be when he was moved back to the bullpen, Warren's instead been a mop-up man. Not a guy who moves the needle, and things have been especially egregious of late. Here is the score situation for the Yankees when Warren entered his last six games:
sixth inning down four
seventh inning up 14
sixth inning up ten
sixth inning down two
sixth inning down four
seventh inning down two
I'd be more than happy with Warren pitching in a bunch of games the Yankees were leading by double digits if it happened more often, but that's not realistic. When Warren entered those games with the Yankees down two, the LI was 0.59 and 0.52. His average LI entering those six games was 0.32. A two-run deficit in the sixth or seventh innings is hardly insurmountable, especially with New York's generally awesome offense, but in a vacuum it is considered low-leverage work.
Now here's the thing: Warren's recent usage is more a result of the game situations and availability than managerial blunders. Yes, Warren absolutely should have faced Justin Smoak with the bases loaded Saturday (this isn't second guessing, it was clear Nova was out of gas when he was left in to face Smoak), but otherwise there haven't been any missed opportunities to get him high-leverage work, so to speak. The Yankees scored a ton of runs for a two-week stretch recently and there weren't many chances to get Warren more important innings.
Warren's ability to throw multiple innings and the starting staff's inability to pitch deep into games is working against him. The starter is out after five innings, Joe Girardi goes to Warren for two or three innings, and boom, he's suddenly unavailable for two or three days. For example, had he not been needed for 41 pitches following Luis Severino's five-inning start on Wednesday, Warren likely would have pitched in extra innings Friday, not Branden Pinder.
Perhaps the best course of action going forward is forgetting about Warren's ability to go multiple innings and treating him as a true one (or occasionally two) inning reliever, allowing him to be available for more games and more high-leverage situations. Maybe this weekend was a sign that's happening. He faced two batters Saturday then three batters Sunday. (Yes, I know Warren loaded the bases with no outs yesterday. No, I don't think that means he is not worthy of high-leverage innings. It's one game.)
Treating Warren as a one inning guy would require having another viable long reliever in the bullpen, at least until rosters expand in three weeks. Bryan Mitchell could be that guy, he is stretched out to 70 or so pitches, though it seems like the Yankees are planning to give him a spot start sometime in the near future to rest the rest of the rotation. That makes Mitchell less of a long relief option. I'm sure they could figure out a way to make it work though. Also, I'm not saying making Warren a one inning guy is definitely the right move. Just throwing it out there as an idea.
Either way, Warren has been reduced from effective starting pitcher to low-leverage mop-up man these last few weeks for more than a few reasons, including the team's decision to keep running Sabathia out there every fifth day. Warren's been a wasted asset of late. He's a good pitcher — a good pitcher versatile enough to pitch in many situations — yet he hasn't been put in position to provide the team with any sort of impact since being demoted back to relief.