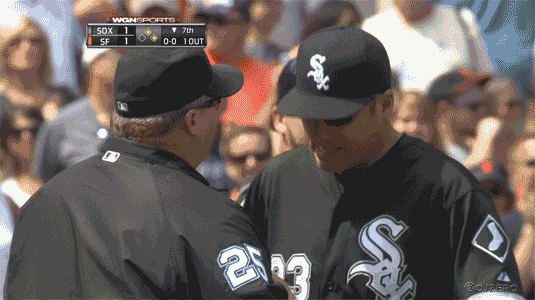 It's not often the Yankees play a non-AL East team this late in the season — they've played only six series against a non-division rival after September 20th since 2005 — but the final homestand of the season begins tonight with the first of four against the White Sox. There are only eight regular season games at Yankee Stadium remaining in 2015. Hopefully there will be many more in October. The Yankees took two of three from the White Sox in Chicago in early-August.
What Have The White Sox Done Lately?
The ChiSox just split four games with the Tigers — they won the first two games then lost the last two — and have won only three of their last eight games overall. Chicago is 72-80 with a -69 run differential on the season. Amazingly, the White Sox are still mathematically alive in the wildcard race. Barely alive, but alive nonetheless.
Offense & Defense
Runs have not come easily for the ChiSox this season. They average only 3.97 runs per game with a team 88 wRC+, both of which are bottom five marks in MLB. U.S. Cellular Field is pretty hitter friendly, remember. Manager Robin Ventura's only injured player is 1B Adam LaRoche (78 wRC+), who is day-to-day while nursing a knee injury.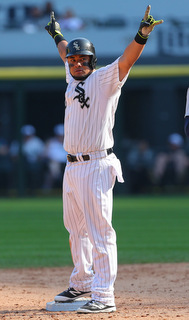 Ventura has had two even average hitters in his lineup all season: leadoff man OF Adam Eaton (114 wRC+) and three-hole hitter 1B Jose Abreu (133 wRC+). That's it. OF Tryace Thompson (162 wRC+) has done quite well in a sample of 94 plate appearances. (Tryace is Klay's brother.) Ex-Yankee OF Melky Cabrera (95 wRC+) started very slow but has been better in recent weeks, posting a 121 wRC+ since the All-Star break. OF Avisail Garcia (84 wRC+) doesn't look like he's ever going to live up those "mini-Miguel Cabrera" comparisons he got as a prospect.
SS Alexei Ramirez (72 wRC+) has had the worst season of his career in 2015. 2B Micah Johnson (62 wRC+ in limited time) and IF Carlos Sanchez (66 wRC+) are platooning at second and IF Mike Olt (63 wRC+ in limited time) has taken over as the everyday third baseman. IF Tyler Saladino (71 wRC+) started hot but has since played his way onto the bench, where he joins IF Gordon Beckham (59 wRC+) and OF J.B. Shuck (97 wRC+ in limited time). C Geovany Soto (96 wRC+) somehow gets fewer at-bats than C Tyler Flowers (71 wRC+). UTIL Leury Garcia and C Rob Brantly are the September call-ups.
The White Sox are also a sneaky bad defensive team. Eaton has a reputation for being good but the defensive stats hate him this year and have pretty much every season of his career aside from 2014. Melky has a strong arm but his routes are as bad as ever, and while Garcia has a penchant for robbing homers, he lacks range. Sanchez is a very good defender and Ramirez remains solid — not what he once was, but still solid — but otherwise the rest of the infield is below-average. For what it's worth, Flowers rates exceptionally well as a pitch-framer. He's also thrown out roughly one-quarter of attempted base-stealers, which is below-average.
Pitching Matchups
Thursday (7pm ET): RHP Michael Pineda (vs. CWS) vs. LHP Chris Sale (vs. NYY)
The Yankees almost missed Sale this series. Almost. He was scheduled to start yesterday's game, but the ChiSox decided to give rookie righty Frankie Montas a spot start instead, so Sale goes tonight. For shame. Sale, 26, has a 3.47 ERA (2.67 FIP) in 29 starts and 194.2 innings this year. His strikeout rate (32.5%) leads qualified AL starters and is second in MLB to Clayton Kershaw (32.9%). Sale's walk rate (5.0%) is very good while both his grounder (42.9%) and homer (0.97 HR/9) numbers are hovering around the league average. He has a negligible platoon split (.285 vs. 282 wOBA in favor of righties). Sale actually added velocity this year and now sits in the mid-90s with his two-seamer and will occasionally touch 97-98. He was more low-90s and touching 95-96 the last few years. Both his mid-80s changeup and upper-70s slider are swing-and-miss pitches. The relatively high ERA has more to do with the team defense than anything Sale has done. He's tremendous.
Friday (7pm ET): LHP CC Sabathia (vs. CWS) vs. LHP Carlos Rodon (vs. NYY)
The White Sox selected the 22-year-old Rodon with the third overall pick in last summer's draft, and he was in the big leagues by April. Rodon has a 3.78 ERA (3.81 FIP) in 133.1 innings spread across 22 starts and three relief appearances, and he's been excellent of late, pitching to a 1.66 ERA (3.41 FIP) in his last seven starts and 48.2 innings. Chicago has been spacing out his starts to keep his workload down these last few weeks. Maybe that's helping his performance. Anyway, Rodon walks too many batters (11.4%) but otherwise has good to great strikeout (23.3%), grounder (47.4%), and homer (0.74 HR/9) rates. He's crushed lefties (.227 wOBA) and gotten crushed by righties (.354 wOBA). Rodon lives in the mid-90s with his two and four-seam fastballs, and his moneymaker is a filthy upper-80s slider. That's the pitch that got him drafted so high. Rodon also throws a few mid-80s changeups per start. The Yankees pounded Rodon for eight runs in three innings in their meeting last month.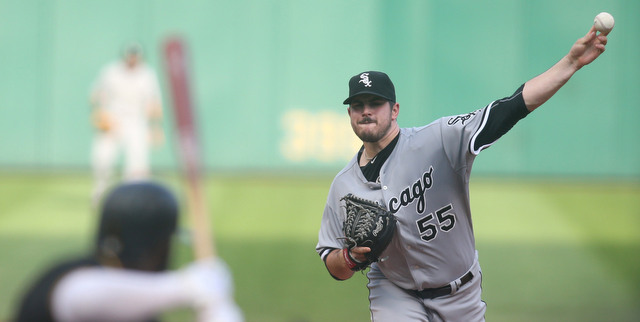 Saturday (4pm ET): RHP Adam Warren (vs. CWS) vs. LHP John Danks (vs. NYY)
The Yankees have Andrew Bailey on the roster trying to come back following shoulder capsule surgery. The 30-year-old Danks is a reminder Bailey may never get back to where he was before surgery. Danks had his shoulder capsule repaired in 2012 and has a 4.69 ERA (4.78 FIP) in 498.2 innings since returning, including a 4.59 ERA (4.57 FIP) in 28 starts and 166.2 innings this year. It was a 4.12 ERA (4.19 FIP) in 971.1 innings before the injury. Danks is actually one of the lucky ones. Many don't make it back from a torn capsule at all. Anyway, Danks has a good walk rate (7.0%) but below-average strikeout (16.3%), grounder (38.7%), and homer (1.30 HR/9) numbers this year. Righties (.351 wOBA) have hammered him compared to lefties (.304 wOBA). Danks lives in the upper-80s with his two and four-seam fastballs post-shoulder surgery, and a notch below that with his cutter. A low-80s changeup is his go-to offspeed pitch, and he'll also flip a few mid-70s curveballs per start as well. He held New York to one run in 5.2 innings last month. Danks always seems to pitch well against the Yankees, doesn't he? The numbers are not as good as I expected though.
Sunday (1pm ET): RHP Luis Severino (No vs. CWS) vs. TBA
Chicago's starter for Sunday is still listed as TBA, but in all likelihood it will be right-hander Jeff Samardzija, who is having a yucky walk year. The 30-year-old has a 5.04 ERA (4.18 FIP) in 31 starts and 207 innings this season, though to his credit, he chucked a one-hit shutout against the Tigers last time out. Only threw 88 pitches too. Samardzija's walk rate (5.6%) is very good but his strikeout (18.1%), grounder (39.4%), and homer (1.17 HR/9) numbers are all below-average. He's also been hit way harder by lefties (.356 wOBA) than righties (.302 wOBA). Samardzija operates with a mid-90s four-seamer and a low-90s cutter, which set up mid-80s sliders and splitters. The slider is for righties, the splitter for lefties. The Yankees scored nine runs in 4.2 innings against the former Notre Dame wide receiver back in August. If Samardzija doesn't start Sunday, it figures to be either righty Erik Johnson or lefty Jose Quintana.
The Yankees, meanwhile, have listed Pineda, Sabathia, Warren, and Severino as their starters for this series in that order, though it's possible they will change gears and re-insert Masahiro Tanaka into the rotation at some point. They have several options to get him lined up for the wildcard games. If Tanaka doesn't pitch this series, then he figures to make just one final regular season tune-up start against the Red Sox in the next series.
Bullpen Status
Unsurprisingly, Ventura is working with a stinky bullpen. Former Yankee RHP David Robertson (3.34 ERA/2.47 FIP) is the closer, and although he's struggled a little of late, he's been pretty good overall. (The Yankees didn't see him in Chicago a few weeks ago.) LHP Zach Duke (3.64/4.67) and RHP Nate Jones (3.44/4.94) are Robertson's primary setup men. Former Yankees draft pick Jake Petricka (3.73/3.42) will see high-leverage work as well.
RHP Matt Albers (1.29/3.51), LHP Dan Jennings (4.15/3.57), and RHP Zach Putnam (3.91/4.21) are Ventura's other regular relievers. The crop of September call-ups includes RHP Scott Carroll and RHP Daniel Webb. Carroll, Webb, Putnam, and Jennings all pitched yesterday. Our Bullpen Workload page can keep you updated on Joe Girardi's bullpen. Head over to South Side Sox for the latest and greatest on the ChiSox.
(GIF via @cjzero)