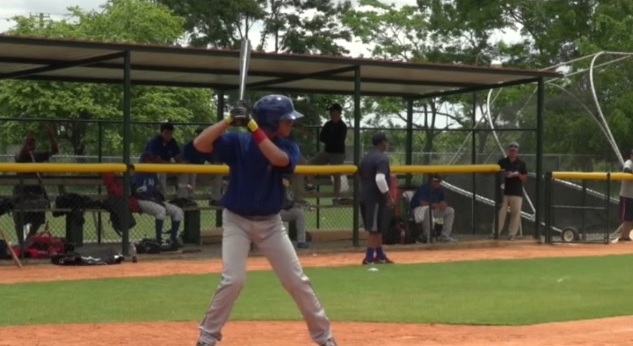 Baseball America's breakdown of the top 20 prospects in each minor league continued today with the rookie level Gulf Coast League. As always, the list is free but the scouting reports are not. You need a subscription for those. Red Sox RHP Anderson Espinoza sits in the top spot and is followed by Nationals OF Victor Robles and Astros OF Kyle Tucker.
The Yankees have just one player on the GCL list: SS Wilkerman Garcia, who ranks sixth. Interestingly, Garcia is right smack in the middle of a group that includes 2015 first rounders Phillies SS Cornelius Randolph (tenth overall pick, ranked fifth in GCL), Rays OF Garrett Whitley (13th overall, seventh in GCL), and Tigers RHP Beau Burrows (22nd overall, eight in GCL).
"He's a switch-hitter with a sound hitting approach from both sides, using all fields and showing good patience and bat-to-ball skills," said the write-up of Garcia while noting he's a very instinctive player. "While scouts from other clubs felt Garcia would fit better at second or third base, the Yankees were convicted he could play shortstop. He's backed up their confidence by showing a plus arm, good hands and footwork along with a knack for slowing the game down."
The Yankees signed the 17-year-old Garcia for $1.35M last summer as part of their massive international spending spree. That's late first round money, so I guess it makes sense he's ranked among a bunch of actual first round picks in the GCL top 20. Anyway, Garcia hit .281/.396/.347 (131 wRC+) with more walks (16.0%) than strikeouts (12.7%) in 37 games for the GCL Yanks this summer.
In the subscriber-only chat, Ben Badler said 3B Dermis Garcia "wasn't really in the mix" for the top 20 despite receiving the largest bonus ($3.2M) among last year's international haul. "He does have huge raw power and a big arm, but he's still fairly crude as expected as a hitter and is going to have to keep his conditioning in check going forward," said Badler. RHP Gilmael Troya, who signed for $10,000 last year, was considered for the list because his velocity jumped into the low-90s and he has a "chance for an above-average curveball and pretty solid feel for pitching."
The next list of interest to Yankees fans is the Short Season NY-Penn League, which will be posted either tomorrow or early next week. RHP Domingo Acevedo is a lock for the NYPL top 20 and others like IF Thairo Estrada and SS Kyle Holder should receive consideration as well. First rounder RHP James Kaprielian and second rounder LHP Jeff Degano weren't with the Staten Island Yankees long enough to qualify for the list.
Other league top 20s: Rookie Appalachian League