Got a dozen questions and eleven answers in this week's mailbag. You can send us questions at any time by emailing RABmailbag (at) gmail (dot) com. Did you know you can copy and paste the email address into Gmail as is, and it'll automatically convert the (at) and (dot) into the appropriate symbols for you? True fact.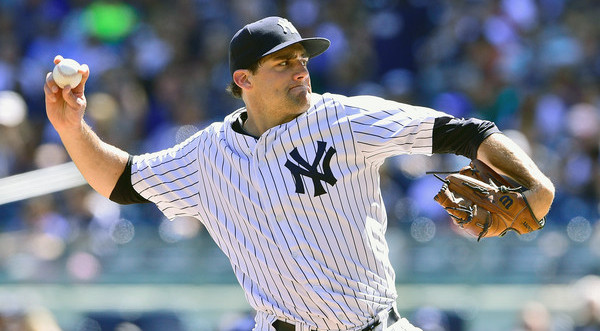 Wyatt asks: Whats your take on Nathan Eovaldi in the pen in the playoffs? The trio of Eovaldi-Betances-Miller has the potential to be nasty at the back end of the bullpen.
Paul asks: Let's say Eovaldi comes back in best-case-scenario fashion. I'm assuming he would still be legitimately considered (and likely a favorite) for a postseason rotation spot? There wouldn't be concerns about building up his pitch count after such a short period away, right?
Going to lump these two together. The best case scenario for Eovaldi is still not pitching at all during the regular season. The plan was two weeks of rest plus a two-week throwing program, which puts him on target for a return right at the start of the ALDS, basically. I can't imagine the Yankees would plug Eovaldi into their postseason rotation fresh off his throwing program, with no tune-up appearances. Like half the rotation would have to get hurt for that to happen.
For that reason, I think Eovaldi's destined for the bullpen in the postseason, should the Yankees get beyond the wildcard game. He might only be a one-inning reliever after missing a month too. Eovaldi out of the bullpen could be really crazy. The guy averaged 99.01 mph with his fastball in August. As a starter. What's he going throw in relief? 105? In all seriousness, Eovaldi airing out in one-inning bursts could be a major lift in the middle innings, assuming there is no lingering impact from his elbow issue, which is always a big if. It's hard to see how the Yankees could work him back into the rotation given his current timetable.
Matt asks: With the whole Yankee rotation under contract for next season, what would you think about the Yankees signing a big free agent like David Price and having Masahiro Tanaka opt for surgery this off season? It will eliminate his ticking time-bomb of an elbow and give them a substantial replacement. Then when Tanaka comes back the rotation will be thinned out. I'd rather see Tanaka get the surgery in the off season then need it in the middle of a playoff race.
No! No surgery until the doctors say Tanaka needs the surgery! The doctors all said Tanaka's elbow was sound and healthy enough to pitch late last year, he's pitched with it all season and done really well, so why fix what isn't broken? Sure, the elbow might give out at some point, perhaps in the middle of a postseason race, but that's true of every pitcher ever. If the plan is to sign someone like Price, wouldn't you want Price and Tanaka in the rotation at the same time? Besides, the Yankees can't make Tanaka have the surgery. It's his call. Same way your employer can't force you to have surgery. General rule of thumb: say no unnecessary surgery. Josh Johnson is a pretty great Tommy John surgery cautionary tale.
Noah asks: Keep up the great work with the site! My question is simply why do you often only say the standings in terms of the losses rather than just overall games behind. I also hear announcers often put more emphasis on the loss column than the win column. Why is that?
During the season, the loss column does the best job explaining the gap between two teams in the standings because you can't take away losses. You can always add wins, but losses are there to stay. The win column and loss column all mean the same thing after Game 162, but during the season the loss column tells you exactly how many games you need to make up. Overall games behind is fine too, but it adds half-games and those are annoying. I prefer the straight up loss column. Tells you exactly far behind you really are. The Yankees are three behind the Blue Jays in the loss column. That means Toronto has to lose at least four more games than New York the rest of the way for the Yankees to win the division outright. See how easy that is?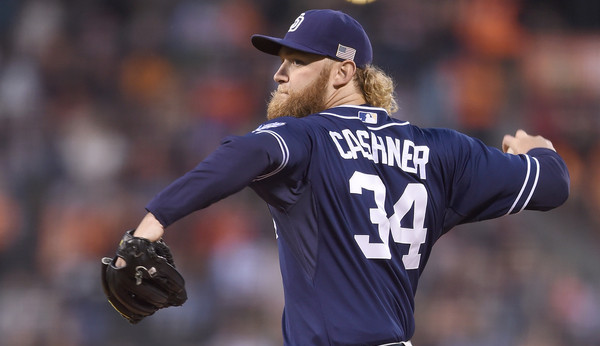 Matt asks: As much as I'd love for the Yankees to go after David Price in the offseason, something tells me they won't spend the money. One alternative could be Andrew Cashner after all the rumors about moving him this summer. What kind of package would it take to get him?
Cashner will be a free agent after next season and to me is very similar to Jeff Samardzija in that he's more stuff and hype than results. People keep waiting for the inner-ace to emerge but it hasn't happened, and at this point it's unlikely to happen. That doesn't mean Cashner is bad though. He's a fine big leaguer. One year of Samardzija netted a package of four okay players last winter, but a) A's GM Billy Beane has made some weird trades lately, and b) Samardzija has been way way waaay more durable than Cashner in his career, so the price should for Cashner should be lower. Three decent to good prospects seems like a fair asking price. That's what the Rangers gave up Yovani Gallardo, for example. One of the lefty hitting outfielders, one of the Triple-A relievers, and a mid-range prospect like Rookie Davis or Bryan Mitchell for one season of Cashner? That seem in the ballpark?
Luke asks: I know he can't stay healthy, but how about Slade Heathcott as the 4th OF next year? Chris Young has been excellent but you have to think he finds a 2-3 year deal elsewhere next year. If not Heathcott, what are the odds they stay in-house with their OF depth for that 4th spot?
In a vacuum, Heathcott or Mason Williams would be a fine fourth outfielder next season. I wouldn't have a problem with the Yankees going that route. That said, this isn't a vacuum, and the Yankees kinda need a right-handed hitting fourth outfielder because both Brett Gardner and Jacoby Ellsbury are lefties, and Carlos Beltran is a switch-hitter with much better numbers against righties. The team needs to add some balance to the roster and a righty hitting fourth outfielder is one way to do that. Heathcott, Williams, and Ben Gamel are all at a disadvantage because they're lefties. A righty hitter makes a lot more sense for the roster.
Greg asks: Assuming that the Yankees actually do add a left fielder (Jason Heyward, Heathcott etc.) and try to flip Gardner for an answer at second base, is there anyone out there that is a equal 1 for 1 swap? A second baseman that is both somewhat young (around 30) and under team control for the next few years?
Not really. Gardner is signed for three more years and there are a lot more outfielders like him than there are quality second baseman signed for two or three more seasons. Brandon Phillips would be one, but hell no. We've discussed him ad nauseam. Danny Espinosa is under team control through 2017 and a Gardner-Espinosa swap might actually be fair given the difference in salaries. That assumes Espinosa really is back to where he was from 2011-12, before all his injuries, however. Logan Forsythe is also under control through 2017, but I don't see why the Rays would trade him for Gardner. There's really no good fit. Quality second baseman are very hard to find. The Yankees could easily be stuck cycling through stopgaps for another few years before a long-term answer comes along.
Justin asks: Can Jose Pirela be the heir to the Chris Young righty bat off the bench?
It's possible, sure. I think the Yankees are more likely to bring in a veteran righty bench bat though. That seems to be their thing. I also think they're more likely to look for the next Chris Young than bring back the actual Chris Young at an inflated price. Pirela has nice numbers against southpaws in his MLB career but his swing suggests he should never face righties — the kid takes an off-balance hack at everything, it seems — plus he's not good in the field regardless of position. Versatility is nice, but only if the player can actually play solid defense. Pirela would have to crush lefties to have any value to the Yankees. I think he's going to end up going up and down as an extra utility man next season. Handing him a bench job in camp or even letting him compete for the fourth outfielder's job seems like something the Yankees wouldn't do.
Eric asks: Would missing the playoffs change the Yankees offseason plan? Yes, many players under contract for next year complicates the roster but certainty 3 straight years of no playoff revenue may change the front offices mind?
I'm sure it would. How could it not? Three straight years with no postseason is a very big deal around these parts. Hal Steinbrenner is a very rational guy, he's not like his father when it comes to baseball, so I don't think missing the postseason would mean radical changes. Maybe they're more aggressive signing a free agent or trading prospects, but would they really do some thing drastic? It seems unlikely. I think both Brian Cashman and Joe Girardi are safe at this point, and I expect the Yankees to stick with their current plan, whatever it may be.
Joe asks: What about the upcoming 40-man roster crunch? (Sorry Joe, had to shorten the question.)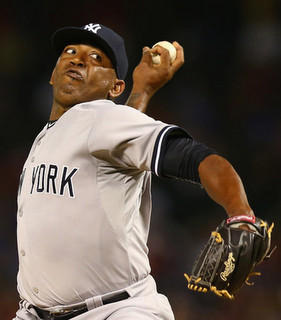 The Yankees currently have 46 players on the 40-man roster when you include the 60-day DL guys (Mason Williams, Chase Whitley, Sergio Santos, Diego Moreno, Jacob Lindgren, Domingo German), and they only have three players due to become free agents after the season (Chris Capuano, Stephen Drew, Chris Young). That assumes Brendan Ryan exercises his $1M player option. So yeah, the 40-man is pretty full.
Looking at the roster, I'd say the following players are most at risk of losing their 40-man spot in the offseason: Andrew Bailey, Chris Martin, Austin Romine, Rico Noel, Santos, Moreno, and Ryan. (The Yankees could drop Ryan even if he picks up his option, but they'd still owe him the money and would need a new shortstop-capable backup infielder to replace him.) Remember, there is no DL in the offseason, so those 60-day DL players will have to be activated right after the end of the World Series.
The Yankees have some quality prospects set to be Rule 5 Draft eligible this winter — Ben Gamel, Jake Cave, Rookie Davis, Tony Renda, and Johnny Barbato are the most notable now that Greg Bird and James Pazos were already added to the 40-man — so most of those open 40-man roster spot will be filled soon. I wonder if the Yankees will try to clear space with a reverse Manny Banuelos trade, meaning deal two young relievers for one prospect, or something like that. Space on the 40-man figures to be tight this winter. Then again, that always seems to be the case.
Craig asks: Rookie Davis. What are your thoughts on him? Any chance we see him in 2016?
I think it's possible we'll see him next season. Like I said, Davis is Rule 5 Draft eligible this winter, so he's going to be on the 40-man roster, plus he'll start next season with Double-A Trenton. Whenever a guy is that close, you have to think of him as a big league option later in the season. Davis looks like he rolled off the pitching prospect assembly line — 6-foot-5, 245 lbs., low-to-mid-90s heater, hammer curve, decent changeup … a scout's dream — and he made some huge strides with his command this season. There's a little Shane Greene in him, in that he was a big stuff/bad command guy who just figured it out one year. If we do see Davis in 2016, it'll be in the second half, and I'd be surprised if he had a Severino-esque impact right away. His real coming party is likely scheduled for 2017.
Matt asks: If the Brewers really do want to trade Ryan Braun, how interesting would a Ellsbury-Braun swap be? Braun could play left while Gardner slides back to center. It would be especially interesting if we could get Wily Peralta included in there as well, eh?
Braun has had a great bounceback year — he went into last night's game hitting .291/.361/.509 (133 wRC+) with 25 homers — now that his hand is finally healthy, but he's basically a DH at this point, and another DH is the last thing the Yankees need. The money is a wash — Braun has five years and $105M left on his contract after this season, Ellsbury five years and $110M — so this would be a pure baseball swap.
Are the Yankees better off with Braun and his baggage or Ellsbury? I think you could argue both sides very strongly. (I don't see why the Brewers would kick in Peralta though.) Even with his performance-enhancing drug issues, Braun is still crazy popular in Milwaukee and helps the Brewers push their brand. That has real value to the team. Ellsbury wouldn't offer that at all. There's no connection to him. I think the Yankees have way to many DH candidates already on the roster and in the upper levels of the minors (Gary Sanchez, Eric Jagielo, even Greg Bird) to make that swap. If the Yankees can trade Ellsbury this winter, I think they should, but I'm not sure a bad contract for bad contract swap for Braun is the best way to go about it.