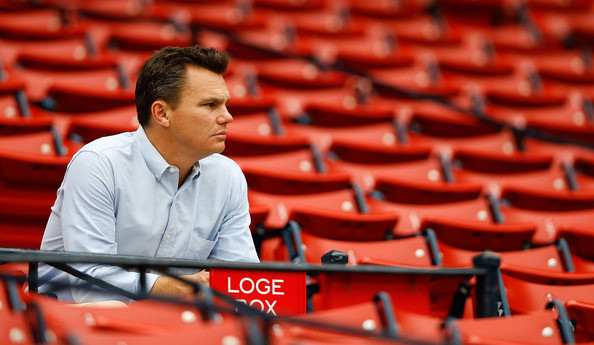 According to Joel Sherman, the Yankees reached out to former Red Sox GM Ben Cherington to see whether he had interest in joining the team's front office a few weeks ago, but Cherington declined. "I reached out to him. I have a lot of respect for him, his integrity and how he did his job," said Brian Cashman to Sherman.
Cherington, 41, stepped down as Red Sox GM in mid-August after the team named Dave Dombrowski their president of baseball operations. The BoSox gave Cherington an opportunity to remain with the team, but he decided to leave, feeling his authority within in the organization had been diminished.
A few weeks ago Cherington told reporters he planned to get away from the GM life for a while. He reportedly turned down opportunities to interview with Mariners and Angels about their since filled GM positions. Cherington signed on to teach a "leadership in sports" course at Columbia recently.
I'm not at all surprised Cashman reached out to Cherington. The Red Sox have kinda sucked the last few years, but Cherington's been there a very long time and had a hand in building their 2004, 2007, and 2013 World Series title teams. As far as I'm concerned, the more smart people in the front office, the better.
The Yankees lost assistant GM Billy Eppler a few weeks ago when he left to take over as Angels GM. Trusted scout Tim Naehring was recently promoted to vice president of baseball operations to replace Eppler. Cherington would have helped fill the void created by Eppler's departure, for sure.