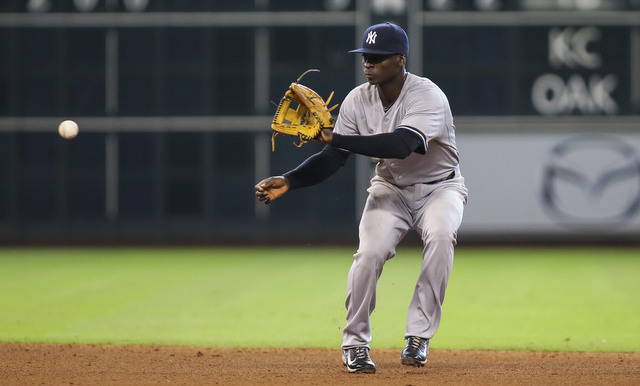 Earlier today, Rawlings announced the finalists for the 2015 Gold Glove Awards at each position. Three Yankees are among the finalists for AL Gold Gloves: Mark Teixeira at first base, Didi Gregorius at shortstop, and Brett Gardner in left field. All of the finalists can be seen right here.
Teixeira is up against Eric Hosmer, who won the last two AL Gold Gloves at first base, and Mike Napoli. Last year Teixeira's defense slipped a bit — he looked rusty after missing most of 2013 due to wrist surgery — but he rebounded this year and was stellar. Hosmer figures to win based on reputation and stuff, but Teixeira has a legitimate chance to take home the Gold Glove.
As for Gregorius, he is up against Xander Bogaerts and Alcides Escobar, so a first timer is guaranteed to win the AL Gold Glove at short this year. Gregorius had a real shaky start to the season, both at the plate and in the field, but he turned things around in May and was outstanding the last few months. His defense was really excellent at times. Here's a totally necessary highlight reel:
Gregorius actually ranked second among full-time AL shortstops in DRS (+5) and UZR (+7.4), behind only Francisco Lindor (+10 and +10.5, respectively), who is apparently ineligible for the Gold Gloves because he didn't play enough innings at the position this year. Didi might actually win the Gold Glove. How about that?
Yoenis Cespedes, who only played half the season in the AL, and Alex Gordon are Gardner's competition in left field. Gardner had a strong season in left but not as good as previous years, I thought. The defensive stats say he's closer to average these days rather than far above. Gordon has won the last four AL Gold Gloves in left and will probably win again, not that it's undeserved. He's outstanding in the field.
The Yankees haven't had a Gold Glove winner since Teixeira and Robinson Cano in 2012. Teixeira has five career Gold Gloves, including three with the Yankees (2009, 2010, 2012). The Yankees haven't had an outfielder win a Gold Glove since Bernie Williams way back in 2000. Seems unlikely Gardner will get it this year, but you never know. Teixeira and Gregorius appear to have legitimate chances to win.
The Gold Glove winners will be announced in two weeks, on November 10th. Here is the selection and voting criteria, if you're interested. Managers and coaches vote for Gold Gloves but there is also a statistical component, which is relatively new.