The following is a guest post from Steven Simineri, whose work can be found at Double G Sports, among other places.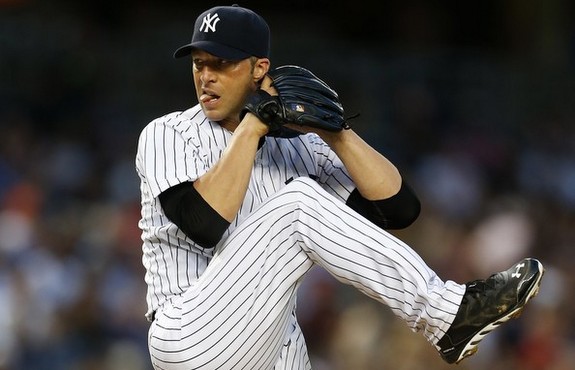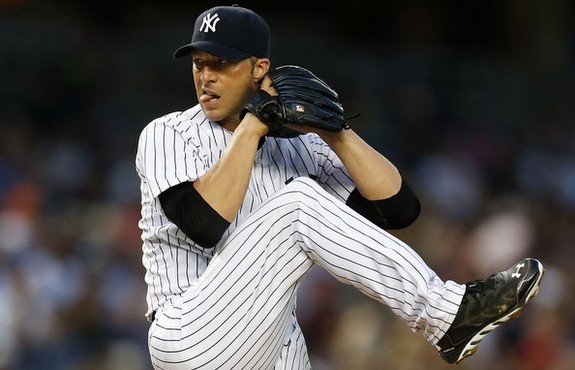 In baseball, being designated for assignment is essentially a sort of 'limbo' a player goes when he's temporarily not on any roster. The term is sometimes abbreviated as DFA or DFA'ed. When a player is DFA'ed, he is immediately removed from the 40-man roster. The team then has ten days to trade him, release him, or convince him to stay with the organization in the minors. Most players will not accept a minor-league spot, so they usually end up moving on.
However, for veteran lefty Chris Capuano such transactions became a part of daily routine this season with the New York Yankees. He was designated for assignment four times in less than a month's time and returned to the big leagues all four times. Once, he had checked into his Scranton-area hotel for less than an hour before general manager Brian Cashman called to summon him back to the big club.
"I didn't waste a lot of time," said Capuano, who is now plenty familiar with the two-hour drive on Interstate 80 between New York and Class AAA Scranton (Pa.). "I know you technically have a couple of days to actually report, but I'm someone who likes to not just sit around, I like to be proactive and get right to work. So when that's happened I generally reported that next day down to Triple-A and not wasted anytime just try to stay in a routine."
Pitchers are considered creatures of habit, but this wacky season provided the 37-year old southpaw with little routine. To keep his command sharp and his arm strength up, Capuano took to throwing a good deal of live bullpens with reserve hitters standing in the box.
"Well my arm hasn't had enough work to really have a tired arm or sore arm, it's more keeping the feel," Capuano told me in the Yankees clubhouse. "And obviously, I haven't done the best job at that, given that I'd have one good outing and one really bad one. It's been tough, I haven't been able to kind of master given that kind of inconsistent schedule being as consistent as I'd like on the mound."
Capuano's trying 2015 campaign started when he pulled a leg muscle covering first base during a spring training game. He was a good soldier, who tried to use his time in Scranton to iron out any mechanical flaws and get into a rhythm. In six starts for the RailRiders, Capuano posted a 1.27 ERA across 28 1/3 innings.
"Every time I've been able to go back down to Triple-A and get in the starting rotation for whether it's been five or ten days, this last time I went down and made two starts and that's really helped me I feel like to get that feel back and rhythm back," said Capuano, who grew up in Massachusetts as a Red Sox fan.
Capuano, a career starter, began last season with his hometown team and pitched in 28 games out of the bullpen to a tune of a 4.55 ERA. But he was designated for assignment in late June. After a quick detour through the Rockies' organization, Capuano was traded to the Yankees where he went on to make 12 decent starts, going 2-3 with a 4.25 ERA. He went at least six innings in eight of those starts and showed enough to earn a one-year, $5 million deal in the winter from the team.
Despite being a free agent, Capuano pitched for the MLB All-Star team in the 2014 MLB Japan All Star Series. Wearing a Yankee uniform, he started two games for the MLB All Stars, allowing just one earned run and striking out seven batters. There were reports that he had interest in possibly signing with a Japanese team. He eventually stood stateside, but Japan could offer more money and a more prominent role sometime in the future.
"I'd never rule it out just because I love the culture, I love the people," said Capuano, who also pitched for Arizona, Milwaukee, the Mets and Dodgers from 2003 to 2013. "It's a beautiful country and they're very passionate about baseball over there. So I would never rule it out. My wife and I don't have any children. I love to travel so I wouldn't rule anything out."
While this season was a trying one for the Springfield, Mass., native, Capuano is no stranger to hardships. From 05/13/07 — 06/03/10, the soft-tossing southpaw appeared in 26 games for the Milwaukee Brewers (19 GS) and the Brewers lost all 26. He has also endured despite two Tommy John surgeries on his left elbow, the second of which cost him two full seasons in the big leagues, 2008 and 2009.
"After I had the first one it was really eleven months and I was back but the second one I missed two years and that's a lot of time to miss – kind of similar to the situation Andrew Bailey is in for us now," said Capuano, who is the only two-time Tommy John patient to make more than 10 major-league starts after his second procedure. "But when you do make it back, I think it gives you a healthier perspective having gone through that. You appreciate the game, you appreciate being around your teammates and the ballpark that much more."
His ERA this past season sat at an unsightly 7.97, but he definitely helped spike the IQ of the pitching staff. He was valedictorian of his high school class at Cathedral High. He had the academic numbers to get into Dartmouth or Yale, even signing a letter of intent to enroll at Yale. But then he saw the Duke campus during a camp and changed his mind. When he graduated in 2000 with an economics degree, he did so Phi Beta Kappa with a 3.86 G.P.A., an impressive number he would probably prefer as his earned run average.
At age 37, Capuano is fully aware that his big league career may soon be coming to an end. He has been approached by one television network about a career in broadcasting, but he is leaning towards going for his MBA degree full-time. Capuano knows that a baseball career is a fleeting livelihood, and he wanted to complete his economics degree so he could follow his father, Frank, a financial planner, into the business world after his baseball career ended.
"My father is a financial planner and I've done a lot of work with him over the years too and I've stayed active in our union and our pension committee," said Capuano, who has also made an All-Star team in 2006 and earned a silver medal while playing on Team USA in the 2001 World Cup of Baseball. "There's a whole world out there after baseball is done, but while I'm playing I'm going to enjoy it and have fun."