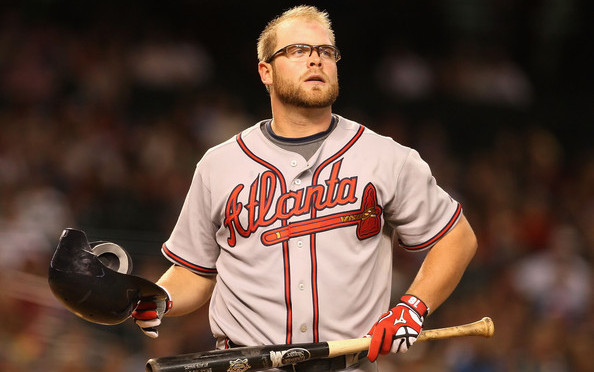 The Yankees are in Atlanta this weekend, which means Brian McCann is back home. Not just to play the team that originally drafted him and developed him into a seven-time All-Star, but back home literally. McCann grew up in the Atlanta suburbs and still lives in the area in the offseason.
"I was a big Braves fan," said McCann to Dan Martin. "Chipper [Jones], [John Smoltz], [Tom] Glavine. I got to play with some people I looked up to and grew up watching. They all took me under their wing. Chipper taught me how to hit at this level. Smoltz taught me how to call a game. That was a big part of my career."
McCann ranks third all-time in home runs at Turner Field and, barring a Yankees-Braves World Series matchup this year or next, this will be his last series at the ballpark. The Braves are opening a new stadium in 2017. "I was hoping to get back there. I wanted to go back and play before they knocked down Turner," added McCann.
I'm sure this will be a special series for McCann, and I have to think the Braves fans will give him a huge ovation, but at the end of the day the Yankees really need to start winning some games. The 5-5 homestand was disappointing because it started with a sweep of the Twins. The Yankees are 11-13 in August and that's no way to stay in the postseason race.
More than anything, the Yankees need their offense to come to life against the lowly Braves pitching staff this weekend, and that includes McCann, who has popped some homers but has otherwise done little else in the second half. The Braves are very bad. This series is an opportunity to right the ship. Here is Atlanta's lineup and here is New York's lineup:
C Brian McCann
1B Greg Bird
2B Stephen Drew
RHP Masahiro Tanaka
The internet tells me it is cloudy in Atlanta, but there is no rain in the forecast, so that's good. It's not crazy hot either. Tonight's game is scheduled to begin at 7:35pm ET and you can watch on YES. Enjoy the game.
Injury Updates: Mark Teixeira (leg) is still unable to run with maximum effort and will go for more tests to make sure they didn't miss a small fracture or anything … Ellsbury (hip) still has some swelling but is in the lineup tonight, obviously.
Roster Update: Chris Capuano once again accepted his outright assignment to Triple-A Scranton after being designated for assignment the other day. He'll presumably join the team's rotation.