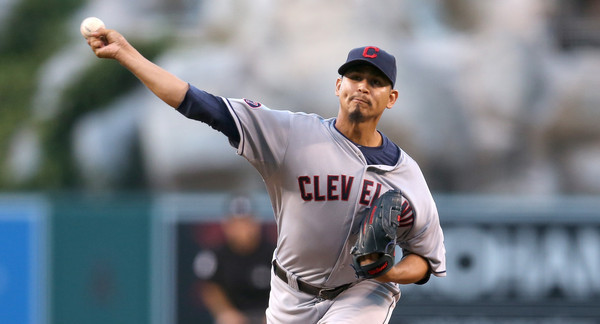 According to Jon Morosi, the Yankees are among the teams tho discuss an outfielder-for-starter trade with the Indians. The Dodgers and Blue Jays are also in that mix. The Indians came into the offseason needing at least one outfielder, and that was before Michael Brantley underwent shoulder surgery, which will sideline him for the first few weeks of 2016.
Cleveland does have some big time rotation depth and they realize that is their key to success. They're only going to go as far as their rotation will take them. They want outfield help but won't just give away a spare arm either. Here is the rotation depth chart on the team's official site: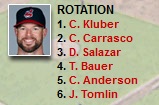 The Indians also have lefty T.J. House as their seventh starter. He gave them 102 innings of 3.35 ERA (3.69 FIP) ball last year but missed most of 2015 due to shoulder inflammation. House did pitch in the Arizona Fall League and will be ready for Spring Training though.
Carlos Carrasco and Danny Salazar have been mentioned most often as trade bait* and both will command significant returns. Carrasco, 28, has pitched at an ace level since moving back into the rotation midway through 2014 — he has a 2.99 ERA (2.54 FIP) in 40 starts and 252.2 innings since rejoining the rotation — and his contract will pay him only $37.5M through 2020, assuming his two club options are picked up.
* Realistically, we can probably rule out the Indians trading the ultra-popular Corey Kluber. Trevor Bauer had a 4.55 ERA (4.33 FIP) this past season and had the highest walk rate in baseball (10.6%). The Yankees seek out guys with very low walk rates, so he doesn't seem like a fit. Cody Anderson? Josh Tomlin? Eh. Carrasco and Salazar are both hard-throwers and the Yankees love that.
The 25-year-old Salazar went up and down a few times from 2013-14 before sticking for good this past season, pitching to a 3.45 ERA (3.62 FIP) in 30 starts and 185 innings. He is not signed long-term but is under team control as an arbitration-eligible player through 2020. The Yankees are said to be looking for starters they can control more than two years since basically everyone in their rotation except Luis Severino can become a free agent following the 2017 season.
Carrasco and Salazar are potential building block players because they're so good and under control so long. The Indians don't have to move them. It's not like they're impending free agents. They'll only deal them if they get exactly what they want in return. The Tribe are a small market team with a tight payroll, so any idea of a Jacoby Ellsbury-Terry Francona reunion probably won't happen. The obvious fit here is Brett Gardner.
The Yankees owe Gardner $38M over the next three years and even that might be too expensive for the Indians. New York could always eat some money to facilitate a trade — or take back a bad contract, like the $16.5M owed to Chris Johnson the next two years — which they've been willing to do in the past. They ate a bunch of money to move A.J. Burnett and more recently picked up part of Martin Prado's contract to get Nathan Eovaldi.
Either way, Gardner for Carrasco or Salazar straight up probably isn't happening. I'd do either of those deals in a heartbeat which means they're lopsided in favor of the Yankees, right? More than likely it would be Gardner plus stuff for Carrasco or Salazar, and the stuff would have to be pretty good too. Gardner and Aaron Judge for Salazar or especially Carrasco would not be an unrealistic request by the Indians in my opinion. Not at all. I'd still do either of those trades which means they're still lopsided in New York's favor.
Point is, there's a potential fit here. The Yankees want a starter and have extra outfielders, the Indians need an outfielder and believe they have extra starters. This could work! Addressing Gardner's salary and finding a common ground on the talent changing hands will take some work — what if the Yankees flipped Aaron Hicks instead of Gardner? — but at least this looks doable. The Yankees and Indians appear to match up well.