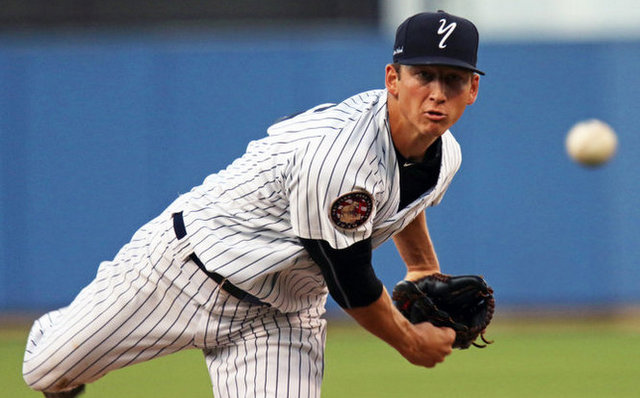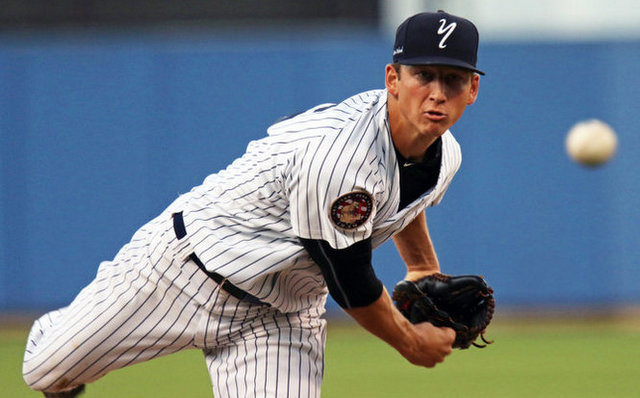 James Kaprielian | RHP
Background
Kaprielian is a Southern California kid who was born in Orange County and grew up in Tustin. He played football as well as three years of varsity baseball at Beckman High School, going 33-3 with a 0.96 ERA overall. Kaprielian threw eleven shutouts and two no-hitters in his career, and he didn't walk a batter his junior year. "He was a special player to get to coach," said coach Zach Reeder to Tim Burt.
Baseball America (subs. req'd) ranked Kaprielian as the 73rd best prospect in the 2012 draft, though bonus demands and a strong commitment to UCLA caused him to fall to the 40th round, when the Mariners grabbed him. Kaprielian did not sign out of high school and instead went to college. By the way, his name is pronounced "ka-pril-ian."
As a freshman, Kaprielian had a 1.55 ERA with 53 strikeouts and 24 walks in 40.2 innings across 34 relief appearances. He pitched for the Yarmouth-Dennis Red Sox in the Cape Cod League after the season, where he posted a 1.80 ERA in 20 innings. He struck out 28 and participated in the league All-Star Game.
The Bruins moved Kaprielian into the rotation his sophomore year and he immediately took over as their Friday night starter. He blossomed into one of the best starters in the nation, pitching to a 2.29 ERA with a conference leading 108 strikeouts and 34 walks in 15 starts and 106 innings. That performance earned him All-Pac-12 honors.
Kaprielian pitched for the US Collegiate National Team during the summer and struck out a dozen in six shutout innings against Chinese Taipei. He pitched soon after losing his mother to breast cancer and his effort was recognized as the USA Baseball International Performance of the Year.
Kaprielian had a 2.02 ERA with 114 strikeouts and 33 walks in 106.2 innings spread across 16 starts and one relief appearance as a junior this spring, earning him Second Team All-American honors. On May 15th, he threw nine no-hit innings against Arizona in the first no-hitter in UCLA history. (They won in ten innings.)
Prior to the 2015 draft,
Baseball America
and
Keith Law
(subs. req'd) ranked Kaprielian as the 19th and 27th best prospect in the draft class, respectively. The Yankees, who were linked to Kaprielian all spring, grabbed him with their first round pick, the 16th overall selection. He signed a few days before the deadline for a $2.65M bonus, slightly more than the $2.43M slot value.
Pro Debut
UCLA's season ended June 1st and Kaprielian didn't sign until July 15th, so the Yankees eased him into things to start his pro debut. He made two quick tune-up appearances with the Rookie Gulf Coast League Yankees before moving up to Short Season Staten Island, where he made three more starts. Kaprielian allowed six runs (five earned) on ten hits and four walks in 11.1 innings in his pro debut. He fanned 14.
The Yankees turned Kaprielian loose during the NY-Penn League postseason. He made two starts for the Staten Island Yanks in the playoffs and they were both great: 6 IP, 4 H, 1 R, 1 ER, 0 BB, 4 K in the first one, then 6.1 IP, 3 H, 0 R, 0 ER, 6 K in the second one. The Baby Bombers were swept in the Championship series but Kaprielian, who started Game One in both postseason series, was pretty great. Between college and pro ball, Kaprielian threw 130.1 total innings in 2015. He then participated in Instructional League after the season.
Scouting Report
At 6-foot-4 and 200 lbs., Kaprielian is a big and sturdy guy with an ideal pitcher's frame. He has the basic four-pitch mix — fastball, curveball, slider, changeup — and he uses all four pitches regularly. This isn't a guy with a show-me changeup or something like that. Kaprielian has good feel for each of his pitches and all four are weapons. His deep arsenal is the reason he was fifth pitcher taken in this summer's draft.
Kaprielian's fastball sat 90-93 mph for most of his college career before jumping to 92-95 mph with a few 96s late this spring. He sustained his newfound velocity in his pro debut as well. Depending on the day, either the curveball or slider is Kaprielian's best breaking ball, though both are above-average pitches. The slider is a mid-80s offering with short and sharp break, so much so that it almost looks like a cutter. The curve mostly sits in the 78-82 mph range and Kaprielian can throw it for strikes or bury it in the dirt for swings and misses.
The changeup is Kaprielian's fourth pitch and was a point of emphasis after turning pro. The Yankees had him throw it a bunch with Staten Island and it's really more of a circle change with tumbling action in the low-80s. He tends to spike it in the dirt when he misses. Kaprielian's command rates as above-average and he pitches aggressively, going after hitters rather than nibbling and trying to set them up.
Kaprielian's delivery is not textbook — he lifts his leg up then brings it down before striding forward, and his shoulders dip along with his lower half — but it's not violent or anything that needs to be changed. It's almost like a halfway drop-and-drive delivery. The Yankees really value good makeup and it's no coincidence Kaprielian drew raves for his maturity and work ethic at UCLA.
2016 Outlook
After three years in the Pac-12, including the last two as the best starting pitcher in the conference, Kaprielian is on the very fast track. He's ready for High-A Tampa and his time there may be brief. As a four-pitch guy with command and maturity, Kaprielian could jump on the Ian Kennedy track and make his MLB debut late in 2016. Kennedy made ten starts with High-A Tampa, nine with Double-A Trenton, six with Triple-A Scranton, then three with the Yankees in 2007, his first full pro season. Even if Kaprielian doesn't make his MLB debut in 2016, he should be a big league option no later than the first half of 2017. This isn't a guy you draft in the middle of the first round then hold back in the minors. Kaprielian's potential to move very quickly was part of his appeal at the time of the draft.
My Take
I really like Kaprielian and think he got a raw deal from may fans at the time of the draft, being labeled low upside and things like that. If the velocity spike is legit — he held it from spring all through the summer in pro ball — Kaprielian has significant ceiling and could pitch near the front of a big league rotation. Even if the velocity increase doesn't last and he reverts back to 90-93 mph, he's still a no doubt starter with the frame to be a workhorse. The Yankees have started to lean on their farm system a little more and I'm excited to see Kaprielian cut through the minors quickly and make his debut as soon as next season.