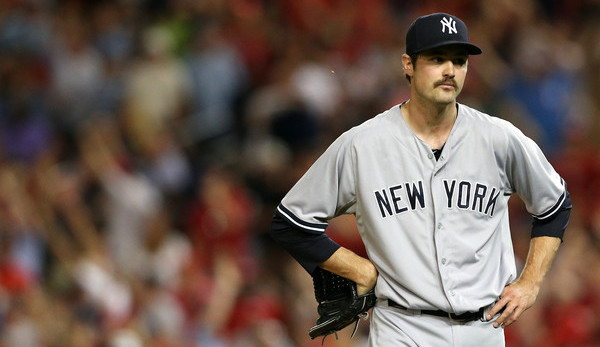 Earlier today the Tigers made a move in hopes of improving their perpetually shaky bullpen, acquiring Francisco Rodriguez from the Brewers for an infield prospect. K-Rod, who is somehow still only 33, had a 2.21 ERA (2.91 FIP) in 57 innings this past season. There is $9.5M left on his contract and the last thing a rebuilding team like the Brewers needs is an expensive closer.
A few hours before the trade Ken Rosenthal reported the Tigers had inquired about the availability of Andrew Miller, though they weren't comfortable with the asking price. Rosenthal says the Tigers are not eager to move the players they acquired in the David Price and Yoenis Cespedes trades, who are basically their top prospects. Detroit also checked in on Aroldis Chapman.
The Yankees are said to be "shopping everyone," and it makes sense to at least see what the market is for Miller given the haul the Padres received for Craig Kimbrel last week. In addition to the Tigers, the Diamondbacks have also asked about Miller in recent weeks. I'm sure a bunch of other clubs have as well. High-end relievers are always in demand. The asking price is high and it should be. Also, for what it's worth:
Had one exec tell me this week he thinks Yankees "will move" Miller–for a big, Kimbrel-like package built around big-league ready starters

— Jayson Stark (@jaysonst) November 18, 2015
I suppose it's possible the Yankees and Tigers could rekindle their Miller trade talks at some point — after all, the Tigers need relievers, plural — though unless the Yankees lower their asking price, I don't think it'll happen. And there's no reason to lower the asking price. Miller's great and his contract isn't onerous. If he were on another team and being shopped, we'd want the Yankees to get him.
The Yankees tend to keep things pretty close to the vest — the Aaron Hicks trade came of nowhere, for example — and the fact all these Miller rumors are leaking leads me to believe there are no serious talks. If things go quiet, it could either mean they're in serious talks or nothing is going on. I guess that's part of the intrigue. We'll see.