We received a lot of questions over the last week that were moot by time I checked the inbox yesterday. Questions about signing or trading for guys who signed or were traded at the Winter Meetings. That sort of stuff. I still managed to pull eleven questions out of the pile. Email us questions at RABmailbag (at) gmail (dot) com.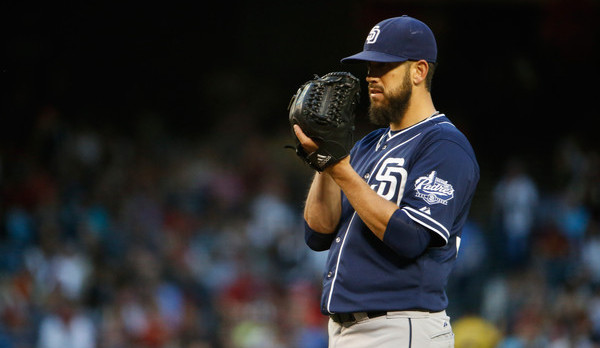 Bill asks: Any possibility that the Yankees could trade Shields and instead of asking for the Padres to eat salary, they have to throw in young talent instead? Shields isn't what he used to be but could be a nice innings eater for 3 years which this team desperately needs.
The Yankees could try, but I don't think the Padres will kick in a young player or two in exchange for taking James Shields' entire contract. He's not that much of an albatross. Shields has three years and $65M left on his contract, though he has an opt-out after 2016, so if he's good, you get him for one year. If he's bad, you get him for three. Not exactly the most favorable contract situation you'll find.
Shields will turn 34 in a week and a half, and he had a 3.91 ERA (4.45 FIP) in 202.1 innings for San Diego this year. His strikeout rate (25.1%) was easily the highest of his career, but he also gave up a ton of home runs (1.47 HR/9 and 17.6 HR/FB%). Shields has had weird homer spikes like this before (1.50 HR/9 and 13.8 HR/9 in 2010) and rebounded, though he is older now, so it might not be a blip. He's worth a deeper look in the non-mailbag format. Of course, the Yankees probably aren't trading for him because he's both older and expensive. That's not how they do business these days.
R.J. asks: Mike, Would you spend 200+ Mil on an ace or spread the money between two or three pitchers? If Price blows his elbow out or hits the DL for an extended period of time, that deal looks disastrous. I don't know why, but I have the same feeling about this deal like I did about the Simmons trade. We'll live.
I think both approaches are viable — spend big on one guy vs. spreading the money around — and I guess it depends on the team and their situation. If David Price gets hurt, the Red Sox have the ability to cover for that given their payroll and farm system. If Zack Greinke gets hurt, the Diamondbacks are pretty screwed. They don't have the same resources.
One elite player is worth more than two above average players. One +6 WAR guy is better than two +3 WAR guys because there's an opportunity cost associated with that second roster spot. So if you have the resources and can afford the elite player, go get him. That's not possible for every team. Give me Price over, say, Mike Leake and Jeff Samardzija. That's a risk the Yankees can afford to take.
Jake asks: If the Yankees find themselves out of contention by the time of the trade deadline, would they consider trading Mark Teixeira (if Tex lifts his no-trade clause) and/or Carlos Beltran by eating their contracts for the remainder of the year in order to bring back a haul of prospects?
We've been getting this same question every offseason for the last two or three years now. Only the names change. The answer stays the same: the Yankees would have to crater in a huge way to sell at the deadline. If they are even remotely in the postseason race, they're more likely to add pieces than subtract. The Yankees are doing this on-the-fly rebuild but they're also trying to win, and trading away guys like Teixeira and Beltran won't help them win. The Yankees would have to be very far out of the race — like bottom five record in MLB — to sell. I can't see it happening any other way.
Mark asks: Most articles I see say CC has a vesting option for 2017. Basically if his left arm doesn't fall off he gets his $25m. But there have been articles that said it was a club option with a $5m buyout. Could you clear that up?
It's both. It's a $25M club option with a $5M buyout, but as long as CC Sabathia's shoulder remains intact, the option will vest. If it doesn't vest, it's a club option the Yankees could conceivably exercise to bring Sabathia back for 2017. That'll never happen though. The Yankees can not buy Sabathia out if the option vests. Once it vests, he's locked into that $25M salary for 2017.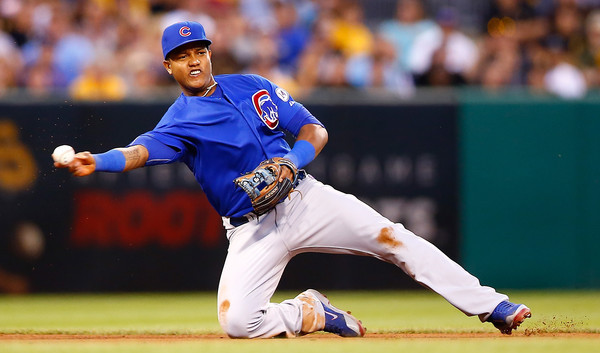 Alex asks: Will the team be able to use Starlin at 3B and/or corner OF such that he becomes a super utility guy, or is the plan for him to be the 2B?
Brian Cashman mentioned playing Castro at shortstop and third base at times — Starlin's has never played third at the MLB level and only has a handful of minor league games at the hot corner, all in rookie ball — but did say he will primarily be the second baseman. He didn't mention anything about the outfield. Castro is still in the process of learning second base — he's played only 258 innings at the position so far, so he's still learning — so I'm not sure dumping third and the outfield on him right now is the best idea. It sounds like the plan is second base primarily with a little shortstop when Didi Gregorius needs a break, and maybe a little third when Chase Headley needs a day.
Nathanial asks: If you could ask two questions to anyone within the Yankees' organization, and be guaranteed completely honest answers, who would you ask and what would the questions be?
Oh boy. This is a good question. I'd ask Hal Steinbrenner why payroll has not increased at a rate equal to league-wide inflation the last ten years, especially after the new Yankee Stadium opened. I'd also ask Cashman if he thinks he is given an appropriate level of resources given the team's market and financial situation. I know I've been harping on the payroll a lot lately, and the Yankees do spent a ton of money relative to the rest of the league, but geez, the fact payroll hasn't changed at all in the seven seasons since the new ballpark opened really bugs me.
Dan asks: As currently constructed, the Yanks still need someone who can backup third, and be a righty bat off the bench. How about Juan Uribe? He should be cheap, and fits their needs.
Uribe's great and would fit the team's needs, especially since he can still play second base. He's not an everyday option there, but he can do it on occasion. The 36-year-old hit .253/.320/.417 (104 wRC+) with 14 home runs in only 397 plate appearances last year, including .272/.350/.543 (146 wRC+) against lefties. Uribe is a shockingly good defender, he can still hit, and he's an A+ clubhouse dude. I'm all for it. If the Yankees could get him for a year and, say, $3M or $4M, do it.
P.J. asks: With the Starlin Castro signing what will happen to Jorge Mateo going forward? It would now appear he's blocked at SS by Gregorius and at 2nd by Castro.
This is a cop out answer but it's the only answer right now: it's too early to worry about this. Mateo is a very good young prospect. He has also played only 21 games above Low Class-A, and those were all at High-A. The absolute best case scenario is what, a late 2017 MLB arrival? It's more likely Mateo won't be ready until 2018 sometime. Lots can happen between now and then. Gregorius will only be a year away from free agency at that time, so we could end up doing the "let Didi walk/replace him with Mateo in a year" song and dance we're doing right now with Greg Bird/Aaron Judge and Teixeira/Beltran.
Andrew asks: How badly did the Yankees mess up in not trading Cano/Swisher/Granderson before they hit free agency? Especially with the last two, there were some free agent outfielders they could've signed to replace and so would not have had to lost those players for nothing. What are your thoughts?
Before we start, I have to point out trading Nick Swisher was not a realistic option. His final season with the Yankees was 2012 and they won the division that year. He was also one of their best players. I know what Andrew's asking, but Swisher's not someone who should be lumped into the "why didn't they trade him!" group. Also, Curtis Granderson was hurt at the time of the 2013 trade deadline, so he was essentially untradeable.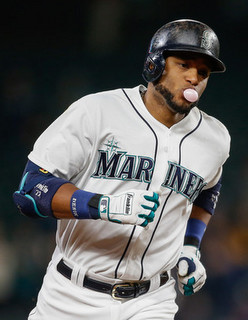 Anyway, at the time I thought the big mistake was not adding more pieces at the deadline to help Robinson Cano and David Robertson, not not trading them. The Yankees were 3.5 games back of a postseason spot the morning of the 2013 trade deadline. They were three back the morning of the 2014 trade deadline. For me, that's "go for it" territory, especially when you're talking about the Yankees.
In hindsight, not trading those guys looks awful. I could have sworn I remember reading somewhere that the baseball operations folks wanted to trade Cano at the deadline because they knew they weren't going to re-sign him, but ownership said no. I can't find it now. The Athletics and Braves were the two contenders who really needed second base help at 2013 deadline, though who knows what the Yankees could have gotten in return for Robbie. Those clubs didn't have the best farm systems at the time.
If you could somehow force the Yankees to give you an honest answer, I think they'd say they know they screwed up by not trading Cano and Robertson (and Hiroki Kuroda?). They were valuable assets who left for only a draft pick, which … meh. Draft picks are nice but they're not much. Maybe that's why they're trying to trade Andrew Miller and Brett Gardner now. So they don't miss that chance to maximize value again. Based on what we know now, not trading those guys was a big mistake.
Jackson asks: It's a safe bet next year that the Yankees will make qualifying offers to Beltran and Tex, they well decline and the Yanks get two additional draft picks, right?
Noooooooo. Not safe to assume that at all, especially with Beltran. Even if he repeats his 2015 season in 2016 season, he'll be a 39-year-old whose best position is DH, so his market will be fairly limited. The qualifying offer is going to be worth $16M or so next year, and I think Beltran would jump all over that. He'd need to have a monster 2016 season to reject a qualifying offer. Something like .300/.380/.500 with 30 dingers or so. Otherwise he's just the kind of the player every team seems to be trying to get away from nowadays.
Teixeira's a different story because he's slightly younger than Beltran (36 in April) and remains a two-way threat. He can still mash dingers and pick it at first base. If Teixeira stays healthy — that's a big if these days, even though I fully acknowledge the shin injury was really fluky — and has a strong year, I could see him rejecting a qualifying offer. He'd put himself in line for a nice two-year deal, maybe two years and $28M or something like that. It's much more likely Teixeira will get a qualifying offer than Beltran, but I wouldn't say it's safe bet at all.
Josh asks: There was a question in last week's mailbag about Dave Winfield. I remember hearing during the HOF inductions that he never played a minor league game in his life. That strikes me as pretty rare – especially for players who don't come to the MLB as bonafide professionals from another country. But how rare is it? Could it ever happen again? Is there anyone active now who came right into the majors and never needed a rehab stint?
There's no one in MLB right now who has never played in the minors. The closest is Mike Leake, who was drafted in 2008, threw 19.2 innings in the Arizona Fall League that year, then made the Reds out of Spring Training in 2009. (He also made two Triple-A appearances in 2011 after being demoted.) Baseball Almanac has a list of players who went straight to MLB after being drafted and SABR has a list of players who never played in the minors at all. I'm not sure how complete the list is though. Could it happen again? Yeah, it just seems really unlikely, especially because service time is such a big concern now. Baseball's really hard. Jumping from college to MLB seems almost impossible without some minor league tune-up time.