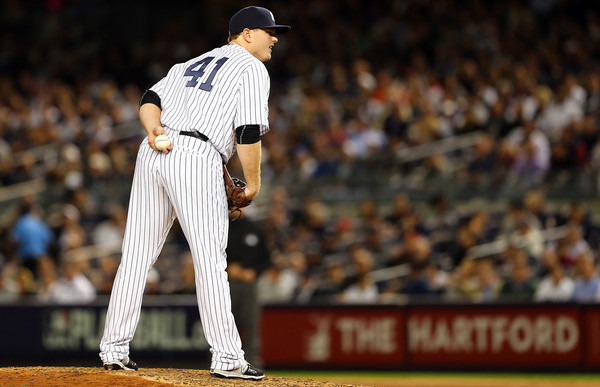 The Yankees completed their second trade in as many days last night. One day after acquiring Starlin Castro from the Cubs, the Yankees sent left-hander Justin Wilson to the Tigers for minor league righties Luis Cessa and Chad Green. Time for some more thoughts.
1. From what I can tell, no one felt comfortable with Wilson on the mound because he walked too many guys, and now no one likes that he has been traded away. Which is it? The Yankees have been very good at building bullpens the last few years. I trust them completely here. Wilson was pretty great this past season but the Yankees also may have just sold high, since dudes who throw hard but have career long control issues flame out all the time. I like Wilson. Lefties who throw hard and strike guys out are really cool. But based on the reaction, he went from being a pretty good seventh inning guy with the Yankees to being Billy Wagner as soon as he was traded away. The deal was fine. Geez.
2. That said, the Yankees are going to have to make up for the innings they traded away in Wilson and Adam Warren. They've been good at building bullpens but now they have to … you know … do it. They can't just wave the magic bullpen wand and turn Jacob Lindgren and Branden Pinder into late-inning weapons. Wilson and Warren soaked up some pretty important innings last season — especially since no one in the rotation pitches deep into games consistently — and they'll be missed, Warren in particular. The Yankees are clearly comfortable with their bullpen depth if they traded away these two. They believe they have the replacements either already in house or they're readily available. Now they just have to figure out who they are, and that takes some time. Remember, the Opening Day bullpen always looks quite a bit different than the bullpen on August 31st.
3. I don't think the Wilson trade takes Andrew Miller off the table and it shouldn't. Miller has a ton of value — did you see that Ken Giles trade? geez — and if a team offers a young starter plus other stuff, are the Yankees really going to say "no thanks, but we already traded Wilson"? Nope. Not happening. I do wonder if Cessa and/or Green — two Triple-A starters, remember, they're upper level depth — could be flipped as part of another trade, though Brian Cashman indicated last night nothing is lined up. The Yankees do need the depth though. Right now Ivan Nova is the sixth starter and Bryan Mitchell is the seventh starter. They needed some more bodies to compete with Mitchell there, and to provide a buffer between the big leagues and the Brady Lails and Rookie Davises of the world. The trade addressed a clear need.
4. I do think it's interesting — and not a coincidence — the Yankees traded Wilson, Warren, and David Phelps right as they were about to get expensive through arbitration. "Expensive" is a relative term here: Wilson was only projected to make $1.3M next year while Warren was projected for $1.5M. It's not that the Yankees are being cheap — they just took on $40M or so in Castro, you know — it just seems like they've decided they're not going to pay much more than the league minimum for non-elite relievers. Maybe that only applies to certain relievers. Warren's more valuable than most because he can start, but Phelps and Wilson? Eh. Given the internal options, the extra million bucks might not be worth it. It's tough to nitpick the strategy when the Yankees have been so good at building reliable bullpens. If there's some sort of payroll limit in place — and there very clearly is — the bullpen is a good place to save.
5. Everyone is trying to copy the so-called Royals model and have a lockdown bullpen — as if the Royals are the first team to realize a great bullpen is a nice thing to have — so much so that I feel like the rest of the roster is being overlooked. The end of the game is really important! But the first six or seven innings are more important. After all, bullpen usage is determined by the game situation, not the other way around. As long as the Yankees have Miller and Dellin Betances, the bullpen will be formidable. It's the rest of the roster I worry about. Those first six or seven innings. The rotation still has a ton of health concerns and the offense is, well, kinda sketchy. It's a boom or bust offense. Hopefully the Yankees spend more time improving the beginning of the game and not worry so much about the end.