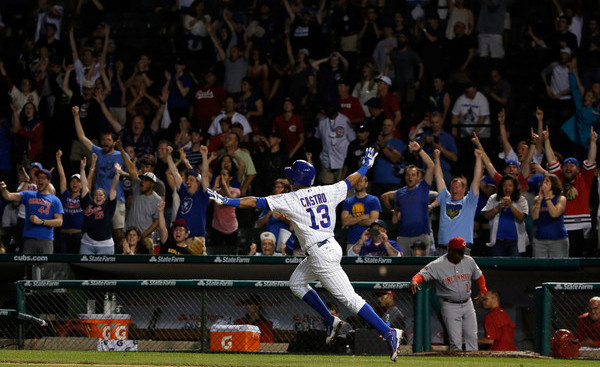 It would be wrong to say new second baseman Starlin Castro has only played on young rebuilding or up-and-coming teams. The Cubs did have some lean years there, but he was also teammates with veterans like Derrek Lee (2010), Carlos Pena (2011), Aramis Ramirez (2010-12), and Alfonso Soriano (2010-13) early in his career. The team stunk, but Castro grew up around respected veterans.
"You know who I learned a lot from? Sori," said Castro to Patrick Mooney last season. "Sori's the same guy. Always. I always hung out with him. And that's the kind of thing that he told me: Nobody's better than baseball. When you're gone, baseball stays. If you're a star, if you're a great player, keep the same (attitude). Stay humble."
Thanks to the Cubbies' rebuild, Castro went from the youngest guy on the team to their longest tenured player in about three years. He was The Man on those really bad Cubs teams from 2011-14. "We didn't really have a good team and the pressure was on me and (Anthony) Rizzo. Sometimes we had a little pressure because we had to do everything," said Castro to reporters in a conference call after the trade.
With the Yankees, Castro gets a fresh start and can go back to being just one of the guys. He no longer has to carry the club — that's up to veterans like Carlos Beltran and Alex Rodriguez, among others. Those veterans also form something of a leadership group in the clubhouse. Beltran has a great reputation for helping young Latin American players and A-Rod helps all the young guys on the roster.
"With the veterans we have, we'll be on top of (Castro), helping him become a better ballplayer," said Beltran to Zach Braziller recently. "He's a great kid. He's a humble guy, a hard worker, and I have heard a lot of good things from him … Hopefully, being able to play in New York motivates him to become a better ballplayer than what he is."
The appeal of Castro is pretty obvious. Even though he's had some bad years recently, he's still very young (26 in March) and offers a lot of athleticism and hitting ability at the two middle infield positions. Plus he's signed for another four years at an affordable rate. That's a guy you'd like to have. At the same time, I think the Yankees are hoping veteran leaders like Beltran and A-Rod can help take Castro the next level.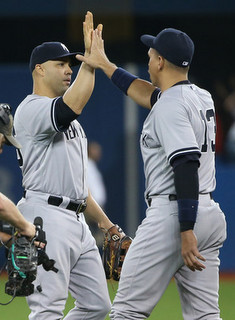 That's not necessarily why the Yankee made the trade though. I don't think you can give up an asset like Adam Warren and take on $40M or so in future salary because you're banking on some veteran mentors unlocking the talent. They like Castro's tools and physical ability, first and foremost. And if the veterans can help Castro improve his game, then great. That makes it even better.
"I think Alex can help him a lot, I think Carlos can help him a lot," said Joe Girardi to George King. "(I know) that he played with Soriano, and he really liked Soriano. I think it's gonna be a good fit. (A-Rod) always mentored. Now he's the gray, old grizzly guy and he's doing a lot of that."
Over the last few years the Yankees have gone out of their way to acquire players with reputations for being good leaders and clubhouse guys. They really started to move in that direction when they signed CC Sabathia and they've continued to target those types of players ever since. Castro was the first time they really deviated from that path. Fair or not, he has a reputation for being a bit of a headache, and he's also had some off-field issues. The Yankees aren't oblivious to that.
The Yankees believed in Castro enough as a person — remember, special assistant Jim Hendry and pitching coach Larry Rothschild were with Castro in Chicago for a while, so the Yankees had some firsthand knowledge about Starlin — and as a player to pull the trigger on the trade. It wouldn't be wrong to say he's falling well short of his ceiling. With a fresh start and the help of veteran leaders, the team hopes Castro gets back on the path to stardom and becomes part of the core of the next great Yankees team.