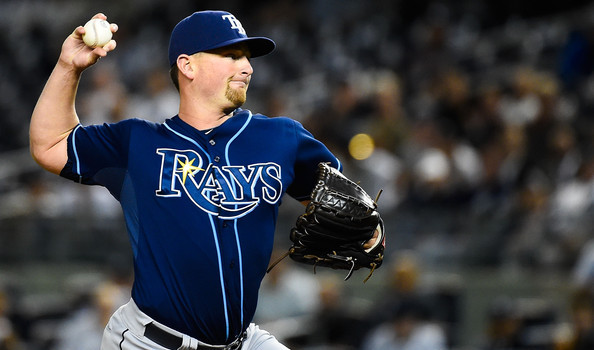 Sunday: The Yankees sent $78,000 to the Indians for Yates, according to the Associated Press. It's not often we hear how much money exchanges hands in these cash deals. Neat.
Friday: The Yankees have acquired right-hander Kirby Yates from the Indians in a cash trade, the team has announced.
Yates, 28, was designated for assignment earlier this week when the Indians signed Mike Napoli. Cleveland picked him up in a cash trade with the Rays back in November. Yates has a 5.27 ERA (5.51 FIP) in 56.1 big league innings, all with Tampa Bay. Here's some video:
Yates had a 5.33 ERA (4.70 FIP) in 25.1 Triple-A innings this past season. He's got a low-90s fastball and throws a mid-80s slider, a low-80s changeup, and an upper-70s curveball, so he's one of those rare four-pitch relievers.
As best I can tell, Yates has a minor league option remaining, so he's another candidate to ride the bullpen shuttle next season. This is basically Chris Martin 2.0. The Yankees picked up Yates for practically nothing and will see if they can get some decent innings out of him.
The club still has two open spots on the 40-man roster.