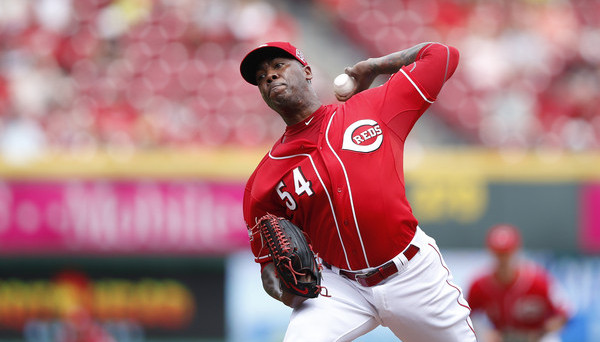 Earlier this week, the Yankees acquired Aroldis Chapman from the Reds even though MLB is still investigating the left-hander for an alleged domestic violence incident that occurred in late-October. Here's a report on the incident, if you haven't seen it. There's no word when the investigation will be complete.
MLB's domestic violence policy is brand new and so far no suspensions have been handed out, so there's no precedent. Chapman is one of three players currently under investigation, joining Jose Reyes (for this) and Yasiel Puig (for this). According to Jon Heyman, word is any suspension imposed on Chapman would not be lengthy.
Word is going around that a long suspension is unlikely in the case of Aroldis Chapman's alleged domestic violence incident. MLB is taking the domestic violence issue very seriously but word is the evidence may be thin in this case. The Yankees aren't saying anything beyond that they did their "due diligence" in making the trade. But suffice it to say, they wouldn't have made the deal if they thought he was in for a long suspension
A "long suspension" means different things to different people. A 30-day suspension seems pretty long to me, for example, but it might not in the eyes of commissioner Rob Manfred. Players do not accrue service time when suspended under the domestic violence policy, so a suspension of 46 days or more will push Chapman's free agency back one year. He's currently scheduled to become a free agent next offseason.
There are two ways to look at this, I guess. One, the Yankees checked in with MLB before the trade to get an idea of what kind of suspension may be coming, and they decided to pull the trigger because it'll be short. Two, the Reds checked in with MLB before the trade and decided to get whatever they could for Chapman this offseason rather than wait until deadline because they were uncomfortable with the length of the suspension. Or maybe none of that happened. Who knows.
"Certainly, there is some serious issues here that are in play. That's why it's going to play out. And I acknowledge that it's an area of concern. There's risk, and I understand that," said Brian Cashman to reporters following the Chapman trade. It's possible if not likely the Yankees will lose Chapman for some period of time at the start of next season. Maybe a few days, maybe a few weeks. They have the bullpen pieces to cover a short suspension, but obviously they want to get as much out of Chapman as possible in 2016.