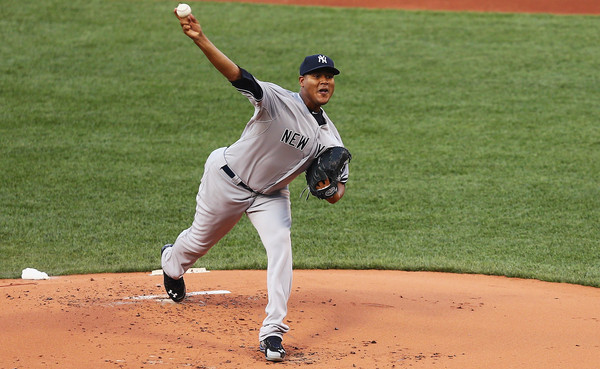 Heading into 2016, the Yankees seem to have a full starting rotation. Injuries will happen and more than five pitchers will start for the team this year, but if we bite our lips and close our eyes, take ourselves away to paradise where everything breaks right (meaning nothing breaks) and the Yanks are able to roll with Masahiro Tanaka, CC Sabathia, Michael Pineda, Nathan Eovaldi, and Luis Severino for most of the year, that leaves Ivan Nova with no spot in the rotation. For many–author included–that's not a bad thing. Nova's been very up and down in his career and coming off of Tommy John surgery in 2015, that was no different. While Severino pitched his way into the 2016 rotation with his 2015 performance, Nova may've pushed his way (permanently) out of it and into that ever gray, nebulous area of 'not good enough to start, but not an obvious reliever, either.'
Of course, Nova could fit nicely into the long-reliever slot. The Yankees don't necessarily need to be concerned with his long-term development as he's close to free agency and he is blocked in the rotation by pitchers with better stuff, better results, and better upside. Allowing him to wallow for a while won't negatively impact the team too much. It's better that he fills this role than, say, Bryan Mitchell, who still has some room to grow and may yet turn out to be a starter for the big league team. And though it's hard to see, given his lack of consistency, there is a route to success in the bullpen for Nova.
When we think of good relief pitchers, we generally think of those with one devastating pitch, which is something Nova hasn't had in his career, despite throwing relatively hard and flashing a good curve every once in a while. Other relievers have a good two-pitch combo, like Andrew Miller's blistering fastball and sweeping slider–ditto for Dellin Betances and his curveball. Nova may not have any one pitch that is nearly as good as any his teammates have, but if he focuses on his two pitch combo–sinker and curveball, especially the latter–he may just find surprising success in the bullpen.
One key to Nova's experience in the bullpen may just be increased reliance on that curve. Of course, I should note that it may not be wise for a guy coming off of elbow surgery to up his curveball usage, but if he's relieving, the gross total may be lower than if he were a starter, even if the percentage goes up. For his career, Nova's curve has the second highest whiff/swing rate at 36.97%, trailing only his slider (40.80), which he hasn't thrown–per Brooks–since 2013. In 2015, he had whiff/swing rate of 37.43% with his curveball, blowing away all of his other pitches. The other key will be pairing that curveball with his sinker, which is most definitely Nova's calling card. Both for his career and 2015, that sinker has gotten a hefty number of ground balls, with both tallies coming in at over 60% grounders/balls in play.
Ditching a fastball may seem like an odd choice, but it may be best for Nova if he's going to succeed in a relief role. Moving into the 'pen and out of the rotation is about simplifying your game and the simplest thing Nova can do is use his two best weapons–his bowling sinker and his effective curve. If he can do that and harness the power of those two pitches, perhaps he can move from just a long-man to an effective short reliever. The chances may not be great, but this is baseball, after all, and stranger things have happened.