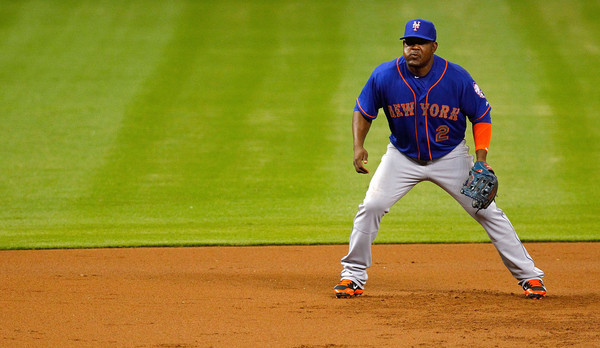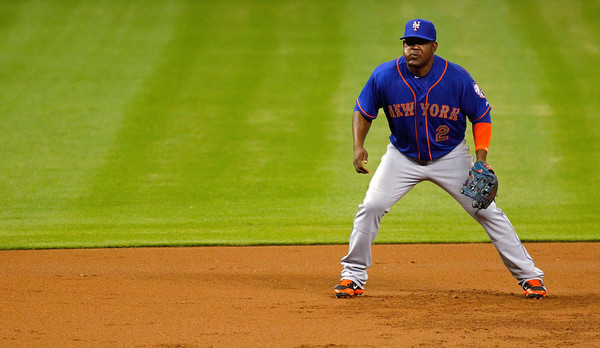 It is entirely possible the Yankees are done making moves this offseason. They have a full lineup, a full rotation, more than enough bodies for the bullpen, and three-fourths of a bench. The team has some internal candidates for that final bench spot, and really, how they fill that spot will depend on Starlin Castro's ability to play third. He hasn't manned the hot corner aside from a handful of games back in rookie ball.
Castro is still relatively new to second base — he only played 258 innings at second last season — and asking him to learn third base as well might be too much, too soon. Using that final bench spot for a proper backup third baseman sure seems like a good idea, no? Veteran infielder Juan Uribe remains available as a free agent and is a candidate to provide depth at third as well as another right-handed bat. Let's see if he makes sense for the Yankees.
The Offense
A few years ago it looked like Uribe was done. Like done done. The now 36-year-old hit .204/.264/.293 (56 wRC+) with the Dodgers in 2011, then followed it up by hitting .191/.258/.284 (52 wRC+) in 2012. Yikes. The Dodgers were on the verge of releasing Uribe early in 2013, though he rebounded that season to hit .278/.331/.438 (116 wRC+), reviving his career. Here are his three most recent seasons.
| | PA | AVG/OBP/SLG | wRC+ | HR | K% | BB% | wRC+ vs. RHP | wRC+ vs. LHP |
| --- | --- | --- | --- | --- | --- | --- | --- | --- |
| 2013 | 426 | .278/.331/.438 | 116 | 12 | 19.0% | 7.0% | 115 | 118 |
| 2014 | 404 | .311/.337/.440 | 121 | 9 | 19.1% | 3.7% | 125 | 106 |
| 2015 | 397 | .253/.320/.417 | 104 | 14 | 20.2% | 8.6% | 90 | 146 |
| Total | 1,227 | .281/.329/.432 | 114 | 35 | 19.4% | 6.4% | 110 | 124 |
After spending the 2013-14 seasons with the Dodgers, Uribe split the 2015 season with the Dodgers, Braves, and Mets. The Dodgers sent him to Atlanta in a very weird trade — the primary piece they got back was up-and-down lefty Ian Thomas — then the Braves shipped him to the Mets at the trade deadline for actual prospects. The Mets grabbed Uribe to beef up their bench down the stretch.
Uribe faced left-handers primarily after landing with the Mets last season, hence the massive platoon split. He simply didn't play a whole lot against righties. Given his age, I'm not sure you could realistically expect Uribe to be a regular against same-side pitchers at this point of his career. Sure, he might be able to do it once in a while, but it's not the best idea. I'm guessing most view Uribe as a righty platoon bat going forward.
Generally speaking, Uribe has some pop against southpaws (.209 ISO from 2013-15) and he tends to draw more walks (8.4%) against them as well. He doesn't provide much value on the bases — Uribe has attempted eight steals over the last three years and he's taken the extra base (first-to-third on a single, etc.) only 37% of the time, below the 41% league average — so his offensive value comes exclusively from his bat. That's fine. That makes him like most other players.
Uribe has a reputation for being a clutch hitter, though the stats don't really bear that out. He does have two World Series rings (2005 White Sox, 2010 Giants) but is a career .209/.246/.342 (57 wRC+) hitter in 170 postseason at-bats. Uribe has also hit .282/.348/.392 (105 wRC+) with men in scoring position the last three seasons and .274/.338/.395 (103 wRC+) in high-leverage spots, which is right in line with his overall numbers.
The clutch stuff is just noise. The most important thing is Uribe's ability to hit left-handed pitchers and do so while playing part-time. Being a bench player is hard. Players aren't used to sitting around for a few days between at-bats. Uribe did it for the Mets late last season (especially after David Wright returned from the DL) and that's not nothing. He's a quality bench hitter against left-handed pitchers.
The Defense
Although he's on the portly side — listed at 6-foot-0 and 235 lbs. — Uribe is a shocking great defender at the hot corner. Both DRS and UZR have rated him as well-above-average at third base in recent years, and the eye test agrees as well. Uribe has good range, vacuum cleaner hands, and a very strong arm. There are some defensive plays in this highlight reel:
Uribe originally came up as a shortstop but he hasn't played the position regularly since 2010 or at all since 2012. The Mets did use him at second base some last season — he hadn't played the position at all since 2011 — and he held his own. He wasn't great but he wasn't a disaster there. Uribe is primarily a third baseman who can play second base in a pinch, so he doesn't offer a ton of defensive versatility.
Injury History
A chest injury kept Uribe out for the final few weeks of the regular season as well as the NLDS and NLCS last year. (The Mets didn't add him to their postseason roster until the World Series.) It was a fluke injury — Uribe dove for a ball (against the Yankees) and landed hard. He had some bruising that didn't allow him to swing or throw properly, and it took time to heal.
Aside from that, Uribe has had some on and off hamstring issues the last few years, including pulls that required two separate DL stints in 2014. That's really it. Uribe had some wrist issues back in 2012 and a sports hernia in 2011, neither of which has given him trouble since. The nagging hamstring trouble is a bit of a red flag but not a deal breaker. He's not a pitcher with a history of arm problems or anything like that.
Contract Projections
Uribe was not eligible for the qualifying offer because he was traded (twice) at midseason, though he wasn't a candidate to receive one anyway. There's no draft pick to consider. FanGraphs was the only publication to consider Uribe a top 50 free agent and their crowdsourcing results spit out a two-year contract at $8M per year. That's cheap starting infielder money.
Obviously there's no reason for the Yankees to seriously consider Uribe at that price. That's way too expensive for a bench player, even a potentially very good one. It's starting to get a little late in the offseason, and off the top of my head, the only teams potentially in need of a starter at third base are the Indians, Angels, Braves, Reds, Brewers, and Pirates. The Braves, Reds, and Brewers are rebuilding teams with younger and cheaper options, so they're long shots.
Uribe's market appears to be pretty limited — teams in need of third base help may prefer the still unsigned David Freese because he's several years younger — so that two-year, $16M projection seems pretty far-fetched. He'll probably have to settle for a smaller one-year contract, similar to Mike Aviles ($2M), Gordon Beckham ($1.25M), Stephen Drew ($3M), Kelly Johnson ($2M), and Sean Rodriguez ($2.5M). Playing time and being with a contender may be bigger priorities at this point of Uribe's career than cash.
Wrapping Up
One thing I have to mention that doesn't fit in any of the previous categories is Uribe's reputation for being a Grade A teammate and fan favorite. He's ultra-popular. Many players have called Uribe their favorite teammate over the years and he has a knack for colorful quotes — "I have to get another contract to buy more cars," he said to David O'Brien last summer when asked about his upcoming free agency. And then there's the jazz hands:
Outstanding. He does that after almost every swing too. Uribe reacts like he hit a home run every time he puts a ball in play. It's pretty fun. None of this affects his on-field value, though being a great teammate and a fan favorite is not nothing either.
Anyway, even with his limited defensive versatility, Uribe seems like he would be a really great fit for that final bench spot. He'd give the Yankees a true backup third baseman and another right-handed hitter to help combat southpaws, who chewed the the team up down the stretch last season. That Uribe has experience being a bench player and going long stretches of time without playing is a plus in by book as well. No adjustment period.
Price and playing time may be an issue, however. Uribe has been pretty productive in recent years and he could be holding out for a starting spot — and a starter's salary — which I understand. It might not be realistic at this point, but I get it. If Uribe is willing to take a low base salary one-year contract and serve as a backup/platoon bat, the Yankees would be wise to scoop him up for that final bench spot.