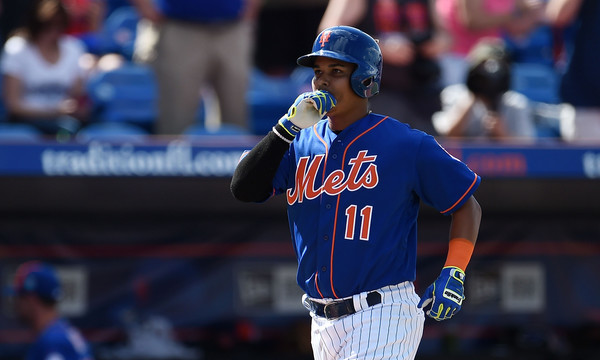 In a bit of a surprising move, the Mets placed infielder Ruben Tejada on waivers earlier today, reports Adam Rubin. I say surprising because the Amazin's are cutting loose a big league caliber infielder even though Asdrubal Cabrera is out with a knee injury and David Wright has yet to play in Spring Training as the team manages his spinal stenosis. I get that the Mets like Wilmer Flores, but he can't play two positions at once.
Anyway, by waiving Tejada now, the Mets will not owe him his full $3M salary for the 2016 season. They'll only have to pay him one-sixth of that, or $500,000. Middle infielders are always in demand, so Tejada shouldn't have much trouble landing a new job in the coming days. The Yankees currently have an open bench spot and they lack a true backup third baseman behind Chase Headley, so does Tejada make sense? Let's look.
The Offense
By no means in Tejada any great shakes at the plate. The 26-year-old (yes, he's only 26) is a .255/.330/.323 (86 wRC+) hitter in nearly 2,200 big league plate appearances. Last season he had a .261/.338/.350 (95 wRC+) batting line in 407 plate appearances, and in four of the last five seasons he's managed a wRC+ in the 89-99 range. Keep in mind the average shortstop had an 85 wRC+ in 2015 and the average second baseman had a 93 wRC+.
Tejada is a right-handed hitter who has unsurprisingly done his best work against lefties over the years. He has zero power against all pitchers — he's hit ten homers with a .068 ISO in those 2,200 or so plate appearances — but he can make contact (15.0 K%) and draw walks (8.6 BB%). Here are Tejada's career numbers against southpaws:

The 2010 season was Tejada's partial rookie season, so feel free to ignore that year. Even if you do, he's still been an above-average producer against lefties in every season of his career except one. You don't want to play Tejada against righties (career 79 wRC+) but he can hold his own against lefties, if not be an asset.
It is important to note Tejada has spent most of his career batting eighth in the NL, right in front of the pitcher, so his walk rate is inflated. He has a career 11.7% walk rate as the No. 8 hitter and a 6.1% walk rate when batting anywhere else in the lineup. Pitchers pitch around the No. 8 hitter in the NL to get to the pitcher whenever they're in a jam. I don't mean intentionally walk them either, sometimes they just give them nothing to hit and see if they'll chase.
Tejada is not a base-stealer (16-for-27 in his career, or 59.3%) and he's only average at taking the extra base (first-to-third on a single, etc.), so he doesn't offer a ton of value on the bases. When it comes to creating runs, Tejada does it by putting the ball in play against lefties and not chasing everything. Move him to the AL and eliminate all those at-bats in front of the pitcher, and you're likely looking at an 85 wRC+ guy going forward. Not great, but passable.
The Defense
Over the last three or four years it always seemed like the Mets would talk about getting a new shortstop, and yet there Tejada would be at shortstop on Opening Day. He came up through the minors as a shortstop and has played the majority of his big league career there, though he's also seen some time at second and third bases. His hot corner experience is limited, however (156.1 innings).
The various defensive stats crushed Tejada at shortstop last year, rating him well-below-average, which is not in line with the rest of his career. He's been scored as average or better at shortstop in previous years. We don't have a ton of data on his second base and third base work, so there's no sense in looking at numbers. The scouting reports indicate Tejada is athletic with good range and a strong arm. The defensive tools are there. That's always been his game. Defense first, offense second.
Injury History
Last fall Tejada rather famously had his lower right fibula broken on a take-out slide by Chase Utley in the NLDS. I'm not sure I would call it a dirty slide, but it was very aggressive and dangerous. Tejada has rehabbed the fracture and had been playing Grapefruit League games before being waived, so he's good to go. He's healthy.
The leg fracture is not the only injury of Tejada's career. Heck, it's not even the first time he broke his right leg. He also fractured his right fibula in September 2013, when he crashed into a teammate while chasing after a pop-up. Here's the video:
Two right fibula fractures in the span of three years seems … bad. I don't know if that makes Tejada more prone to similar fractures going forward, but it can't be good. His only other notable injuries are right quad strains (missed 48 days in 2007 and 37 days in 2013). The leg fractures are bad news. Everything in baseball starts from the ground up — hitting, fielding, throwing, everything — and if Tejada's lower half is compromised, he won't be able to perform as expected.
Contract Status
Tejada and the Mets avoided arbitration over the winter by agreeing to a $3M salary for 2016, but again, the team only owes him one-sixth of that because they placed him on waivers. Interestingly enough, the Mets granted Tejada one extra day of service time as part of their contract agreement, allowing him to become a free agent next offseason. He would have fallen one day short. So, simply put, Tejada is a one-year rental at $3M. If he clears waivers and is released — the waiver process ends Thursday — he can sign with any team for any amount.
Waiver Status
It's not hard to connect the dots and see Tejada winding up with the Cardinals. St. Louis just lost Jhonny Peralta to a thumb injury and he's not expected back until midseason. They have Aledmys Diaz (remember him?) as a potential fill-in, but he's barely played above Double-A, and he fell so out of favor last summer that the Cardinals designated him for assignment. They could use middle infield help and Tejada's now available.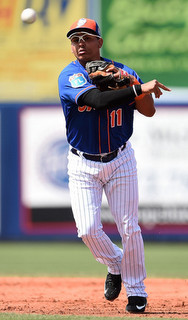 Other teams could use infield help, including the Dodgers, who recently lost Corey Seager for two weeks to a knee issue. I do wonder if the Utley-Tejada dynamic will cause Los Angeles to look elsewhere though. That could be an uncomfortable situation. The Giants could use some infield help. So could the Rockies with Jose Reyes set to be out of action for a long time following his domestic violence incident. The Angels, the Mariners … lots of team could use a spare infielder.
The Cardinals are the most obvious suitor here, and the Yankees do have waiver priority over St. Louis. From November through April, the waiver order is the reverse order of last year's standings, and the Cardinals had the best record in baseball last year. From May through October, the waiver order is the reverse order of the current year's standings by league. So NL players have to go through the entire NL before being exposed to AL teams. That doesn't apply right now. The Yankees will have dibs on Tejada before the Cardinals.
Of course, claiming Tejada means assuming that $3M salary, which is relatively small but not insignificant. I mean, $3M is $3M. It's real money. Creating 40-man roster space is no problem — the Yankees can slide Greg Bird to the 60-day DL — so acquiring Tejada is really a matter of a) him getting to the Yankees on waivers, and b) the Yankees' willingness to assume his $3M salary. They could always wait to see if he clears waivers and becomes a free agent, but if that happens, I have a hard time thinking St. Louis would be outbid. They can offer a starting shortstop job.
Wrapping Up
The Yankees recently pulled the plug on Starlin Castro at third base, so their fourth and final bench spot has to go to a backup third baseman. Rob Refsnyder has been working out at the hot corner this spring and seems to have the inside trade on that job. Tejada is another candidate for that spot. He might not hit like Refsnyder, but he's a better defender and can also fill-in at shortstop. That means Castro could focus on second base and second base only.
Acquiring Tejada would push Refsnyder to Triple-A, yes, but I don't see this as Tejada or Refsnyder. It's Tejada and Refsnyder. The Yankees would get to keep both. They could keep Tejada at the MLB level — he has enough service time to refuse an assignment to Triple-A anyway — as their sparsely used backup infielder while Refsnyder plays everyday in the minors and continues to work at third base. It's another layer of depth.
The Yankees don't have much in the way of Triple-A infielders right now. With Refsnyder slated to be in the big leagues, the Triple-A infield will consist of Pete Kozma, Donovan Solano, Jonathan Diaz, and Ronald Torreyes. I don't think anyone wants to see them this summer. I'd prefer to see the Yankees add Tejada to their bench, push Refsnyder to Triple-A, and push everyone else further down the depth chart.
Tejada is a +1 WAR player, give or take. No backup infielder is great. He has been able to hold his own as a 400-ish at-bat player for the Mets the last few years, and now we're talking about making him a 180-ish at-bat bench guy for the Yankees. Tejada could struggle to keep his rhythm with less playing time, or he could really take off by being platooned properly. Considering it would only cost $3M and a waiver claim to acquire him, adding Tejada as infield depth is a move worth making in my book.