The following is a guest post from Steven Simineri, whose work can be found at Double G Sports, among other places. He previously wrote a guest post about Chris Capuano's turbulent 2015 season.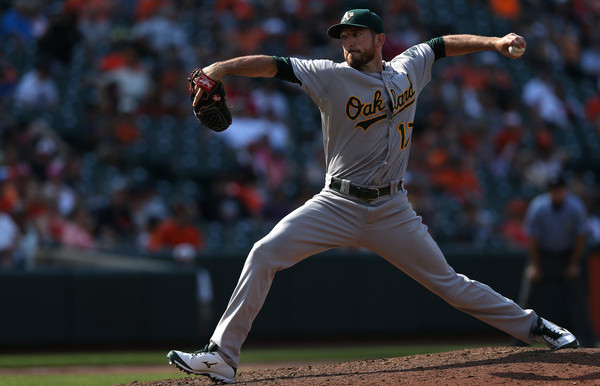 Seemingly out of the blue on Monday afternoon, Joel Sherman of the New York Post reported that promising youngster Greg Bird is going to miss all of the 2016 season following shoulder surgery, which the 23-year-old will undergo today at The Hospital for Special Surgery in New York.
Bird suffered a right shoulder labrum tear and the issue is a reoccurrence of an injury sustained in May, when Bird spent approximately a month on the disabled list with Double-A Trenton. He returned to the field after following a rest and rehab program, but Bird informed the team after the season that the shoulder was again bothering him. The news is a big blow for both the Yankees and Scranton/Wilkes-Barre RailRiders.
Bird made a big splash after being called up to the Yankees last year, slashing .261/.343/.529 with 11 homers and 31 RBIs over the course of 46 games. He was slated to start the season at Triple-A Scranton, but the young lefty was almost certainly going to see a good chunk of playing time in 2016 if — or more likely when — either Mark Teixeira or DH Alex Rodriguez hit the disabled list, which is a fairly safe bet at some point.
Even though Teixeira missed nearly all of the final quarter of the 2015 season, it's fair to say that he rebounded in a big way last year to produce his best numbers in at least five years. Teixeira hit 31 home runs — his highest total in four years, but there are still concerns about him staying on the field.
Teixeira, 36 in April, is about to enter the final season of his eight-year, $180 million contract and he's become porcelain fragile. He hasn't played more than 123 games since 2011, however, general manager Brian Cashman informed reporters yesterday that the team would look for insurance at Triple-A rather than a major league first baseman such as Pedro Alvarez or Justin Morneau. In fact, the Yankees are allergic to giving out major league contracts this winter – they are the only team in the baseball to not spend a wooden nickel in free agency.
Cashman believes that the team is set for now at first with Teixeira and Dustin Ackley. Brian McCann could possibly spend some time at first if needed. But he and Ackley can't play the position everyday. The Yankees can offer a minor league deal to the 34-year old Morneau, who has been battling a recurring concussion issue and only played in 49 games with the Rockies a season ago. But the 2006 MVP is far from a guarantee to stay healthy himself.
Alvarez, who grew up a few miles from Yankee Stadium in Washington Heights, is the best first baseman still available despite his subpar 2015 season. The lefty slugger probably wouldn't end up settling for a minor league contract, but it's not out of the realm of possibility, as 28-year old outfielder Travis Snider just signed a minor league pact with the Royals. Alvarez also grew up a Yankee fan and who knows how many homers he could hit at Yankee Stadium.
Perhaps, though, the Yankees should give former Met top prospect Ike Davis a call. Some scouts still think there's something left in 28-year-old's tank and he's gettable for a minor league contract with an invitation to Spring Training. Davis, the son of former Yankee reliever Ron Davis, has played for three teams over the last two seasons with exactly zero WAR in 666 at-bats.
Davis earned $3.8 million in 2015 while batting just .229/.301/.350 with three home runs and 21 RBI over 239 plate appearances for the Oakland Athletics. He underwent season-ending surgery to repair a torn hip labrum in August and A's understandably didn't think that level of production was worth keeping him around for a raise, non-tendering Davis in December.
In 2012, Davis was struck with Valley Fever early in the year but he went on to hit 32 homers. It's been all downhill since. He's played at the major league level every year since but the most home runs he hit after that were 11. Davis is just the kind of bounce-back candidate and undervalued commodity that the Yankees are looking for. Plus, there may not be a better place than the short porch at Yankee Stadium to revive the career of the 18th overall pick of the 2008 draft.
With Davis you're mostly hoping he can tap into some of the skills he's shown in the past. He has always been known to be a patient hitter with a double-digit walk rate, but he has trouble making contact and he typically has very low batting averages. There's potential for big power and decent defense, but with no guarantees he'll be good in any aspects.
Not that long ago, Yankee pinstripes turned beleaguered Met Chris Young – the outfielder — back into a major leaguer and maybe the uniform can work the same magic for Davis.