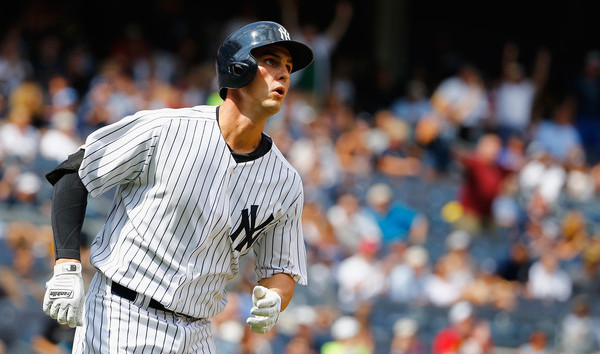 Well this is bad. Greg Bird will miss the entire 2016 season following right shoulder surgery, the Yankees have announced. He has a torn labrum and will have the procedure tomorrow. Bird missed about a month with a shoulder strain in the minors last year and felt it again during offseason workouts, the team confirmed.
Bird, 23, was scheduled to start the 2016 season in Triple-A since the Yankees have Mark Teixeira at first base, Alex Rodriguez at DH, and Carlos Beltran as a backup DH. Given the fragility of those players, there was a good chance Bird would get plenty of big league playing time anyway. That won't happen now.
Since being drafted in 2010 Bird has dealt with ongoing back issues, which caused him to move from catcher to first base. The shoulder is relatively new as far as I know. Last season was the first time he had trouble with it. Obviously a torn labrum is very serious, especially since it is his throwing shoulder and front shoulder when hitting.
Front shoulder injuries are known to sap power even after the player is healthy. Brian McCann, Adrian Gonzalez, and Matt Kemp all had front shoulder surgeries in recent years and needed almost a full year to get back to where they were before going under the knife. Bird is close to an offense-only player. And loss of power would be bad news.
Service time rules are tricky but I'm fairly certain the Yankees can't option Bird at this point. That means he'll accrue a full year of service time sitting on the big league DL next summer and burn one of his six years of team control. Not ideal, but dems the breaks.