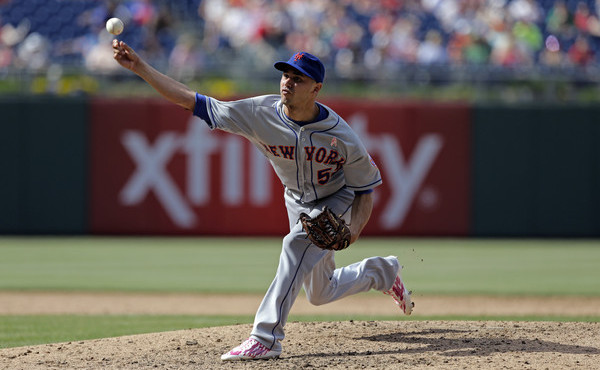 According to Brendan Kuty, the Yankees have reached out to former Mets reliever and free agent right-hander Carlos Torres. Torres elected free agency last week after being designated for assignment when the Amazin's needed a 40-man spot for Yoenis Cespedes. Roughly 20 teams have contacted him already, including clubs in Asia.
Torres, 33, has spent the last three seasons working mostly as a swingman with the Mets. He has a 3.59 ERA (3.94 FIP) with a 21.9% strikeout rate and a 7.3% walk rate in 241 innings during that time. Last year Torres had both the highest ERA (4.68) and lowest FIP (3.53) of his three seasons in Flushing, weirdly.
The Yankees traded swingman Adam Warren earlier this offseason and they'll head into Spring Training with three open bullpen spots. (Maybe four depending on Aroldis Chapman's suspension.) They do have a ton of internal candidates though. I count 20 bullpen candidates between the 40-man roster and non-roster invitees.
Right now the Yankees have six starters and Brian Cashman confirmed whichever one doesn't make the rotation will likely be the long man, assuming everyone stays healthy. Torres has a rubber arm — it seemed like the Mets were bringing him out of the bullpen for multiple innings every other day — and he would add swingman depth in case a starter gets hurt.
The Yankees have not yet signed a Major League free agent this offseason and I don't think that will change now. If they wanted Torres on the 40-man roster, they could have simply claimed him off waivers. It's not like he's making a ton of money. (He agreed to a $1.05M salary to avoid arbitration before being designated.) Chances are the Yankees want him on a minor league deal.
Beyond the top six starters, the Yankees have Bryan Mitchell and journeymen Anthony Swarzak and Tyler Cloyd as rotation depth. Luis Cessa, Chad Green, and Brady Lail are in that mix as well. If the Yankees can bring in Torres on a minor league deal, great. Never a bad idea to bring in more depth. He's not a sexy name but he's a capable last guy in the bullpen.