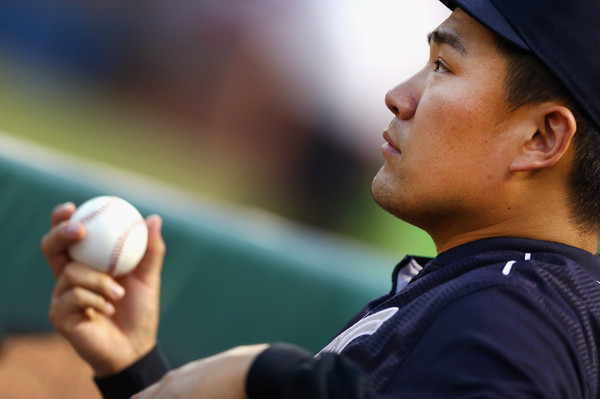 With each passing year, there is more and more talk the Yankees may use a six-man rotation going forward. Maybe not all season, but part of the season. The team went to great lengths to give their starters extra rest whenever possible last summer — Masahiro Tanaka, CC Sabathia, Michael Pineda, and Nathan Eovaldi made 63 of their 107 starts with extra rest (59%) — and I'm sure that will be the case this coming season too.
At the moment, the Yankees intend to start the 2016 season with a normal five-man rotation, Brian Cashman confirmed to Bryan Hoch. "Right now, it's more likely that we go the conventional route and have five starters," said the GM. "And whoever is the loser out of that battle for five spots would potentially be a long man in the 'pen, waiting in the wings. But who knows? We'll have to wait and see."
The April schedule includes a ton of off-days, as usual, so the Yankees will be able to give their starters plenty of extra rest without jumping through too many hoops early in the season. In fact, whoever starts Opening Day will be able to make each of his first four (and five of his first six) starts on extra rest thanks to scheduled off-days. I assume Tanaka will get the ball on Opening Day, but we'll see.
Here is a real quick and dirty tentative rotation schedule for April. The Yankees must be looking forward to all those early-season off-days this year. Check this out:
The Yankees will be able to have their starter on extra rest 16 times (!) in the first 20 games. They won't have to use a starter on normal rest until April 17th, the 12th game of the year. And doesn't that April 27th game sure look like the perfect time to use a spot sixth starter? It would give the rest of the rotation two extra days of rest before their next starts thanks to the off-day on the 28th.
That all looks pretty good to me. Tanaka is coming off surgery to remove a bone spur, so the Yankees will want to take it easy on him early next year. Eovaldi's season ended early due to an elbow issue as well. Sabathia's knee flared up again in September and Pineda hasn't pitched a full season since 2011. Luis Severino figures to be the other starter and he'll be on some sort of innings limit. The Yankees have good reason to want to give these guys extra rest.
Of course, we're getting way ahead of ourselves here. The Yankees have to get through Spring Training with five healthy starters before they can start mapping out rotation schedules and possible dates to use a sixth starter. "I think if you can give guys extra rest, that's always a benefit," added Cashman. "But theory and practicality, that's where the rubber meets the road. We have a long way to get to before that really is a legitimate option or not."
I'm sure we'll hear more about the possibility of a six-man rotation in the coming weeks. It's unavoidable. It's what people talk about when there's nothing else to talk about. That talk will only grow louder if the Yankees do manage to trade Brett Gardner or Andrew Miller for a starter in the coming weeks. I don't think it'll happen, but you never know. No one expected Alex Rodriguez to become a Yankee on this date in 2004, right? Right.