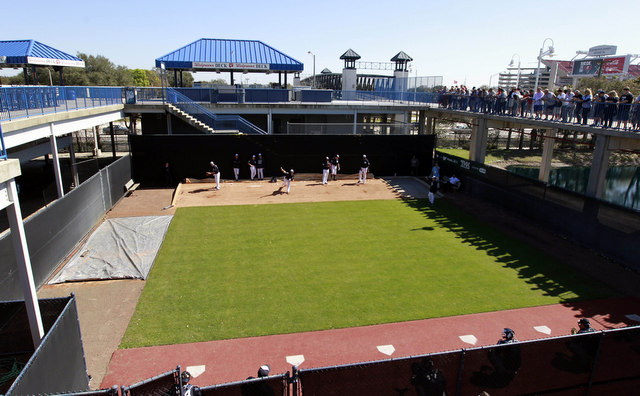 Day two of Spring Training — the first real workout day — went without a hitch today. CC Sabathia held a press conference and said he plans to stay sober this season by keeping himself occupied and hanging out with teammates. He did all of his heavy drinking alone in his hotel room. "That's something I kind of got away from the past couple of years," he said to Brendan Kuty. "Just kind of shutting myself into my hotel room and doing my deed. I'll be out with my teammates, hanging out with the guys in the same role when I first got here, very social."
Sabathia also confirmed he will continue to use the knee brace he used at the end of last season, when he finished with five strong starts. "I got a new lightweight one that I started using at the end of the year last year and I really took to it. Throwing my bullpens this winter, I've felt great. I'll use it again tomorrow in my first bullpen and just work from there," he said to Ryan Hatch. Here are today's photos from camp and here are the day's notes:
This is tonight's open thread. The Knicks are playing the Nets and the Devils are playing the Islanders. There's no college hoops on the schedule though. Chat about those games, the day in Spring Training, or anything else here.