Spring Training has begun and we are only eleven days away from the first Grapefruit League game. The Yankees tend to start someone other than one of their five projected starters in the first spring game, so I'm curious to see who gets the ball this year. Watch it be a journeyman like Anthony Swarzak or Tyler Cloyd, not an interesting prospect. Anyway, I have some minor league links and notes to pass along.
Kaprielian already turning heads in Spring Training
I guess this is more of a Spring Training update than a minor league update, but whatever. RHP James Kaprielian is already getting some very high praise in camp even though pitchers and catchers officially reported only a few days ago. He's been in Tampa for several weeks now and recently took part in Captain's Camp.
"He's shown some leadership ability among the players. He's been a big part of things (in Captain's Camp) and he's another guy we think that, over the long term, has an excellent chance to be part of our Major League rotation," said farm system head Gary Denbo to Brendan Kuty. "He's shown the ability to locate his fastball. His breaking ball has the chance to be a plus pitch for him. The changeup also has improved the more he's pitched and will as he develops. He's shown improvement in velocity in the course of last season."
Kaprielian, 21, threw his first official bullpen session of the spring yesterday and Joe Girardi came away impressed. "Thought he had good command today," said the skipper to Chad Jennings. "You know, the focus early on in Spring Training is the command of that fastball, and I thought he had good command. I thought he was not overwhelmed by his surroundings. He was comfortable. That's always a concern of mine for kids their first year in camp. He was talkative, and it was good to see."
Kaprielian among Baseball America's top 100 just misses
A week ago Baseball America published their annual top 100 prospects list, which included three Yankees. Kaprielian was not one of them, but he was one of six players who just missed the top 100, says Josh Norris. Here's the blurb:
Kaprielian, the Yankees' 2015 first-rounder from UCLA, was one of the last few players in consideration for the final spot on the list. His fastball bumped 96-97 mph in pro ball with short-season Staten Island and in fall instructional league. Each of his other three pitches—curveball, slider and changeup—grades as at least average. He should start this year at high Class A Tampa and could zoom through the minor leagues.
J.J. Cooper says RHP Domingo Acevedo, 2B Rob Refsnyder, and SS Wilkerman Garcia all received top 100 votes in addition to Kaprielian when the Baseball America team was compiling their top 100 list. A total of 208 players received at least one top 100 vote, so that's not that exclusive of a club, but I'd be pretty happy to get a vote. Being a top 208 prospect would be pretty cool.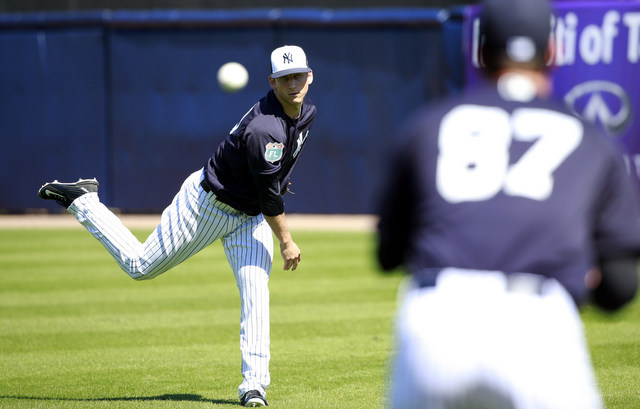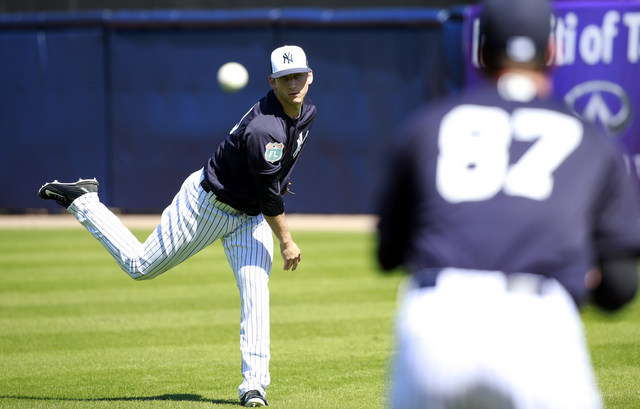 Prospect position rankings
Last week both Keith Law (subs. req'd) and Baseball America released their prospect position rankings. Well, Baseball America is in the process of releasing their rankings. They've only published a few so far. MLB.com published their prospect position rankings a few weeks ago (catcher, second base, shortstop, outfield).
Law ranked C Gary Sanchez second among catchers, SS Jorge Mateo 15th among shortstops, OF Aaron Judge ninth among outfielders, and LHP Jacob Lindgren seventh among relievers. Kaprielian did make Law's annual top 100 list but he was not among the top 20 starting pitching prospects only because so many pitchers were ahead of him on the top 100. Refsnyder did not rank among his top 10 second base prospects.
As for Baseball America, they ranked Sanchez as the best catching prospect in the game, Kaprielian and Acevedo as the 35th and 55th best right-handed pitching prospects, respectively, and Lindgren as the 22nd best left-handed pitching prospect. None of the other positions have been released yet. Those are coming next week. Good to see Sanchez so high among catchers.
Florial a deep sleeper
I don't pay much attention to the Dominican Summer League because there is so much misinformation about those kids out there, and also because they're just so very far away from MLB. Most don't even make it stateside. Ben Badler is one of the best international baseball reporters in the game though, and he says OF Estevan Florial is a deep sleeper to keep an eye on.
Florial, 17, was part of the Yankees' big 2014-15 international spending spree, but I can't find any bonus information, which usually indicates he didn't get a ton of money. Florial hit .313/.394/.527 (154 wRC+) with seven homers, 15 steals, an 11.3% walk rate, and a 22.9% strikeout rate in 57 DSL games last year. I can't find anything else on him and I don't trust DSL stats at all, but if Badler says he's a sleeper, then he's a sleeper. File his name under players to remember.
Misc. Links & Notes
Here are some links and notes not worth a full write-up but are worth checking out:
Just a heads up, the four full season minor league affiliates begin their regular season on Thursday, April 7th this year. That's three days after the big league Yankees behind their season.