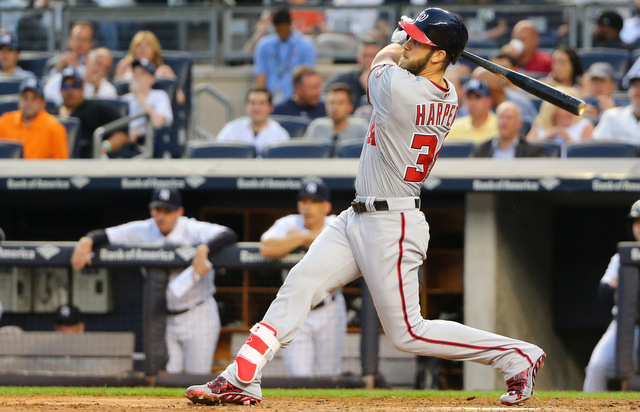 As you know, the Yankees are the only team in baseball that has not yet signed a Major League free agent this offseason. They have taken on some money in the Starlin Castro and Aroldis Chapman trades — about $23.5M for luxury tax purposes in 2016 — but otherwise they've limited their spending. Once again the team focused on trades.
Next offseason the Yankees are going to start to shed some of their expensive long-term contracts. Mark Teixeira ($22.5M per year) and Carlos Beltran ($15M) will come off the books next offseason, then CC Sabathia ($23.4M) and Alex Rodriguez ($27.5M) will join them the following year. Possibly Masahiro Tanaka ($22.1M) as well if he stays healthy and opts out of his contract.
We know Hal Steinbrenner & Co. want to get under the luxury tax in the near future, and those expiring deals will help the Yankees accomplish that goal. Doing so would reset the team's tax rate and entitle the Yankees to some revenue sharing rebates. Getting under the tax threshold potentially equals tens of millions of dollars saved. It's a substantial sum. Last week Jeff Passan had some details on New York's financial situation:
Now, we'll get to that, though first it's imperative to understand how and why the Yankees are looking years down the road when deciding to sit out this offseason. And it's best to start with two numbers: $508 million and $8.1 million. The Yankees' yearly revenues in the most recent franchise valuations by Forbes were $508 million, and their operation income – money in the black – was $8.1 million. That is not a lot, not when New York's revenues exceed the second-place Dodgers' by more than $100 million.

…

If reason No. 1 (to pass on free agents) was minimal profit, No. 2 is every bit as important: the fear of the unknown. And with baseball ready to begin negotiating a new collective-bargaining agreement soon, the unknown is palpable. New York has no idea what percentage of its revenue it will be sharing with lower-revenue teams. Currently, the tax rate assessed to every team is 34 percent of local revenue, and that pool is split evenly among the 30 teams. High-earning teams pay what amounts to another 14 percent on top of that. The Yankees give more in revenue-sharing dollars than every other team, and it's not particularly close. With the gap between the richest and poorest teams as significant as ever, they could give even more, something they'll surely resist.
The expectation is the Yankees will go back to spending big on free agents in a few years, once some of the big contracts are off the books, the luxury tax rate has been reset, and the terms of the next CBA are known. I don't know when the Yankees will spend big or exactly how much they're planning to spend, but I'm sure it'll happen. They're not going let all that money come off the books and save all that cash on luxury tax and not put at least a big chunk of it back into the team.
That brings us to Bryce Harper, the just-turned-23-year-old wunderkind of the Washington Nationals. Harper silenced all of his critics last season with a historic .330/.460/.649 (195 OPS+) batting line and 42 homers. Here is the full list of players who had a 180 OPS+ or better season at age 22 or younger: Ted Williams, Ty Cobb, and Bryce Harper. That's it. Harper's 42 dingers are the most of the trio. People ripped Harper when he hit "only" .272/.351/.465 (121 OPS+) from 2012-14, but that's not possible anymore. He's a megastar.
Harper is now three years from free agency and he is a Scott Boras client, so it's a damn near certainty he will hit the open market. If the Nationals want to approach him about a long-term extension, they'd have to start their offer at Giancarlo Stanton's massive 13-year, $325M contract. That's the starting point. Stanton is awesome, but Harper is younger and better than Giancarlo was at the time of his deal. More than likely it'll take something closer to $400M to get Harper and Boras to the negotiating table.
There are still three years between now and then, but Harper is the odds on favorite to become the first $40M a year player in baseball history. Whatever we think it'll take to sign him is probably too low. In all seriousness, I expect Boras to ask for something like 15 years and $600M in three years. He's going to want to smash records with Harper, not beat them by $1M or $2M. Remember when A-Rod was a free agent way back when? His ten-year, $252M deal was exactly double the richest sports contract at the time (Kevin Garnett's $126M deal). Boras brokered that deal for Alex and he'll want to do something similar with Harper.
It's impossible to ignore the timing of all this. The Yankees have all these contracts coming off the books and are very likely to get under the luxury tax at some point in the next two or three years, right as Harper hits the open market. The club will have this huge financial windfall at the same time a generational talent becomes available for nothing but cash (and presumably a draft pick). Not just a generational talent, a generational talent in the prime of his career; Harper will turn 26 the October of the offseason of his free agency.
Personally, I do not believe the decision to get under the luxury tax and have enormous future payroll flexibility is tied to Harper's free agency. It's a coincidence. Hal has been talking about getting under the luxury tax for years now (the original plan was to do it in 2014, remember), long before it was clear Harper was a superstar of the first order. I do, however, believe the Yankees are very aware Harper is likely to become a free agent in three years, and that they're going to be in a better place financially at the time, putting them in position to sign a marquee free to what will surely be a record contract.
That said, planning for a free agent three years into the future is foolish. Yes, teams do need to plan ahead, but you can't plan that far ahead with any sort of certainty. Way too much can and will change between now and then. The Yankees can have their eye on Harper down the line and also understand it's unlikely to happen. Realistically, what are the chances Harper will be a Yankee come the 2019 season? 25%? Even that seems high. Maybe 50% is the absolute best case scenario right now?
"You can't predict free agency multiple years out," said Brian Cashman to Chad Jennings earlier this offseason. "I can't project availability. Obviously if you turn the clock back and look at projecting (David) Price's availability, (it was impossible to know), would he be healthy? He's been with three teams since. It's such a guessing game when you go through that process that far out to forecast."
Assuming the Yankees do achieve this goal of financial flexibility and Harper remains a star, going after Harper in three years is a total no-brainer. The Yankees brand is built on stars and winning, and a player as good and as young as Harper is someone you absolutely go all-out to acquire. They don't come along very often at all. He's the guy you make a $400M+ offer on day one of free agency to let other teams know you aren't screwing around. Just drop the hammer the first day and let two-thirds of the league know they shouldn't even bother making a phone call to Boras.
Those are two pretty big assumptions though, right? The financial flexibility and Harper hitting free agency as a megastar stuff. It's have financial flexibility AND Harper becomes a free agent AND Harper is still a star. All of that has to happen, and it very well might. But it goes to show how much can change between now and then. It wouldn't take much to derail this plan. I hope the Yankees get Harper in three years, but the Yankees can't plan on him being the endgame for this financial flexibility. He's not the driving force behind the team's austerity, but man, the timing sure does work out well.