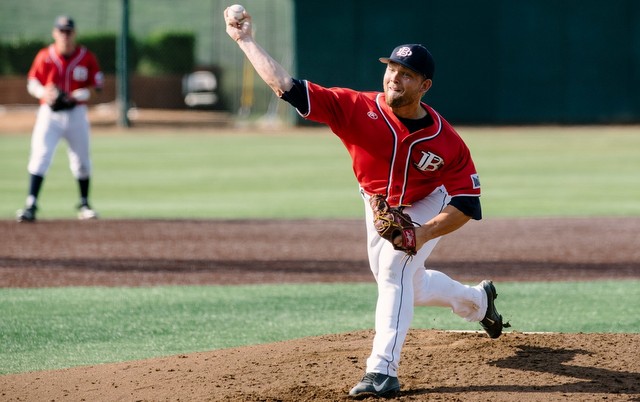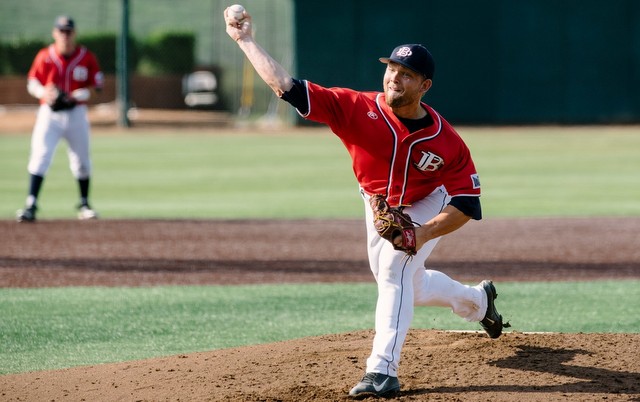 Chance Adams | RHP
Background
Adams grew up in Scottsdale and attended Chaparral High School, where he both pitched and played third base. He helped the Firebirds to back-to-back state championships in 2011 and 2012, his junior and senior years. Adams was not much of a pro prospect at the time — Baseball America did not rank him among the top 500 prospects for the 2012 draft — so he went undrafted out of high school.
As a freshman at Yavapai College, Adams focused on pitching full-time and had a 5.40 ERA in 16 2/3 relief innings. He struck out 18 and walked eleven. He was draft-eligible again in 2013 since Yavapai is a two-year school, but he was still not much of a pro prospect, so he went undrafted. Baseball America (subs. req'd) did not rank Adams among the top 500 draft prospects overall or the top 45 prospects in Arizona.
The second year at Yavapai went much better. Adams moved into the rotation and had a 2.88 ERA in 56 1/3 innings with 62 strikeouts and 19 walks. He also managed four complete games. Baseball America (subs. req'd) again did not rank Adams among the top 500 prospects for the 2014 draft and again he went undrafted.
Adams transferred to Dallas Baptist for his junior season and moved into a full-time bullpen role. He had a 1.98 ERA with 83 strikeouts and 13 walks in 59 innings for the Patriots. Baseball America ranked Adams as the 245th best prospect in the 2015 draft class, and the Yankees selected him with their fifth round pick, No. 153 overall. He signed for a $330,000 bonus, just below the $342,000 slot value.
Pro Debut
The Yankees did not screw around with Adams. He signed quickly and they sent him to Short Season Staten Island. After four appearances with the Baby Bombers, the Yankees moved him up to Low-A Charleston. After five appearances with the RiverDogs, Adams was bumped up to High-A Tampa. All told, Adams threw 35.1 relief innings at three levels after signing last year. He had a 1.78 ERA (1.75 FIP) with 45 strikeouts (31.7%) and nine walks (6.3%).
Scouting Report
Last spring at Dallas Baptist, the 21-year-old Adams was a low-90s fastball guy with an inconsistent cutter as his primary secondary pitch. His velocity jumped into the 93-96 mph range in pro ball — he reportedly ran his fastball up to 99 mph with Staten Island — and the Yankees helped him turn the cutter into a true slider. Here's some video:
Adams made some progress with his changeup after signing, so much so the Yankees will apparently give him a chance to start next season. He's not particularly tall — listed at 6-foot-0 and 215 lbs. — and getting downward plane on his fastball has been challenge. There's a decent chance he'll be fly ball prone going forward, which is not necessarily a bad thing.
Adams, who as best I can tell has never had any injury issues, uses a full windup in relief and his control is fine. After spending the spring as a low-90s fastball/cutter pitcher at Dallas Baptist, Adams finished the 2015 pro season as a mid-90s fastball/slider guy with an okay changeup.
2016 Outlook
The Yankees do have a recent history of moving college relievers into the rotation — they did it last year with 2014 sixth rounder Jonathan Holder, for example — so I don't doubt they're planning to try Adams as a starter in 2016. Either way, starter or bullpen, he seems likely to begin the 2016 season back with High-A Tampa. Adams might stay there all season if he remains in the rotation. If he works as a reliever, he could zoom up the ladder and possibly even make his MLB debut late in the season. That's the very best case scenario though.
My Take
I like Adams as a prospect and kinda wish the Yankees would just leave him in the bullpen, but I suppose they do have a ton of upper level relievers, so they have the depth to try him as a starter. Now's the time to do it, early in his career. I'm interested to see if the mid-90s velocity sticks going forward — probably not as a starter, but who knows — because if it does, it changes his outlook considerably. At 91-93 mph he was interesting. At 94-96 mph he was dominant. The Yankees know how to get power arms to MLB quickly and Adams could be next in line.