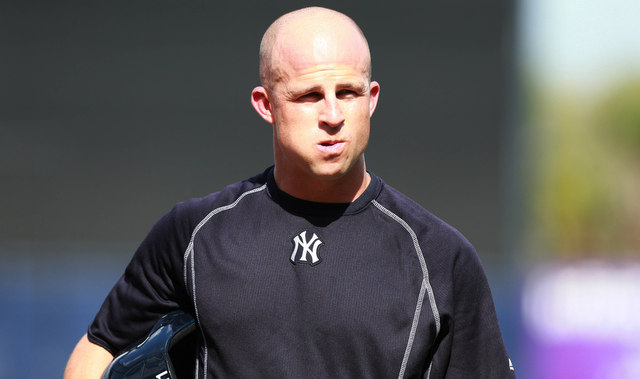 The last 12 months have been pretty eventful for Brett Gardner. He had a phenomenal first half last season, good enough to get him to his first All-Star Game. He then struggled big time in the second half, so much so that he (and the rest of the Yankees) were booed in the wildcard game. Then, after the season, Gardner's name was floated in constant trade rumors over the winter.
The Yankees never did trade Gardner though, so he again reported to Spring Training as the starting left fielder and a key offensive table-setter. Even with that disastrous second half, Gardner hit .259/.343/.399 (105 wRC+) with 16 homers and 20 steals in 2015, plus he played strong defense. He's no longer a Gold Glove caliber defender, but he is an asset in the field. Gardner's two-way play is pretty darn valuable. There are still some questions heading into 2016. Big questions.
Is His Wrist Okay?
Little did we know, Gardner suffered a bone bruise in his left wrist making a catch during the wildcard game last fall. Here's the video if you can't remember the play:
The bone bruise lingered all through the offseason — perhaps that's why the Yankees were unable to make a trade? — and was still an issue when Gardner reported to Spring Training. "We'll start him out of the gate slow. Just more of a safe route," said Brian Cashman earlier this spring. He added recent tests had shown "significant" improvement.
So the Yankees took it slow with Gardner, and it wasn't until this Wednesday that he played in a Grapefruit League game. Gardner went 0-for-2 and, most importantly, he felt fine afterwards. He did have his wrist wrapped in ice after the game according to Brendan Kuty, but that's not really surprising. Gardner's still receiving treatment. They call it "prehab." Many players literally sit in a tub of ice water after games to help their bodies recover.
Last season Gardner battled wrist trouble after being hit with two pitches in a short period of time, thought that was the other wrist. He took the two pitches to the right wrist. Now the left is acting up. So far he seems to be doing well in camp — Gardner progressed from hitting off a tee to hitting in a cage to batting practice to live batting practice to a game — and that's good news. Wrist injuries are always scary though, and if this thing lingers into the season, it could really impact Brett's production.
Is He Going To Steal More Bases?
Back in 2010, his first full season as a big league player, Gardner stole 47 bases and finished third in the AL behind Juan Pierre (68) and Rajai Davis (50). The next year he stole 49 bases and tied with Coco Crisp for the league lead. Gardner lost almost the entire 2012 season to injury, but from 2013-15, he stole only 24, 21, and 20 bases. That's still a healthy amount. It's just not an eye-popping number.
Gardner attempted a stolen base in 24.6% of his opportunities — a stolen base opportunity is define as being on first or second base with the next base unoccupied — from 2010-11, well above the 5.6% league average. From 2013-15, his attempt rate dropped to 10.9%, which is still above the 6.7% league average, but not by much. (Teams are attempting more steals as offense declines.) Gardner's success rate is still fantastic (78% from 2013-15), he just doesn't run as often.
"I can't necessarily pinpoint what it is, but obviously I was a little less aggressive," said Gardner to Mark Feinsand. "You can't steal 40-something bases if you don't try to steal 40-something bases. I think all that starts with getting on base more often, trying to get my OBP north of .350 and doing a good job of being consistent and setting the table for these guys at the heart of the order … I think for the most part I've done a good job of trying to do that and being smart about when we run but we're always looking for ways to improve."
The general lack of steals and Gardner's hesitation when stealing bases has earned him the "bad base-runner" label, which is a load of crap. Brett takes the extra base (first-to-third on a single, move up on a wild pitch, etc.) at a rate far better than the league average (48% from 2013-15; average is 39%), and his +14.9 base-running runs are the 13th most in baseball since 2013. Gardner's a very good base-runner. The lack of steals doesn't make him bad.
Stealing bases is a young man's game. The 2016 season will be Gardner's age 33 season, and only seven players have stolen 30+ bases in their age 33 season since 2000. (Only one has stolen 40+ bases.) Expecting Brett to get back to stealing 40+ bases like he did from 2010-11 is unrealistic. Players his age rarely do it. The stolen base aging curve (via Mike Podhorzer) doesn't lie: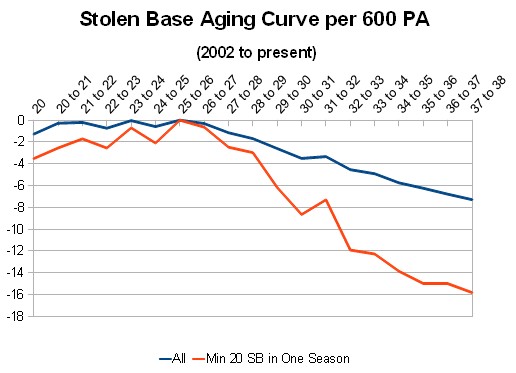 The blue line represents all players. The red line represents players who had at least one season with 20+ steals in their career, like Gardner. Historically the peak ages for steals are 23-27. After that, it's a steady decline. Or in the case of former speedsters, a rather steep decline. The speed just isn't there any more and all those years of stealing bases and diving back into first base on pickoff throws take a toll.
Remember, Gardner has had injuries to both wrists in the last 12 months, and stealing bases is dangerous. It's a good way to get stepped on or jam your fingers or whatever. I can't imagine the Yankees are eager to have Gardner attempt a bunch of stolen bases after nursing a bone bruise in his wrist for the last five months. Gardner says he wants to be a little more aggressive this year and that's fine. At this point of his career he's a 20-25 stolen base guy though. Nothing more.
How Does He Avoid Another Bad Second Half?
There's no sugarcoating it: Gardner's second half slump last season was brutal. He hit .206/.300/.292 (66 wRC+) after the All-Star break, which ranked 146th out of 156 qualified hitters in terms of wRC+. Wrist problems or not, Gardner was awful in the second half, and it has become a bit of a pattern.
| | First Half | Second Half |
| --- | --- | --- |
| 2013 | .272/.338/.422 (109 wRC+) | .274/.354/.403 (110 wRC+) |
| 2014 | .279/.353/.424 (122 wRC+) | .218./286/.417 (95 wRC+) |
| 2015 | .302/.377/.484 (137 wRC+) | .206/.300/.292 (66 wRC+) |
| Career | .283/.360/.421 (115 wRC+) | .236/.326/.351 (88 wRC+) |
Gardner had no dip in performance in the second half of 2013. In 2014 he had a pretty substantial dip, and in 2015 it was even bigger. He lost 71 points of wRC+ between the first and second halves this year. Sheesh. Gardner has been hurt the last two second halves — he had the wrist problem after the hit-by-pitches in 2015, and in 2014 he played through an abdominal injury so severe it required offseason surgery — but no one wants to hear that because it sounds like an excuse.
Regardless of what happened from 2014-15, the Yankees and Joe Girardi have said they want to find a way to keep Gardner (and everyone else) productive all season, and they hope to do that with extra rest. Aaron Hicks was brought in to be the fourth outfielder, and since he's a switch-hitter, Girardi can play him against both righties and lefties. Chris Young was awesome last season, but you did not want him at the plate against a right-handed pitcher.
Gardner has played at least 1,150 innings in the outfield in five of the last six seasons, and the only time he didn't was 2012, the year he barely played due to an elbow injury. That's a lot of running around and fatigue is a very real factor, especially now that he's approaching his mid-30s. I don't know if there's a magic number. Gardner has played 145+ games in five of the last six seasons, so maybe now he's more of a 130 games a year player. That sound okay?
The key to avoiding another second half slump is health, first and foremost. Bad wrists or bad abdomens or whatever are no good for baseball playing. Managing fatigue is also important, and it's up to Girardi to do that, because Gardner's is not the kind of guy who will ask for a day off or give something less than his all on the field.
"I'm going to continue to play hard, but I am going to try to play smart. If it's 13-2, don't dive into first or run into a wall," said Gardner to Kevin Kernan. "(Playing hard) got me to where I am today. I'm not going to turn the volume down."