Got eleven questions for you in this week's mailbag. Remember to use the RABmailbag (at) gmail (dot) com email address to send us anything. Questions, comments, links, money, whatever.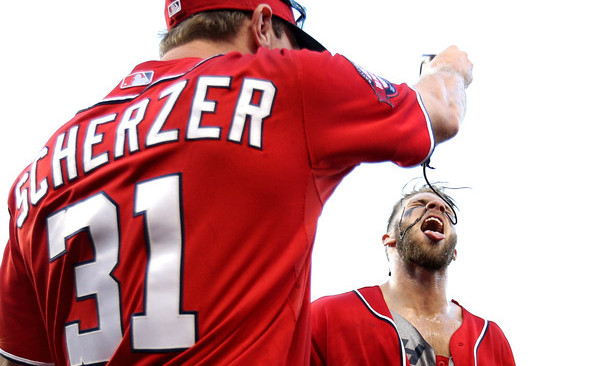 J.J. asks: Which team has the best pitcher/hitter combo? I'm talking one pitcher and one hitter. Am I crazy to think Chicago might dominate, with both the White Sox, with Abreu and Sale, and the Cubs, with Arrieta and Bryant, as frontrunners? Maybe Keuchel/Correa? King Felix/Cano? What do you think? Also, what is the answer for the Yankees – Chapman/Teixeira?
The first pairing that jumped to my mind was Madison Bumgarner and Buster Posey. I'd probably go with Anthony Rizzo over Kris Bryant with Jake Arrieta, but Bryant works too. Carlos Correa and Dallas Keuchel's another good one. How does this look for a top ten ranking?
Bryce Harper and Max Scherzer
Paul Goldschmidt and Zack Greinke
Buster Posey and Madison Bumgarner
Andrew McCutchen and Gerrit Cole
Anthony Rizzo and Jake Arrieta
Carlos Correa and Dallas Keuchel
Giancarlo Stanton and Jose Fernandez
Mike Trout and Garrett Richards
Jose Abreu and Chris Sale
Michael Brantley and Corey Kluber
I'm not missing anyone obvious, am I? I also considered Yoenis Cespedes/Matt Harvey and Robinson Cano/Felix Hernandez. A year ago Cano/Felix would have been right near the top, but both showed signs of slowing down last year, enough to scare me away long-term. For what it's worth, ZiPS has Harper/Scherzer as the best at +12.9 WAR in 2016. Corey Seager/Clayton Kershaw is a distant second at +11.4 WAR. (ZiPS loves Seager.)
Who would the Yankees submit for this list? I can't in good conscience put a reliever in a best hitter/best pitcher combination. That's just sad. Mark Teixeira and Masahiro Tanaka? Jacoby Ellsbury and Luis Severino? I'd go with Teixeira/Tanaka.
Sal asks: Mike, Regarding a question you answered today about Aaron Judge (and Swisher) and possible move to 1B due to Bird Injury, you mentioned moving to a more or less valuable position. Could you rank the 8 defense positions from Most Value to Least Value?
Bill James did a ton of work on the defensive spectrum back in the 1980s. The general consensus is the positions are ranked like so, from most valuable to least valuable:
Catcher
Shortstop
Second Base
Center Field
Third Base
Right Field
Left Field
First Base
There's room for debate here. I tend to think first base is more important than left field, for example. Historically, the first baseman handles the ball approximately six times more often than the left fielder over the course of the season. Catcher is kind of in its own little world too. It's not like the other positions where you wait for the ball to be hit to you. Otherwise it's pretty straight forward, right? Up the middle positions first, corner positions with long throws next, corner positions with short throws after that.
Chris asks: What are your thoughts on Harper's comment baseball is 'Tired'? And shouldn't Gossage go play golf instead of judging today's players?
I thought Harper's comments were on point. The game is evolving, and these days MLB is filled by young players and players from all around the globe. Expecting them to act the way players acted 30, 40, 50 years ago is not realistic. MLB wants to grow the game among younger fans and the way to do that is by letting players be themselves. Let them bat flip, let them pump their first. This is baseball and it should be fun.
As for Gossage, his rant(s) came straight out of the "the game was so much better when I played" textbook. Nerds? Check. Bat flips? Check. Instant replay? Check. He hit on all of it. Gossage was teammates with Reggie Jackson. Did he have a problem with his showmanship? He was teammates with Rickey Henderson too.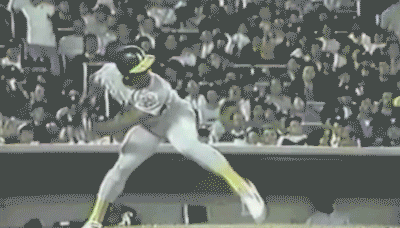 Gossage is entitled to his opinion and we all know he's not the only ex-player who hates bat flips and stats and all that other stuff. He's from a different generation and this is what Harper was talking about when he said the game is tired. That way of thinking is outdated. Baseball can either continue to embrace the old school mentality and lose younger fans to other sports, or they can get with the times. No sport clutches its pearls quite like baseball.
Matt asks: What is your reaction to Chris Sale apparently "ripping into" Ken Williams over the LaRoche debacle?
That seems very bad. First and foremost, a player shouldn't be chewing out the team president. That shows a lack of control on the team's part. Secondly, Sale is the most irreplaceable player in the White Sox organization, even morso than Williams, so when he's this upset about something, it's a problem. I do wonder if some players privately complained to Williams about Adam LaRoche's kid and that's what brought this all about, because otherwise it makes no sense.
Does the team change their policy if LaRoche hits 30 homers last year? Why change the policy in the middle of March? Players consider the clubhouse their space. They don't like others getting involved in what happens there, so the Sale incident is a symptom of a larger problem. The White Sox have a very unhappy clubhouse right now — by all accounts LaRoche was super popular and a beloved teammate — and it's up to manager Robin Ventura to smooth things over.
Brian asks (short version): I appreciated your lineup analysis piece and I don't understand Girardi's fascination with platooning Gardner. Hicks should absolutely play against every lefty, but shouldn't it be at the expense of either Beltran (wRC+ (2015-2012): 99, 51, 100, 129)) or Ellsbury (83, 131, 77, 75) over Gardner (112, 97, 102, 446(SSA!))?
There's more to this than the platoon splits. Ellsbury is on a huge contract and Carlos Beltran's a borderline Hall of Famer, so they've received the benefit of the doubt when it comes to playing time against left-handed pitchers. It shouldn't be that way, but it is. I also think Joe Girardi likes to give Brett Gardner regular rest because he always seems to be banged up. That's just his style of play.
Benching Ellsbury in the wildcard game could be a sign Girardi will be more open to sitting him against lefties, but remember, that came after three terrible months, and even then Girardi said he had to think hard about it. I'm not going to hold my breath. I expect Aaron Hicks to play a lot this year. This could be a situation where Ellsbury and Gardner each start only three out of every four games, with Hicks picking up the slack. Gardner shouldn't automatically sit against lefties, though Girardi has leaned that way over the last few years.
Keith asks: Are you aware of any scientific or enlightened approach by front offices or players to figure out what size/weight bat should be used? Obviously the goal is to maximize bat speed and bat weight but of course the the two don't go hand in hand.
I am not but that sounds pretty interesting. That would be highly specialized — each player is different, you can't have a one size fits all approach with something as important as the bat — and require a lot of research. Players are very particular about their bats too. They find a model they like and stick with it pretty much their entire career. Convincing them to change would be tough. I suspect it would be like most new ideas. Some players would be interested while others wouldn't want to hear it.
Anonymous asks: I know it would never happen because you have to appease your stars, but would Baltimore be better off with Trumbo at first and Chris Davis in RF? After all, he played 30 games there last year, and Boras DID market him as a 'potential corner outfielder'. (wink, wink)
Yes, I do think so. I even mentioned that when I whipped up our CBS post on the Alvarez signing. Davis has been stereotyped as a lumbering one-dimensional slugger, but that's not the case. He's a surprisingly good athlete for his size and he's a very good defender at first base. Over the last few years he's shown he can handle right field with no problem. Is Davis the rangiest outfielder? No. But he can make all the routine plays. Mark Trumbo can't do that. Trumbo at first with Davis in right and Alvarez at DH is the best defensive alignment for the O's. Instead, they're going to play Trumbo in right and Davis at first, and that's good for the Yankees given their lefty pull hitters and Baltimore's all-righty rotation.
Rich asks (short version): With the recent talks about the DH being implemented in both leagues, and the absurd uproar about losing the double switch as a strategic tactic, why can't MLB just amend the double switch rule to incorporate the DH?
I like it. The idea would be to treat the DH spot as the pitcher's spot, so the Yankees could start Alex Rodriguez at DH and Beltran in right field, then double switch Hicks into A-Rod's lineup spot as the right fielder and slide Beltran to DH. I like the idea. It would maintain some of the "strategy" old school folks love — hopefully my simple DH loving brain will be able to grasp the immense complexity of the double switch — and give managers another tool. I've never really understand why the DH isn't treated like every other position, allowing managers to move players in and out throughout the game. I would be surprised if MLB went for something like this. It just seems like someone would fight it for some reason.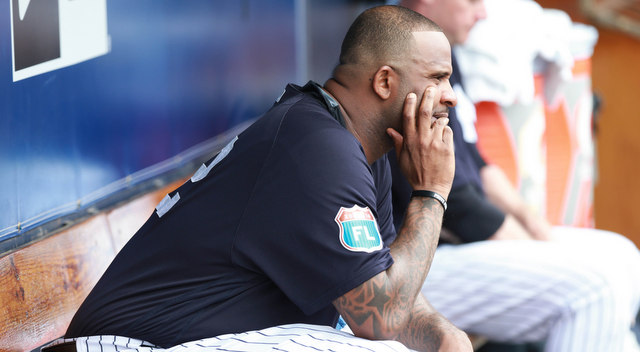 Bart asks: If CC Sabathia continues with the same poor results, shouldn't the Yankees propose a buy-out of his current contract with possibly a deferral of some of the salary to future years? Would CC consider this rather than continuing to perform poorly for another year (or 2)?
They could try, but why would Sabathia agree? Unless you think Sabathia is willing to just walk away from baseball — Michael Cuddyer and LaRoche just did it, so it's not impossible — there's no reason for him to agree to a buyout. Sabathia is a top notch competitor and baseball is the only thing he's known his entire adult life. I have a hard time thinking he'll just walk away. He's going to do whatever he can to help his team even though he's a shell of his former self.
Mike asks: Why does Ackley's name never seem to come up in conversations about backup third basemen? Does he not have the arm for it?
Right. Dustin Ackley does not have the arm for third base. He barely has the arm for second base at this point. Ackley never had a strong arm to start with, but he had Tommy John surgery in college, and since then it's been lob city. Considering the Yankees were willing to try both Starlin Castro and Rob Refsnyder at third base this spring, I'm guessing they would have given Ackley a shot there as well if they thought it was possible. The arm strength just isn't there. That's too bad. Ackley would be really useful if he could play the right side of the infield.
Julian asks: Does Tyler Olsen have a legit chance to make the Opening Day bullpen?
I'm starting to think he might. Olson has allowed two hits and three walks in 5.2 scoreless innings this spring, and two of the three walks were in his first outing. He's struck out four overall and lefties are 0-for-8 against him. Olson is a pure lefty specialist with an upper-80s heater and a sweepy slider, so his usefulness is limited. Also, he had a phenomenal spring for the Mariners last year (12.2 IP, 8 H, 0 ER, 0 BB, 15 K) then got destroyed in the regular season after making the Opening Day roster (5.40 ERA and 6.36 FIP), so beware Grapefruit League numbers. Right now I think Olson is on the outside looking in, but if he pitches well these next two weeks, he might just sneak onto the roster.