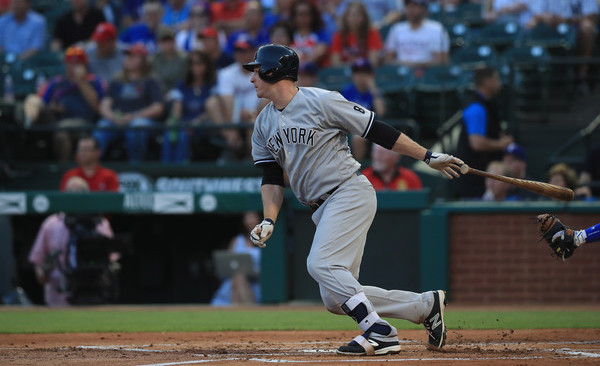 Last night the Yankees played their 19th game of the season, moving their record to 8-11. They're now 11.7% of the way through their schedule, so while it's still early, it's not that early anymore. Outlier performances are being corrected and stats are starting to look a little more normal. No one is hitting .400+ with enough plate appearances to qualify for the batting title anymore. That sort of thing.
Through those 19 team games, Chase Headley has been one of the worst hitters in baseball and the worst hitter in the Yankees' everyday lineup. He is hitting .157/.290/.157 (36 wRC+) in 62 plate appearances, which places him 191st out of the 196 qualified hitters in wRC+. Those 62 plate appearances are the most by any player with zero extra-base hits. (Kolton Wong is the only other player over 50 plate appearances with zero extra-base hits.)
"I haven't had a problem with his at-bats … He's taking his walks. He's been patient. I don't think he's really left the zone a whole lot. He's just not getting a lot of hits, and that will change. If you're putting up good at-bats, things are going to change. So for him, they'll start to turnaround," said Joe Girardi to Brendan Kuty last week, and he's right in the sense that Headley has been patient. His 16.1% walk rate is 16th highest among those 196 qualified hitters.
The walks are the only thing saving Headley at the plate right now. When he has actually swung the bat, very little has happened. His 25.6% hard contact rate is well below the 30.1% league average, and five of his eight hits have been ground balls through the infield. That's bad. Headley's plate discipline has been fine. He's swinging at the right pitches and all that. But when he makes contact, nothing is happening.
"For me, just trying to find something that allows me to get into the air a little bit," said Headley to Kuty. "I've hit a lot of balls hard this year that, if you hit balls on the ground, there's a lot more of a chance they're going to catch them. So for me to be who I think I can be, I need to get the ball in the air. (I'm) just working on some things to try to do that mechanically, put myself in a good position to stay behind the ball a little bit and hopefully that will happen."
Headley is right in that he needs to get the ball in the air to be productive, that is true of everyone, but his overall 43.6% ground ball rate is right in line with his career average (44.6%). That said, Headley is a switch-hitter and that complicates things. He has two different swings and that means twice as much stuff can go wrong. Here are some real quick ball-in-play splits:
| | GB% as RHB | Hard% as RHB | GB% as LHB | Hard% as LHB |
| --- | --- | --- | --- | --- |
| 2013 | 41.0% | 41.0% | 48.1% | 32.1% |
| 2014 | 37.1% | 41.6% | 42.2% | 33.0% |
| 2015 | 47.3% | 26.7% | 40.7% | 28.4% |
| 2016 | 21.1% | 26.3% | 65.0% (!) | 25.0% |
It goes without saying the sample size for 2016 is still very small. Headley has had 32 plate appearances against right-handed pitchers and 30 against lefties, so yeah. In that very limited sample Headley has hit a ton of fly balls against lefties and a ton of ground balls against righties. That's … interesting. His hard contact rate is similar, but the ball has come off his bat in different directions from each side of the plate.
Headley's numbers are better as a lefty (84 wRC+) than as a righty (-15 wRC+) so far, but I'm not going to put too much stock into that at this point. More importantly, if Headley keeps hitting 65.0% grounders as a left-handed batter, he's not going to do much better than an 84 wRC+. He's got to get the ball in the air at some point, especially in Yankee Stadium. And at the same time, if he keeps lifting the ball as a righty, that -15 wRC+ will come up eventually.
Through 19 games it appears Headley has corrected whatever issues he had defensively last season. His throws has been fine — he made one error but that's no big deal, most players have made an error at this point — and he's shown off good range too. Defense was always a huge part of Headley's value and now he has that back. Even though he's not hitting, he can contribute in the field and save runs.
Now Headley has to figure out how to get his bat back on track, and he has to do it soon, because the Yankees have zero alternatives at third base. Ronald Torreyes is the type of player who will get exposed quickly with regular playing time, Rob Refsnyder isn't hitting in Triple-A (46 wRC+), and none of the other minor league infielders (Pete Kozma, Donovan Solano, etc.) are appealing. It's too early to start thinking trade too.
Like it or not, the Yankees are stuck with Headley for the time being. I've been saying I think his offense will be fine, mostly because I can't imagine his .205 BABIP will last all year, but at some point Headley has to, you know, hit. April is coming to an end soon. It's time to get it going. Headley has to start getting the ball in the air more often as a left-handed hitter. That's priority No. 1 right now. Do that and things will start to fall into place.