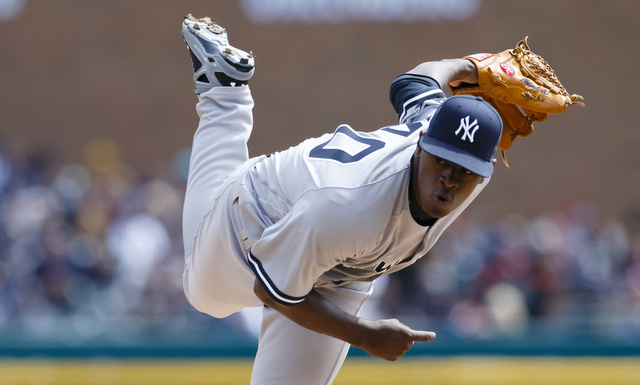 The Yankees and Blue Jays wrap up their three-game series with the rubber game in Toronto tonight. After that, the Yankees return home for a nine-game homestand against the Mariners, Athletics, and Rays. They're seeing the M's and A's early this year, huh? Well, anyway, here are some stray links and notes.
Severino changes agents
According to Jerry Crasnick, young right-hander Luis Severino recently switched agents. He left the Beverly Hills Sports Council and is now represented by Paul Kinzer of REP1 Baseball. Kinzer is no small time agent. He represents Starlin Castro, Edwin Encarnacion, Geovany Soto, and Jhoulys Chacin, among others. Aramis Ramirez and Rafael Furcal were Kinzer clients during their playing days as well.
For what it's worth, Kinzer clients do have a history of signing long-term extensions before reaching free agency. Both Castro and Encarnacion jumped at the security of a long-term deal early in their careers, for example. Severino did not receive a big signing bonus as an amateur ($225,000), so he could be open to signing an extension and locking in that big payday. What kind of contract would it take? That's a topic worth it's own post.
MLB approves "wearable technology"
The rules committee has approved two forms of "wearable technology" for this season, reports Ronald Blum. Players are now allowed to wear the Motus Baseball Sleeve, which measures the stress on elbows, and the Zephyr Bioharness, which measures heart and breathing rates. Here's more from Blum:
Data from the devices cannot be transmitted during games but must been downloaded afterward … Clubs may use the data only for internal purposes, and it will be shared with the player. It cannot be provided to broadcasters or used for commercial purposes. Players can decide whether or not to use the technology and determine who can receive the data.
MLB and the MLBPA still haven't made an official announcement for whatever reason. The MLBPA has some concerns about privacy — "The next thing you know, the pitcher's going to have a phone in his pocket taking selfies," said Brett Gardner to Blum — and wearable technology will again be reviewed as part of the upcoming Collective Bargaining Agreement talks.
This all sounds pretty great to me, especially the sleeve that measures all the different stresses on a player's elbow. Anything that can help detect and possibly prevent injuries is a-okay in my book. Then again, I'm not the one wearing this stuff, so what do I know. By the way, the rules committee also approved a pair of bat sensors that can be used during batting practice, but not games. They record bat speed, swing paths, all that good stuff.
Yankees have MLB's top payroll*
The Yankees opened this season with baseball's largest payroll at $223M, reports Bob Nightengale. The Dodgers are right behind them at $222M. There's a catch though. This only covers the salaries of players on the active Opening Day roster. It doesn't include money paid to players on other teams, of which the Yankees have very little. They're paying $3M to Martin Prado. That's it.
The Dodgers, meanwhile, are paying $18M to players not on their roster this season, including Matt Kemp, Mike Morse, and Hector Olivera. All things considered, Los Angeles still has baseball's highest total payroll at roughly $254M. That's down about $50M from last season. ($50M!) The Yankees are a distant second at $228M, and the Tigers an even distanter third at $200M. New York's payroll is up $5M from last season and $10M from five years ago, give or take.
MLBTR's Offseason in Review
I forgot to link to this earlier, but better late than never, I guess. MLBTR covered the Yankees as part of their annual Offseason In Review series two weeks ago. It's exactly what it sounds like: a comprehensive review of the club's offseason activity, as well as a look at the questions they still have a roster. Make sure you check it out. Tons of great information in there.