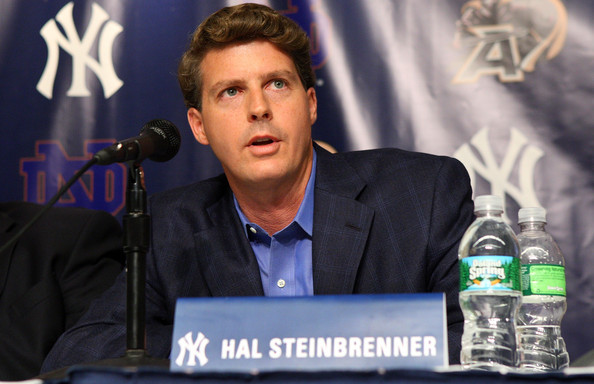 Updated 1/25
Current 2018 Yankees payroll for luxury tax purposes: $175 million
2018 luxury tax threshold: $197 million
As Opening Day approaches, the Yankees' payroll situation will evolve. They could still add guaranteed contracts through trades and free agency (or even extensions) before gaining clarity on salaries for players in their pre-arbitration years. Here we'll keep track of where the payroll stands.
Guaranteed Contracts
| Player | Luxury Tax Salary |
| --- | --- |
| Masahiro Tanaka | $22.14M |
| Giancarlo Stanton | $22M |
| Jacoby Ellsbury | $21.86M |
| Aroldis Chapman | $17.2M |
| Brett Gardner | $13M |
| David Robertson | $11.5M |
| CC Sabathia | $10M |
The average annual value of Stanton's contract is $25M, but because the Marlins are sending $30M* as part of the trade, the Yankees will be responsible for only $22M for luxury tax purposes ($30M divided by ten remaining years on the contract).
* While the Yankees will only get the $30M if Stanton declines to opt out after the 2020 season, they can still deduct the amount from Stanton's salary for luxury tax purposes, per Ken Rosenthal.

The Yankees shed several pricey contracts at the conclusion of the 2017 season, including:
CC Sabathia: $25M
Alex Rodriguez: $27.5M
Matt Holliday: $13M
Michael Pineda: $7.5M
Todd Frazier: $12M pro-rated
Jaime Garcia: $12M pro-rated
Chris Carter: $3M
Arbitration-Eligible Players
January 12th was the deadline for teams and their arbitration-eligible players to submit salary figures for 2018. The Yankees signed all eight of their eligible players prior to the deadline. Here are their salaries:
| | | |
| --- | --- | --- |
| Player | Arb. Status | Salary |
| Didi Gregorius | Year 3 of 4 | $8.25M |
| Sonny Gray | 2/3 | $6.5M |
| Dellin Betances | 2/3 | $5.1M |
| Adam Warren | 3/3 | $3.135M |
| Aaron Hicks | 2/3 | $2.825M |
| Tommy Kahnle | 1/3 | $1.3125M |
| Austin Romine | 2/3 | $1.1M |
| Chasen Shreve | 1/4 | $825K |
Other Committed Money
Dead money ($6M): Portion of Brian McCann's salary ($5.5M) and half of Chase Headley's assignment bonus ($500K)
Ten pre-arbitration-eligible players ($5.45M): $545K league minimum each
Remaining 40-man spots: $2M (estimated)
Player benefits: $14.0446M (per the Associated Press)
That $5.45M number isn't entirely accurate, since not all ten (for now) pre-arbitration-eligible players will make exactly the league minimum. The Yankees reportedly have a sliding salary scale based on service time with escalators for awards and things like that, but those players will still make relative peanuts. Among the big three pre-arbitration players (Aaron Judge, Luis Severino, Gary Sanchez), Judge figures to get the largest 2018 salary for several reasons …
He was the AL's leading vote-getter for the All-Star Game.
He led the AL in home runs.
He won AL Rookie of the Year unanimously.
He was AL MVP runner-up.
… but even then his salary will be in the six-figures. The largest pre-arbitration salary ever went to Kris Bryant last year. The Cubs gave him $1.05M. All he had to do was win Rookie of the Year one year, then MVP and the World Series the next. Mike Trout is the only other member of the $1M pre-arbitration club, so yeah.
The Yankees may not fill all ten remaining 25-man roster spots with pre-arbitration-eligible players, however. They could still acquire a veteran starter or infielder (or something else). Judge, Sanchez, Severino, Greg Bird, Jordan Montgomery, Chad Green, and Ronald Torreyes are the only pre-arbitration roster locks at the moment. These guys are the key to the luxury tax plan. They're (mostly) providing big time production at bargain prices.
Alright, so when we add all that together, the guaranteed contracts plus arbitration and pre-arbitration players plus the dead money plus the miscellaneous expenses (benefits, other 40-man guys, etc.) we get approximately $175M ($174.2421M to be exact). The luxury tax threshold is $197M next year, so the Yankees are left with $22M or so to play with. They reportedly want to set aside $10M for midseason additions, which leaves about $12M for upgrades before Opening Day. (They also have roughly $3M in potential bonuses to Stanton, Sabathia, and Robertson to plan for.)
The $175M payroll number would seem to have given the Yankees enough payroll space to sign one or two of their young cornerstone players to a long-term contract, which would potentially save millions down the road. Short-term pain (player has a higher salary for luxury tax payroll purposes in 2018) for long-term gain (below market salaries in the future). The Yankees signed Robinson Cano to an extension through his arbitration years and first few free agent years and didn't regret it for a second. Obviously they decided against doing that this year.
The business goal this offseason is clear: Get under the luxury tax threshold and reset the luxury tax rate, which is currently the maximum 50%. Once the Yankees do that, they'll be in much better position to lock up their own players (Sanchez, Judge, Severino, etc.) and spend big on free agents in the future. The Yankees still have some payroll space to play around this year, though I wouldn't count on them spending wildly. This is their best chance to get under the luxury tax threshold and they're not going to miss it.