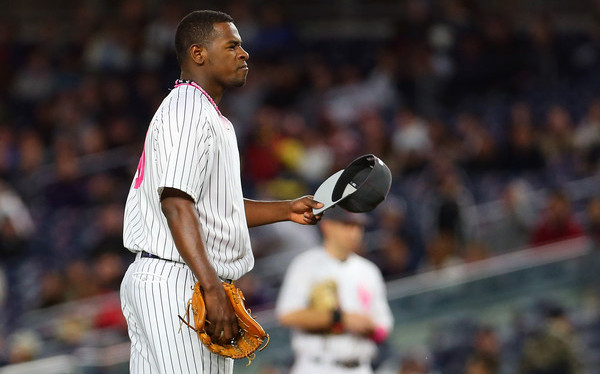 5:21pm: Joe Girardi told reporters this afternoon Ackley has a torn labrum in his shoulder and may need surgery. Ouch. Here's the play where Ackley got hurt:
The labrum tear likely ends his season, right? This definitely won't be a short-term injury. If it does end his season, it figures to end his Yankees career too. Ackley was a prime non-tender candidate this coming offseason. Expect the Yankees to look for a backup first baseman in the coming weeks.
2:21pm: The Yankees have placed utility player Dustin Ackley on the 15-day DL with a dislocated right shoulder, the team announced today. Rob Refsnyder has been recalled to fill the roster spot. Also, the Yankees activated Luis Severino off the DL and optioned him to Triple-A Scranton.
The Severino move is far more notable. He made his first minor league rehab start last night, throwing three scoreless innings with High-A Tampa. Rather than keep him on rehab, the Yankees activated Severino and sent him to Triple-A, meaning he won't accrue service time. By my unofficial count, 72 days in minors will delay his free agency a year.
Needless to say, the Yankees hope they don't need to keep Severino in the minors for 72 days. They want him healthy and effective and in their big league rotation. He's healthy. They wouldn't have activated him if he weren't. But effective? Who knows. Severino had a 7.46 ERA (5.48 FIP) in seven starts and 35 innings before the triceps injury. His command in particular was awful.
Aside from Michael Pineda, the Yankees have been getting good to great work from their rotation the last few weeks. Chad Green and Luis Cessa are available as depth options, so they don't need to rush Severino back, which is good. He's extremely important to the franchise going forward and they have to get him right. I'm on board with the Triple-A stint. It was time.
As for Ackley, he hurt himself diving back into first base on a pickoff throw yesterday. Mason Williams separated his shoulder the same way last year. (Williams eventually needed surgery.) With Ackley out and Refsnyder up, Austin Romine takes over as the backup first baseman by default. Mark Teixeira is expected to return to the starting lineup tonight after missing a few games with a neck problem.