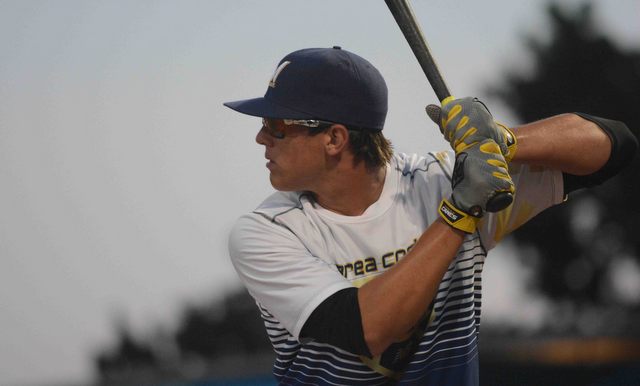 Last Thursday, after weeks of rumors about high school arms and college bats, the Yankees used their first round pick to select California HS OF Blake Rutherford. He was a consensus top ten talent — Keith Law (6th), MLB.com (8th), and Baseball America (9th) all ranked Rutherford highly — who fell because of bonus demands and the fact he turned 19 last month. The signing deadline is July 15th.
It's been a long time since the Yankees had the opportunity to draft a player like Rutherford, a highly coveted prospect who slipped due to bonus demands. That is partly the result of the bonus pools. Talent comes off the board more linearly nowadays and fewer prospects are slipping. (And those who do slip are often unsignable.) The Yankees have also forfeited some first round picks recently (2011, 2014) and made some surprise selections.
The scouting report on Rutherford is awfully exciting. Keith Law (subs. req'd) said he has a "unique combination of hit and power and has shown an ability to spray well-hit balls to all fields," while Baseball America (subs. req'd) wrote "(some) scouts see him as a potential power-hitting center fielder in the Jim Edmonds mold." Here's a piece of MLB.com's free scouting report:
Rutherford has the chance to be an above-average hitter with above-average raw power. He'll record average to plus run times, and his speed helps him on the basepaths and in the outfield. Rutherford is a solid defender in the outfield, though most feel he'll move to right field in the future. The good news is his bat should profile just fine if that move does happen.
Gosh that is fun to read. The Yankees have been picking late in the first round for two decades now, so we're used to reading scouting reports about talented players with obvious flaws, flaws that prevented them from going near the top of the draft. The biggest concern with Rutherford is that he had the audacity to be born in May and not July or August. That's all.
Scouting reports are great, but it's difficult to quantify words. Baseball is a numbers game. It's tailor made for record keeping and statistical analysis. So, to help us understand exactly what kind of prospect Rutherford is, let's turn to MLB.com's scouting grades. They've been handing out scouting grades with their draft prospects list for a few years now, so we can compare Rutherford to other highly touted prep players.
A crash course: the grades are on the 20-80 scouting scale. A 20 is the worst possible grade. Alex Rodriguez has 20 speed. Carlos Beltran is a 20 defender. An 80 is the best possible grade. Aroldis Chapman has an 80 fastball. Andrew Miller has an 80 slider. A 50 is an average grade, so you can go three standard deviations up and three standard deviations down. MLB.com has grades for the five tools: hit for average, hit for power, running, throwing, and fielding.
There are two important things to understand about MLB.com's 20-80 grades. One, they're future grades. These are what the player projects to be, not what he is today. Two, they tend to be conservative. You won't see many 70s or 80s at all, especially with high school kids. No one wrote up Mike Trout as 70 hit, 70 power, 70 run a few years back because they'd get laughed at, yet that's what he's become. A 50 prospect doesn't sound sexy, but trust me, that's really good.
Okay, so with all that in mind, let's compare Rutherford's scouting grades to the grades for other top left-handed hitting prep outfield prospects in recent years. We need to be specific here. There's a big difference between being left-handed and right-handed, between being an outfielder and an infielder, and between high school and college. What's the point of comparing Rutherford to, say, Kris Bryant, a right-handed hitting college third baseman? They couldn't be any more different.
MLB.com has been listing scouting grades since 2013, and from 2013-15, a total of 15 lefty hitting high school outfielders ranked among their top 100 draft prospects. It's not a huge sample, but it's what we have to work with. Here's are those 15 plus Rutherford and their scouting grades. The green cells are tools that received the same or a better grade than Rutherford: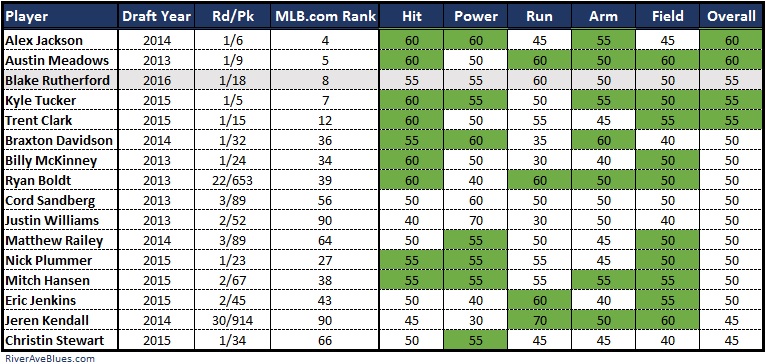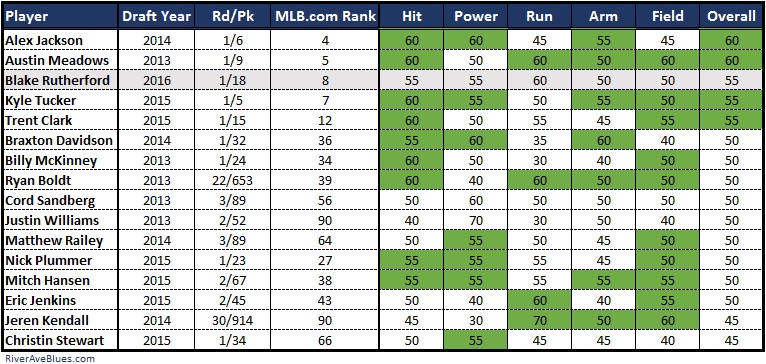 Right off the bat you see no lefty hitting prep outfielder matched all five of Rutherford's tools from 2013-15. Only four of those 15 players matched Rutherford on four of the five tools: Austin Meadows and Ryan Boldt are short on power while Kyle Tucker and Mitch Hansen are short on run. Heck, Mickey Moniak, this year's first overall pick and another lefty hitting high school outfielder, doesn't match Rutherford's five tools either. He's short on power.
Compared to his peers over the last three drafts, Rutherford has a very unique skill set. There's a reason only four left-handed hitting high school outfielders rated as at least 55 overall prospects from 2013-15. It's hard to be good at baseball. Here's a really quick look at what those four players have done in pro ball.
Trent Clark, Brewers: Career .284/.409/.418 (128 wRC+) hitter in 337 minor league plate appearances. He's at Low-A and Baseball America ranked him the 49th best prospect in all the land coming into the season.
Alex Jackson, Mariners: Career .207/.304/.375 (98 wRC+) hitter in 531 minor league plate appearances. Jackson is still in Low-A. Baseball America ranked him as the No. 20 prospect in baseball prior to 2015. He wasn't on their 2016 list.
Austin Meadows, Pirates: Career .305/.370/.476 (147 wRC+) hitter in 1,260 minor league plate appearances. He is currently in Double-A and is crazy good. Meadows has landed on three Baseball America top 100 lists, topping out at No. 22 before this season.
Kyle Tucker, Astros: Career .279/.337/.403 (113 wRC+) hitter in 515 minor league plate appearances. That includes a 133 wRC+in Low-A this season. Tucker was ranked the 61st best prospect in baseball by Baseball America before this season.
Meadows, Tucker, and Clark have developed into awesome top prospects since they were drafted. Jackson is fizzling out, though three out of four ain't bad at all. We could probably blame the Mariners for what Jackson is doing anyway. Their top position player prospects never seem to work out. Point is, the left-handed hitting high school outfielders most similar to Rutherford have generally gone on to be very good prospects.
Now, does this mean Rutherford is destined to become a top 50 caliber prospect, or even a top 25 caliber prospect like Meadows? Of course not. Every player is their own person, and what Meadows or Jackson or anyone else has done has zero effect on Rutherford's development. All we're doing is looking for context. How many players have had similar skill sets in recent years? The answer is not many at all. Most of the few who have gone to be pretty good.
The Yankees still haven't signed Rutherford but that's not surprising. The draft happened not even a week ago. The signing deadline is July 15th this year and it's not uncommon for high picks to wait until the very last moment to sign. James Kaprielian did it just last year. The Yankees have already saved a ton of pool money and you can bet they're planning to shovel most (if not all) of it in front of Rutherford.
Should the Yankees sign Rutherford — I fully expect him to sign, but you can never be 100% sure — recent history suggests they're adding a significant prospect to the system. The various draft class rankings indicate that, and when you look at his individual tools, you can see very few players are as well-rounded as Rutherford. Those who have been closest have gone on to grow into very promising young players.
Update: I'm a dolt. Alex Jackson is a right-handed hitter. Disregard him. My bad.