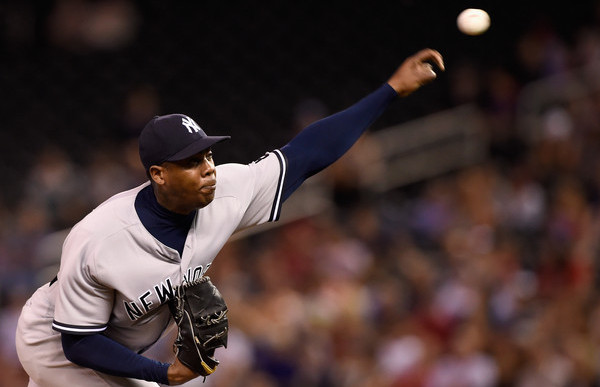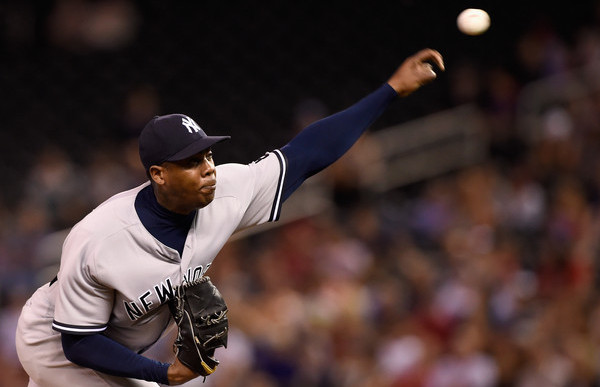 According to Jon Heyman, the Yankees have not ruled out re-signing impending free agent Aroldis Chapman after the season. He's said to have enjoyed his time in New York. My guess is he'll enjoy the city of the highest bidder too, whatever it may be. It doesn't sound as though the two sides have had any contracts talks yet.
Chapman, 28, has a 3.00 ERA (2.07 FIP) with 27 strikeouts and somehow only three walks in 18 innings this year. Doesn't it seem like it should be more than three walks? It feels like he goes to a three-ball count on everyone. Anyway, Chapman returned from his suspension in early May, and if the Yankees continue to slip out of the postseason race, he'll be a prime piece of trade bait. I have some thoughts on this.
1. So what's it going to take to re-sign him? Reliever salaries have exploded so much that non-closers like Darren O'Day are now getting $8M a year. Jonathan Papelbon's four-year, $50M contract with the Phillies is the reliever record and I'm sure Chapman is aiming to break that. It's not unrealistic. Chapman is outstanding and there's been five years worth of inflation since Papelbon signed his deal.
Five relievers have had contracts worth $12M+ per season: Mariano Rivera, Rafael Soriano, Brad Lidge, Francisco Rodriguez, and Papelbon. Chapman's going to look to join that group and understandably so. Between his age, his historically great dominance, and his unprecedented velocity, he's very much in position to command that sort of salary. Could four years and $56M be in the cards? David Robertson got four years and $46M two years ago, remember. An extra $2.5M per year seems reasonable.
2. Are the Yankees willing to carry two high-priced relievers? The Yankees are trying to get under the luxury tax threshold in the near future and it looks very doable. Most of the big contracts will be off the books within two years, and the threshold figures to rise with the new Collective Bargaining Agreement. I have to think it'll climb over $200M. How could it not with the way payrolls are growing these days?
The Yankees already have one expensive reliever in Andrew Miller, who is making $9M a year. Conservatively assuming Chapman gets $12M a year, that's going to be $21M tied up in two relievers, who might combine to throw 130 innings. Granted, it'll be 130 high-leverage innings, but still. If they're trying to get under the luxury tax threshold, spending big on relievers isn't the smartest idea, not when there are so many other holes on the roster.
I think the only way the Yankees will re-sign Chapman is if they trade Miller first, which is certainly very possible. They were willing to move him this past winter, so even if they don't trade him at the deadline, they could look to deal him in the offseason. Trading Miller and re-signing Chapman is a perfectly sensible baseball move, especially since Miller has greater trade value than Chapman thanks to the two extra years of team control.
3. What about a trade-and-sign? This gets talked about every year but very rarely happens. Trade away your big name impending free agent, then re-sign him after the season. It's simple! Except the player has a say in things, and as soon as you trade him away, your odds of re-signing him go down because he gets a taste of life elsewhere. That's what happened with the Red Sox and Jon Lester. Loyalty is for suckers.
The Yankees certainly could look to trade Chapman then re-sign him. The Orioles did that with Sidney Ponson a few years back, and the Braves do it with Kelly Johnson seemingly every year, so it happens. I don't think Chapman would come back on any sort of discount though. Once he hits free agency, the Yankees will have to outbid everyone else to get him. A trade-and-sign is possible. It's just a very tough maneuver to plan and execute. Everything changes once you trade a guy away.