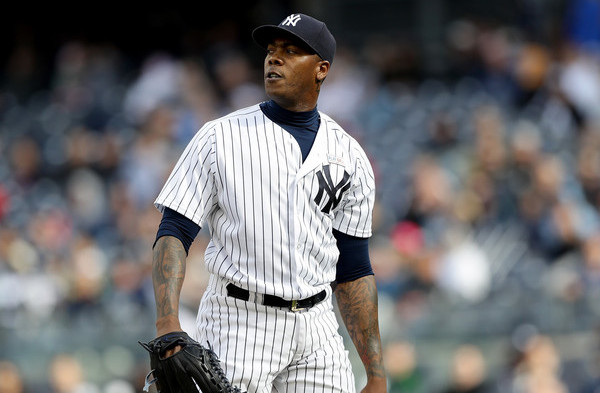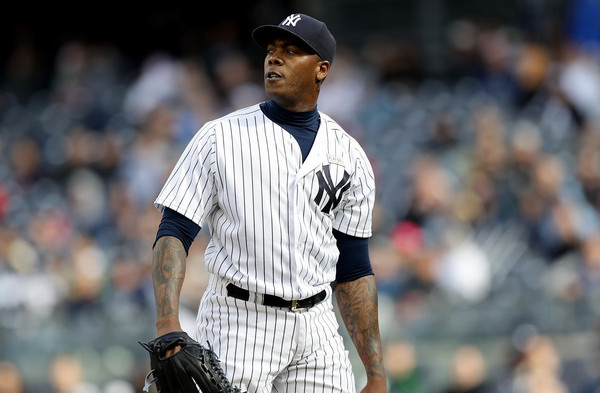 According to Bill Ladson, the Nationals have made bullpen help their "top priority" prior to the trade deadline, and they're hoping the Yankees make lefties Andrew Miller and Aroldis Chapman available. I don't necessarily think that means Washington wants Miller and Chapman. I think they're just hoping the Yankees make at least one of those guys available.
The Nationals came into today 34-23 and two games up on the Mets in the NL East. Despite the disappointment of last season, Washington has a strong roster and they looked poised to hang around in the race all the season. The bullpen is not much of a weakness — Nats relievers are fourth in both ERA (2.97) and FIP (3.26) — but it's certainly an area than can be improved. No team would not benefit from adding Miller or Chapman. I have some quick thoughts on this, so let's dive in.
1. Push Chapman in trade talks, not Miller. The Yankees should be open to moving anyone and everyone — for what it's worth, Jon Heyman reported yesterday the brain trust talked Sunday and decided not to sell just yet — and that obviously includes Miller and Chapman. Even Dellin Betances too. Make them all available. You don't build plan a rebuild around relievers no matter how good they are.
There should be different degrees of urgency here. The Yankees don't have to trade Miller because he's under control another two years. Chapman is a different matter. He's a free agent after the season and while the Yankees figure to recoup a draft pick at worst, Aroldis can bring a greater return in a trade. That draft pick is going to be a supplemental first rounder around 30th overall. A valuable pick, sure, but not super duper valuable.
The Yankees made the mistake of not trading David Robertson two years ago and instead settled for a draft pick that was worth a fraction of what they likely could have gotten in a trade. They can't make the same mistake with Chapman, who's better than Robertson and worth even more in a trade. Teams are going to come to the Yankees for both Chapman and Miller, but Chapman's impending free agency means they should push him in trade talks. They can afford to be a little more patient with Miller.
2. So what do the Nats have to offer? The million dollar question. Baseball America ranked Washington's farm system fifth best in all of baseball before the season, so they have young talent to offer. I would be surprised if the Nats put righty Lucas Giolito or shortstop Trea Turner on the table, even for someone like Chapman or Miller, but there's plenty of depth behind them. Here is the MLB.com's top 30 Nats prospects list. Triple-A righty Austin Voth seems like an obvious target to me.
The Nationals have pitching, middle infielders, outfielders, catchers, you name it. Washington has done a real nice job accumulating talent in trades and internationally. I wonder whether the Yankees would prefer one excellent prospect or a package of three or four good prospects for Chapman, but, either way, they're not going to rule anything out. Hey, how about Chapman and Miller for Giolito? My trade proposal sucks, I know. Point is, the Nationals have prospects to offer.
3. Washington might be desperate. Last season was very embarrassing for the Nationals. They were the best team in baseball on paper and we were talking about them possibly having one of the best rotations ever. Heck, if you would have told me last March that Bryce Harper would have the season he had, I would have guessed the Nationals would win about 110 games. They looked that good.
Instead, Washington went 83-79 and finished seven games out of the playoff spot. You know they're desperate to not only erase that memory, but also the memories of their 2012 NLDS Game Five collapse and 2014 NLDS loss. Also, the clock is ticking with Harper. He's going to be a free agent after 2018, so their window to win is right now. The Nationals have a lot reasons to want to win immediately and that could work to the Yankees' advantage. Hey, maybe Chapman and Miller for Giolito isn't so far-fetched after all.
* * *
We all know the Yankees are going to have no shortage of suitors for Chapman and Miller (and Betances). Every contending team is going to be in on those guys. The Nationals will be one of many. Even if the Yankees make a miraculous run and climb back into the postseason race these next few weeks, I still think it would be smart to trade Chapman. The team has too many long-term needs to not use a trade chip that good.