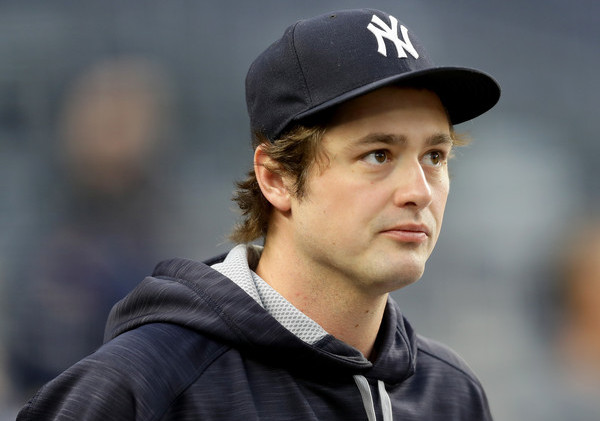 According to Ken Rosenthal, the Giants have internally discussed making a run at Yankees southpaw Andrew Miller. I'm sure 28 other teams have considered pursuing Miller as well, though the Giants definitely stand out as a realistic suitor because they're very good — they're 35-23 and 3.5 games up in the NL West — and have a clear need in the bullpen. Makes total sense.
We still have no idea whether the Yankees will actually sell at the trade deadline — Jon Heyman says the higher ups held a conference call yesterday and decided it's still too early to start selling off pieces, for what it's worth — but they did listen to offers for Miller over the winter, so I assume they'll do so again this summer. It never hurts to listen, after all. Miller is extremely valuable for many reasons. He's dominant, he's signed through 2018 at a below market salary, and he's willing to accept any role. Miller is pretty, pretty awesome. I have a few thoughts on this.
1. What can the Giants offer for Miller? This is where it gets tricky. It seems unlikely the Giants will part with anyone from their Major League roster to get Miller. They want to add to their roster, not subtract from it. That leaves prospects, and well, San Francisco's system kinda stinks. Baseball America ranked their system 19th in baseball before the season, and that was before many of their top prospects took a step back. (Here is their MLB.com top 30 prospects list.)
Shortstop Christian Arroyo hasn't hit much at Double-A, righty Tyler Beede's stuff has backed up and he no longer misses bats, and righty Phil Bickford continues to project as a reliever more than a starter. That isn't to say those guys are bad prospects. They're not. It's just that the Yankees wouldn't be getting back that slam dunk high-end talent they crave. Remember, they asked the Astros for Lance McCullers Jr. and Vincent Velasquez over the winter.
The Yankees want a top young player who is MLB ready — really, they want multiple top young players for Miller — and that is totally reasonable. Look at what Craig Kimbrel and Ken Giles fetched over the winter. Miller is every bit as good as those two if not better. He doesn't offer as many years of control as Giles, but he's cheaper than Kimbrel. The Yankees have set a high price and that's exactly what they should do. They're not being unrealistic.
2. The Yankees must create a bidding war. This goes without saying. Every contending team is going to want Miller. The Giants, Mets, Nationals, Rangers, Cubs, Dodgers, White Sox, Mariners, heck, the Red Sox too. I can't see the Yankees trading Miller to Boston but I'm sure the Sox would happily take him. Even non-contenders will take Miller because he's signed through 2018. You might not contend this year, but what about next year and the year after? (That's a reason for the Yankees to keep him too, right?)
The Yankees not only have an opportunity to field multiple offers for Miller, but they'll be in position to leverage rivals against each other. The Dodgers and Giants will be involved. So will the Mets and Nationals. The Mariners and Rangers too. It's the perfect storm of trade value. Miller is awesome and everyone is going to want him. It's a dream scenario for the Yankees. No other team can offer a reliever as good as Miller at the trade deadline so they control the market. This is an opportunity to net a huge return.
3. Take the best talent, don't try to fill specific needs. I'm of the belief that when you trade someone as valuable as Miller, even a reliever, the goal should be to acquire the most talent regardless of position. The Yankees need pitching and a long-term third base solution, though they shouldn't have tunnel vision. If the best offer is, say, a shortstop and an outfielder, take it. The Yankees aren't in position to pick and choose here. They need to accumulate talent all over the diamond then sort it out later. The goal should be maximizing the return, not addressing needs. This isn't your run of the mill "we need to plug a hole" trade.
* * *
The Giants are only the first team we're hearing that has considered making a run at Miller. They won't be the last. The Yankees continue to fade in the standings — their postseason odds are down to 11.8% according to FanGraphs — and they haven't given us much reason to expect them to improve going forward. I don't think there's a Yankee fan who dislikes Miller. No one wants to see him go. The team needs young talent though, and the best way to add a lot of young talent in a short amount of time is trading Miller.