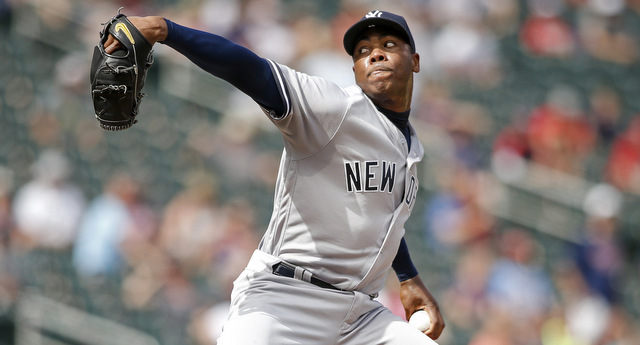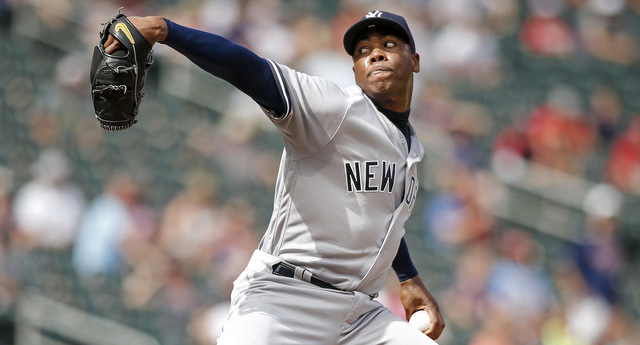 At some point in the next four weeks, the Yankees will hopefully come to their senses and realize the 2016 Yankees aren't going anywhere. It would take a massive run to become serious postseason contenders. Something like 20-8 in the 28 games before the trade deadline. That kind of run. Does this team seem capable of doing that? Not at all. Never say never, but … never.
I want the Yankees to win this year. I really do. But the team isn't cooperating. At some point the focus has to shift from winning right now to winning in the future, and that decision has to be made relatively soon with the trade deadline looming. Should the Yankees sell, their two best trade chips are Andrew Miller and Aroldis Chapman, two impact late-inning relievers wanted by basically every other team in the league.
Chapman will be a free agent after the season, so there figures to be more urgency to move him. Miller is signed for another two years and keeping him is a perfectly viable strategy. Estimating trade value is difficult — especially for an elite player since so few get traded — because so many trades come down to one team liking a player more than everyone else and making a bigger than expected offer. That's what happened with Shelby Miller over the winter.
The Yankees figure to get a good return for Chapman assuming they make him available, but how good, exactly? That's where Miller comes in. Two years ago he was an elite reliever due to become a free agent who was traded at the deadline. Miller can help give us an idea what Chapman is worth on the trade market, and I don't mean just the trade itself. The trades for Miller that didn't happen can tell us something too. Let's look.
The Comparison
Might as well start here. At the time of the trade Miller was one of the most dominant relievers in all of baseball. He took his game to another level during that 2014 season, and somehow he's taken it to yet another level with the Yankees. It's been pretty awesome. Here is Miller's pre-2014 trade deadline performance and Chapman's 2016 performance to date.
| | ERA | FIP | K% | BB% | GB% | HR/9 |
| --- | --- | --- | --- | --- | --- | --- |
| Miller in 2014 | 2.34 | 1.69 | 40.6% | 7.7% | 52.5% | 0.43 |
| Chapman in 2016 | 3.15 | 1.96 | 38.8% | 5.0% | 38.6% | 0.90 |
Miller then was better than Chapman is now. It's not quite as simple as a half-season worth of numbers in a table though. At the time of his trade, Miller had performed like one of the best relievers in the world for roughly 40 innings. That's it. He broke out that 2014 season. Chapman has been doing it for years. His track record is far greater than Miller's was back then, and that means something.
There's also the salary difference, which isn't negligible. Miller made only $1.9M during that 2014 season. Chapman is pulling down $11.325M this season. That's a lot of money to take on at the deadline. Of course, the Yankees could always eat some money to facilitate a trade, and they should be very willing to do so if it means getting a greater return. I don't think the money will be deal-breaker, but it is something that will factor into talks, no doubt.
I don't think we can ignore the off-the-field stuff too. Chapman has served his suspension, but the domestic violence case absolutely means there will be a negative PR hit. Maybe not a huge one, many fans don't seem to care about his incident, but there will be a PR hit. Pick up Chapman and some folks won't like it. Miller has no such off-the-field issues and is widely seen as pretty much the perfect teammate. The perception of the two is very different and that matters.
Statistically, Miller was having a better season at the time of his trade than Chapman is now, but his track record was not nearly as good. Chapman is more expensive and the domestic violence incident isn't something that can be ignored. I see 2014 Miller and 2016 Chapman having similar trade value overall despite all the differences. They're elite rental relievers. Teams are looking at these guys as 20-30 inning pickups, not a long-term addition.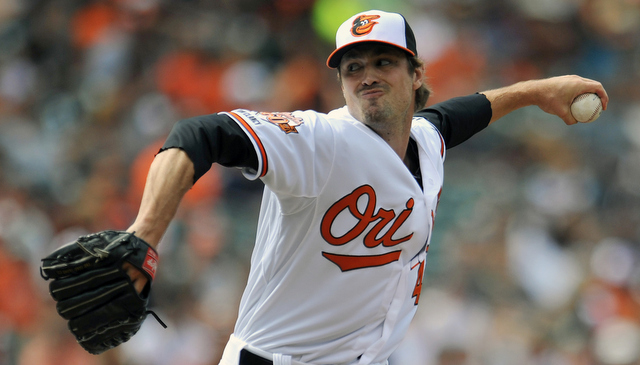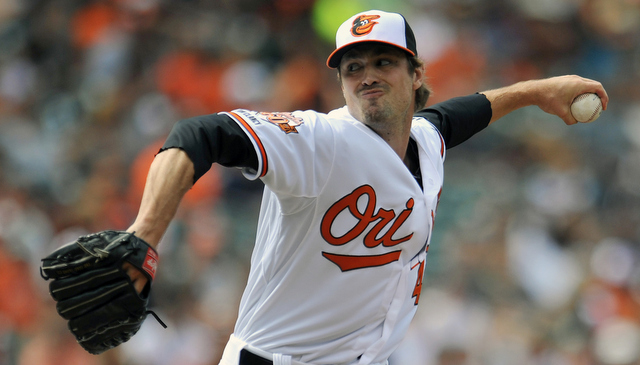 The Initial Ask
What happens when a team makes a player available? They ask for the moon in return. Free agents do it too. The initial ask is always super high. Why? For starters, someone just might pay it. You're never going to get Scott Kazmir for Victor Zambrano if you don't ask. Scondly, it gives you some wiggle room to come down in negotiations.
According to Jayson Stark, here's what the Red Sox sought for Miller at the 2014 trade deadline:
(The) two players on that list they've priced the highest are Lester and Miller. Officials of two clubs report the Red Sox have asked for one of their top prospects, plus a lesser prospect, just for Miller.
The BoSox set the price high. They initially asked teams for a top prospect plus a second piece for Miller. That's a lot to seek for a rental reliever, but again, this was only the initial ask. When the time comes to move Chapman, the Yankees should open negotiations with a similar request. Give me a top prospect and a second player or he'll go to one of the many other interested teams.
Interested Teams
As you'd expect, a whole bunch of teams wanted Miller in 2014. Contenders were the most aggressive. Ken Rosenthal says 10-12 team inquired about Miller, and according to Rosenthal and Nick Cafardo, the four finalists were the Orioles (duh), Tigers, Dodgers, and Brewers. Here are their records on the morning of the 2014 trade deadline.
Brewers: 60-49, 2.0 games up in NL Central (67.1% postseason odds per Baseball Prospectus)
Dodgers: 61-47, 2.5 games up in NL West (97.2% postseason odds)
Orioles: 60-46, 2.5 games up in AL East (77.0% postseason odds)
Tigers: 58-46, 5.0 games up in AL Central (90.4% postseason odds)
Four first place teams made the most serious pushes for Miller. The Brewers collapsed spectacularly in the second half of the 2014 season, but the three other teams went to the postseason. They weren't looking at Miller as a "get me over the hump and into the playoffs" pickup. He was viewed as a "help me win the World Series" pickup. There's a difference.
As of this morning, only six teams have postseason odds of 67% of better according to Baseball Prospectus: Cubs (99.8%), Indians (96.5%), Rangers (96.1%), Nationals (94.7%), Giants (90.3%), and Dodgers (80.8%). The Red Sox and Orioles are at 64.0% and 62.8%, respectively, so they're not too far behind. That's pretty much the market for Chapman right there. The best of the best. Not bubble teams.
The Actual Trade
When it was all said and done, the Red Sox traded Miller to the Orioles for pitching prospect Eduardo Rodriguez. It was a straight one-for-one trade. Two things stand out about this.
1. They traded him within the division. The Red Sox took what they felt was the best package and sent Miller to a division rival. Some teams aren't willing to make intradivision deals like that. Obviously it helped that the BoSox were out of it and Miller was only a rental, not someone under control for a few years. It wasn't going to matter if he helped beat them that season, and he probably wasn't going to stick around long enough to keep beating them in future years. Trading Chapman, the rental, to the Red Sox would be one thing. Trading Miller and two years of control to the Red Sox would be another.
2. They took the single best player over a package of multiple players. The initial ask was a top prospect and a secondary piece. Boston settled for only the top prospect. Rodriguez was in Double-A at the time of the trade and he really wasn't pitching all that well: 4.79 ERA (3.52 FIP) with a 19.0% strikeout rate and an 8.0% walk rate in 82.2 innings. Orioles pitching prospects, yo.
Rodriguez went into the 2014 season as a consensus top 100 prospect. Keith Law (subs. req'd) ranked him as the 43rd best prospect in the game while Baseball Prospectus (61st), Baseball America (65th), and MLB.com (68th) all had him a little lower. Neither Law (top 25) nor Baseball America (top 50) ranked Rodriguez in their midseason prospect list a few weeks prior to the trade deadline.
Based on that, the possible return for Chapman could be a top 100 caliber prospect who is reasonably close to the big leagues, but is not a truly elite prospect. Someone in the middle of the top 100. The precedent has been set. Using Baseball America's 2016 top 100 list as guide, here are some possible targets from the teams mentioned in the previous section:
Cubs: SS Gleybar Torres (No. 41), C Willson Contreras (No. 61)
Indians: OF Clint Frazier (No. 44)
Rangers: RHP Luis Ortiz (No. 64), RHP Dillon Tate (No. 69)
Nationals: none
Giants: IF Christian Arroyo (No. 62)
Dodgers: 1B/OF Cody Bellinger (No. 54)
It goes without saying some of those guys are more attainable than others. There's basically no chance the small market Indians will trade Frazier for a rental reliever. Contreras is in the big leagues now and making an impact for the Cubs, so forget him too. Also, I would be surprised if the Rangers were willing to discuss their 2015 first round pick (Tate) in a trade so soon. Torres, Ortiz, and Bellinger seem to be the most realistic trade targets.
Keep in mind this is just a "these guys are similar to the guy the Red Sox got for Miller two years ago" list, not a "this is who the Yankees can definitely get for Chapman now" list. The error bars here are pretty large. We're just trying to get a ballpark idea here.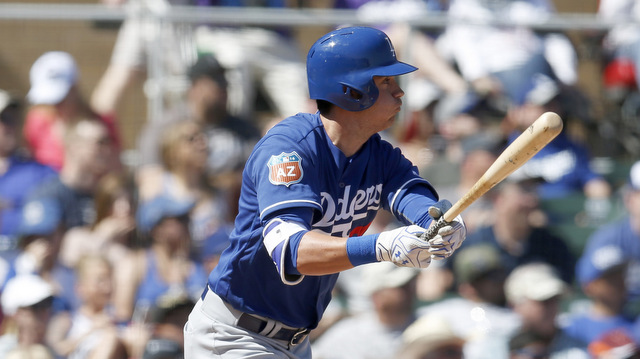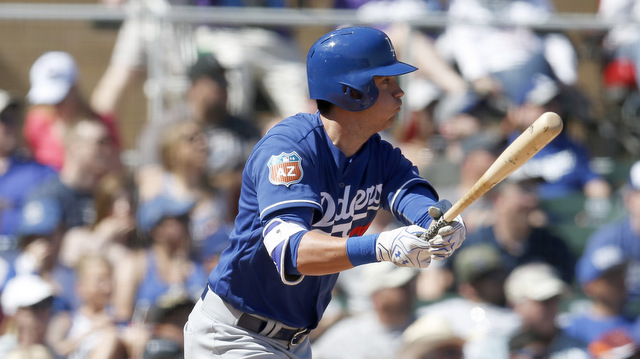 The Failed Trade
Here's where it gets interesting. Before completing the deal with the Orioles, the Red Sox actually agreed to trade Miller to the Tigers, but they backed out once the O's put Rodriguez on the table. Detroit got 2010 Cliff Lee/Justin Smoak'd, basically.
"We thought we had him," said then Tigers GM Dave Dombrowski to Joel Sherman at the time. "We were disappointed because we offered what (the Red Sox) asked for. Normally when you do that, you get the player. They felt they could do better. That is their prerogative."
It's unclear who the Tigers would have traded to the Red Sox for Miller, but reports indicate it was a multi-player package, not a one-for-one deal. Jon Morosi says pitching prospect Austin Kubitza was a name discussed in the deal, though I don't think he was the center piece. He was a 22-year-old in Low Class-A who was Detroit's fourth round pick the year prior. Kubitza was likely the second piece.
Miller was traded on deadline day, and a few days earlier the Tigers sent pitching prospects Jake Thompson and Corey Knebel to the Rangers for Joakim Soria. Perhaps that was their Plan B? They offered Thompson and/or Knebel and/or Kubitza for Miller, then moved on to Soria once it was clear the Red Sox were going in another direction? Knebel was just a reliever, but Thompson was in the middle of a breakout season and has since landed on multiple top 100 lists.
Given their willingness to trade Thompson — and the fact their farm system was otherwise short on high-end prospects — it seems like he could have been the center piece in Miller trade talks. He was a 20-year-old kid in High Class-A at the time, so he wasn't a Rodriguez level prospect, but he was in the process of becoming a top prospect. It wasn't a secret. Everyone knew it at the time. Kubitza and/or Knebel would have then been the sweeteners.
There's more than one way to build a trade package. The Red Sox went for the big one-for-one deal, though it seems they also considered a package of lesser prospects as well. The Yankees figure to entertain all offers, and really, it's going to come down to their preference. One big prospect sounds more attractive, but getting two pieces for Chapman instead could be the best move. I don't think there's one right answer here. Both are reasonable.
* * *
The O's were widely panned for trading Rodriguez for Miller, which means nothing as far as Chapman is concerned. It doesn't mean clubs will be less willing to trade a top prospect for a rental reliever. Remember, it only takes one team — and one desperate GM or owner — to go out and make that big offer. The Yankees picked up Chapman for peanuts, and now that the uncertainty surrounding his suspension no longer exists, they have a chance to flip him for something really good. The 2014 Miller trade suggests as much.