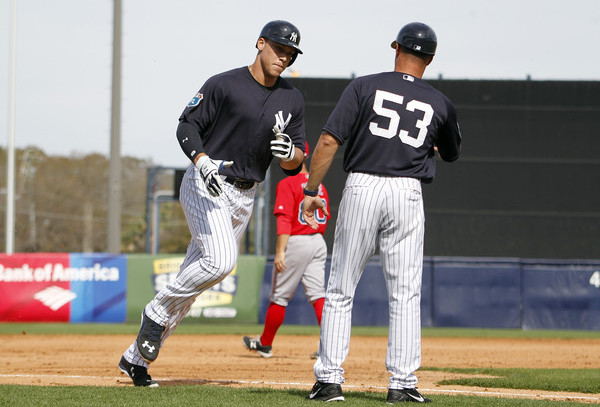 Last Friday was the deadline for clubs to sign their 2016 draft picks, and for the first time in a long time, every single first round pick signed. There's usually one or two who don't sign for whatever reason. Not this year. The Yankees signed 28 of their 40 picks (here's the list, PDF link) and pretty much maxed out their bonus pool. They had only $177 in pool space left over.
The signing deadline means a new wave of talent has been added to the farm system, and that's always exciting. The Yankees have also had many of their prized 2014-15 international signees make their U.S. debut this summer as well, so that's even more talent. The raw talent is there. Now it's just a matter of developing it into productive big league players.
The 2014-15 international class made this an extremely tough top 30 list for me. It's always difficult to determine where those players fit in the system because they're so talented but also so far away from MLB. I did my best to get them in here. Something tells me I'm going to end up hating this list and completely revising it when it comes time to do the annual preseason list next February.
Anyway, one player from my pre-draft top 30 list has since graduated to the big leagues: Rob Refsnyder. He's exceeded the rookie limit of 130 big league at-bats. (He's at 136.) As always, this list is my opinion and my opinion only. This is nothing more than a snapshot in time. You're welcome to disagree and bookmark this post for future mocking purposes. Time for the top 30.
The Top Four Five
1. OF Aaron Judge
2. C Gary Sanchez
3. SS Jorge Mateo
4. OF Blake Rutherford
5. RHP James Kaprielian
I put Mateo at No. 1 and Judge at No. 3 in my pre-draft list and I almost immediately regretted it. I overreacted to some small samples and didn't keep the big picture in mind. Judge was showing power and is knocking on the door. Mateo was having a great season at the time but is still years away from MLB. Judge went on an insane hot streak after the pre-draft list and Mateo wound up getting himself suspended for violating team policy. Oops.
Rutherford turns the top four into a top five. He was a consensus top ten talent in the draft who fell to the Yankees with the 18th pick because of signability concerns, then agreed to an above-slot $3.282M bonus. That's pretty much the max they could give him without forfeiting next year's first rounder. Kaprielian is out with a flexor tendon strain and he was supposed to go for a second opinion at some point, but we haven't heard anything since. I wouldn't blame you for assuming the worst.
The Next Six
6. SS Tyler Wade
7. 3B Miguel Andujar
8. OF Dustin Fowler
9. LHP Ian Clarkin
10. C Luis Torrens
11. SS Wilkerman Garcia
Andujar's in the middle of a big time breakout season and Wade is more than holding his own as a contact oriented middle infielder. I'm the high man on him. I can't imagine you'll see him sixth in the system in many other lists. Clarkin and Torrens have bounced back well from lost 2015 seasons, though it should be noted Clarkin left last night's start with an apparent injury. Sucks. Torrens is really good. Really, really good. He'd be in the top five if not for the shoulder surgery last year.
The Far Away Six
12. RHP Domingo Acevedo
13. 2B Nick Solak
14. RHP Drew Finley
15. RHP Nolan Martinez
16. SS Hoy Jun Park
17. 3B Dermis Garcia
Solak and Martinez were the team's second and third round picks this year, respectively, and I seem to like them more than most, especially Solak. He can really hit, and I think his glove will be good enough for second long-term. Acevedo has had a very good statistical season, but he still needs to make some strides with his secondary pitches before I buy into him as a starter long-term. If the rotation doesn't work, Acevedo has the stuff to be an impact bullpen arm.
Garcia, who signed for $3.2M back in 2014, is a new name to the list. His huge raw power is already showing up in games — he leads the Appalachian League with nine homers in 21 games — but so are his swing-and-miss tendencies. Dermis has struck out in 37.4% of his plate appearances this year. Yikes. Still, he has an elite unteachable skill (power), and that'll get just about anyone on a top 30 list.
The (Almost) MLB Ready Six
18. OF Ben Gamel
19. RHP Chance Adams
20. RHP Luis Cessa
21. RHP Chad Green
22. LHP Jordan Montgomery
23. OF Jake Cave
All six of these guys are very close to MLB ready. Adams is this year's breakout pitcher after making the transition from reliever to starter. He still needs to make some strides with his changeup before I'll feel good about him sticking in the rotation long-term, but his fastball/slider combo stays firm deep into games. Adams has thrown 34 Double-A innings and is furthest away from MLB among these six players. Gamel, Cessa, and Green have all appeared in games for the Yankees this season.
The Injured Three
24. RHP Bryan Mitchell
25. OF Mason Williams
26. LHP Jacob Lindgren
Well, technically Williams is no longer injured. He was activated off the 60-day DL and optioned to Triple-A just yesterday. Missing close to a full year is a pretty huge deal, especially for a guy like Williams, who was in the process of rebuilding value before getting hurt. The tools are still outstanding. We saw them last year. Now Mason needs to stay healthy and show the improved maturity we saw a year ago is here to stay. Mitchell is currently rehabbing from his toe injury and Lindgren … well he's pretty much disappeared. He's out with an elbow injury and no one's heard from him since April.
The Last Four
27. RHP Vicente Campos
28. SS Kyle Holder
29. OF Leonardo Molina
30. OF Estevan Florial
Welcome (back) to the top 30, Vicente Campos. Last time he was here he was still Jose Campos. He's healthy, he's having success as a starter, and he's reached Double-A. Very promising year for Campos, who looked like a lost cause a year or two ago because he couldn't stay on the field. I'm not sure if he can start long-term given his injury history, but at least now the chances are "slim" and not "none."
Florial is another new addition to the list and he was a late signing during that 2014-15 signing period. He hasn't been great statistically in rookie ball this year but a) it's barely 100 plate appearances, and b) the reports are off the charts. Florial has power and speed, a good approach, and the defensive chops for center field. I'm always conservative with international guys in their first year stateside because there's no much misinformation out there, so it's possible I am hilariously low on Florial right now.