The winning formula
Inconsistency has been the theme of this year's Yankees team, but they have been remarkably consistent in one thing: their winning formula. Combine solid starting pitching with justenough offense to get a slim lead thru six innings, and then unleash their high-powered, flame-throwing bullpen trio to seal the victory.
The plan worked to perfection on Monday night as the Yankees opened their series against the AL East-leading Orioles with a 2-1 win.
Alex Rodriguez sparked the lineup with a towering home run to left field in the second inning. It was just his second homer at Yankee Stadium this season. A-Rod entered the game with a .226 slugging percentage in home games, the second-worst in the majors among players with at least 100 plate appearances.
The blast was his 69th against the Orioles, breaking a tie with Harmon Killebrew for the fifth-most hit against the franchise. The four guys ahead of him are Babe Ruth (96), Lou Gehrig (92), Jimmie Foxx (87) and Ted Williams (80).
And one more milestone for A-Rod: that homer was also his 1,578th hit in a Yankee uniform, passing Wally Pipp for 17th place on the franchise all-time hits list.
Aroldis Chapman's blazing fastball was in peak form as he closed out the game for his 19th save. Per Statcast, his 1-2 pitch to J.J. Hardy reached 105.1 mph, matching the fastest pitch ever recorded by Statcast dating back to 2008. Chapman also threw a pitch that went that fast on Sept. 24, 2010 to Tony Gwynn, Jr.
Chapman hit 104 mph on three other pitches in the inning, and Ryan Flaherty actually put one of those heaters in play … barely. Chapman's 0-2 fastball to him was clocked at 104.9 mph and broke his bat, resulting in an easy grounder for the final out of the game. That was the fastest pitch put in play by a batter in the Statcast era (since 2008).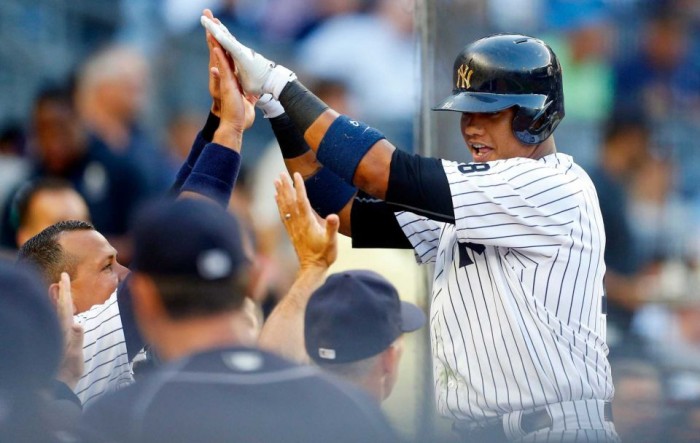 #TeamBuy
A funny thing happened on the way to the Trade Deadline … the Yankees decided to build some momentum and hold off the cries to SELL!!! for another day as they routed the Orioles, 7-1.
Starlin Castro has hardly been a consistent run producer during his debut campaign in pinstripes, but he's definitely come up huge at times this season. His two-run blast in the second inning gave the Yankees an early 2-0 lead they wouldn't relinquish in this must-win game.
It was his 11th homer of the season (matching his total from last year) and his sixth that gave the Yankees a lead. That's the most go-ahead homers of any Yankee this season.
Jacoby Ellsbury made sure the fans in the Bronx would witness history on Tuesday night when he reached base via catcher's interference for the ninth time this season, breaking the major-league record set by Roberto Kelly in 1992. The number becomes even more ridiculous when you consider that every other player in the American League has combined for six catcher's interferences this season.
Huge Mike
The Yankees continued their desperate push toward contender status with another victory and another dominant performance from their pitching staff on Wednesday night. It was their fourth straight win overall and the fourth game in a row they allowed no more than one run and no more than five hits.
This is the first time since 1932 that the Yankees have put together a four-game win streak at home, giving up one run or fewer and five hits or fewer in each game.
The Yankees took an early 1-0 lead thanks a leadoff triple by Brett Gardner and a Carlos Beltran sac fly in the bottom of the first. That snapped a franchise-record 23-game scoreless streak in the first inning dating back nearly a month. Remember, this is a team that last year led the majors with 125 runs scored in the first frame.
Carlos Beltran capped off the scoring, too, with a solo homer in the eighth inning to give the Yankees a 5-0 lead. It was his 20th homer, making him just the second switch hitter to hit 20 home runs in his age-39 season or older. Eddie Murray reached that milestone in both 1995 and 1996, at age 39 and 40.
Michael Pineda spun a gem as he pitched six scoreless innings for his first win since June 7. He featured a nasty, sharp slider that baffled the Orioles lineup, netting him a whopping 18 whiffs and six of his eight punch outs. The 18 swings-and-misses are the most that any pitcher has gotten with a slider in any game this season, one more than Clayton Kershaw had against the Blue Jays on May 7.
Back to losing
The Yankees had their confidence-boosting four-game win streak snapped on Thursday afternoon, failing to complete the sweep thanks to a listless 4-1 loss. Their all-too-familiar anemic offense mustered just one run on five hits, the 20th time in 95 games that they've been held to no more than a single run. The only other AL team with 20 games of zero or one run scored this season is the last-place Tampa Bay Rays.
CC Sabathia had little to celebrate on his 36th birthday as his downward spiral deepened with another discouraging outing (four runs, seven hits, 6 2/3 innings). He's now given up at least seven hits and four runs in each of his last six starts, the first time in his career he put together a six-game streak with that many hits and runs allowed in each game.
Coincidental or not, the large lefty has historically struggled on his birthday as a major-leaguer. He's now 0-3 with a 6.99 ERA in five starts on July 21 and his team has lost all five games.