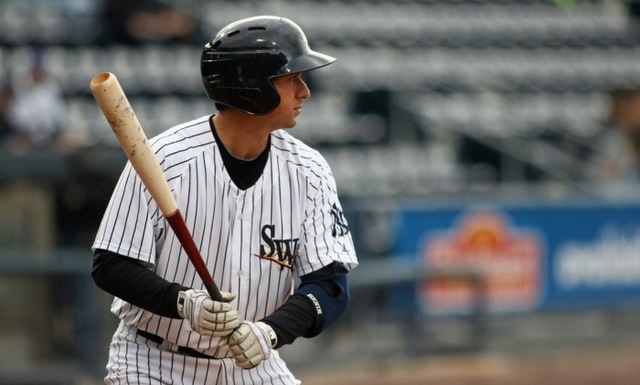 By and large, this has been a really excellent season for the Yankees in the minors. They imported several high-end prospects at the trade deadline, and the top prospects they already had have performed well. The only major negatives are Jorge Mateo's suspension/slump and James Kaprielian's injury. In the grand scheme of things, that's not too bad.
Among the best feel good stories in the system this year is catcher Kyle Higashioka, who, at age 26, is finally healthy enough to put together a breakout season. He missed most of the 2013-14 seasons with Tommy John surgery — Higashioka blew out his elbow making a snap throw to first — and a broken thumb, and he's been stuck playing second fiddle to the Yankees' top catching prospects over the years, most notably Gary Sanchez.
"I had a lot of time to think, and with all that downtime (while injured), your mind just goes everywhere and you think, 'What if I don't come back?,'" said Higashioka to Shane Hennigan back in June. "Obviously, it wasn't encouraging to take a step back (due to the broken thumb). But on the other hand, I was really grateful that they gave me the opportunity to play every day rather than just stick me as a backup at one of the higher levels — that's what I'm really grateful for."
So far this season Higashioka is hitting .308/.368/.563 (157 wRC+) with a career high 17 homers and a career high 22 doubles in an almost career high 326 plate appearances. This is only the fourth time since being a seventh round pick back in 2008 that Higashioka has cleared 300 plate appearances in a season. His career high is 359 plate appearances back in 2010. It's been a long time since he played this regularly, and he's handling it well.
In most cases like this, it would be easy to write off Higashioka as an older guy having success in a relatively small number of at-bats. That happens all the time. The fact Higashioka is a catcher and finally healthy after years of injuries forces us to take notice, however. This is a guy at a premium position displaying power after all those physical issues. This might not be a fluke. Higashioka might be a late-bloomer, and there are reasons to think he's legit.
1. His background provides important context. The Yankees gave Higashioka a $500,000 bonus out of an Orange County high school when they selected him in the seventh round of that 2008 draft, so they really believed in his two-way potential. Also, the Yankees brought him to Spring Training as a non-roster player every year from 2010-16 except 2014, when he was rehabbing from Tommy John surgery. Higashioka was the youngest player in camp in 2010.
There's also this: Higashioka became a minor league free agent last offseason. The Yankees liked him enough to bring him back, and he was happy enough with the Yankees to come back. That's kind of a big deal. It must be pretty daunting to be a young catcher suck behind Brian McCann, Austin Romine, and Sanchez on the depth chart. Higashioka could have easily left and looked for a greater opportunity elsewhere, and no one would have blamed him. There's definitely some loyalty going both ways here, and that's not nothing.
2. He's always had some power. Although he's never shown quite this much power before, Higashioka has always had some pop in his bat. I mean, look:
Higashioka's offensive performance has been so good this season because he's hitting for a higher average and drawing more walks than ever before. The power has always been there though.
2009: .079 ISO in 247 PA with Short Season Staten Island
2010: .113 ISO in 359 PA with Low-A Charleston
2011: .136 ISO in 324 PA between Charleston and High-A Tampa
2012: .157 ISO in 164 PA between Tampa and Double-A Trenton
2013-14: .198 ISO in 109 PA around Tommy John surgery
2015: .117 ISO in 348 PA between Tampa and Triple-A Scranton
2016: .255 ISO in 326 PA between Trenton and Scranton
That's a really nice, steady progression from 2009-12 before the elbow injury and broken thumb threw a wrench into things. I know that .136 ISO in 2011 doesn't look impressive, but we're talking about a kid who was almost two years young for his level and playing the most demanding defensive position. Ten catchers have 200+ plate appearances in the High-A Florida State League this year and three have a .100+ ISO. Two have a .130+ ISO and both are older than Higashioka was in 2011. It's hard!
Furthermore, check out Higashioka's spray chart this season, via MLB Farm. This is Double-A and Triple-A combined, so it's everything. All his balls in play: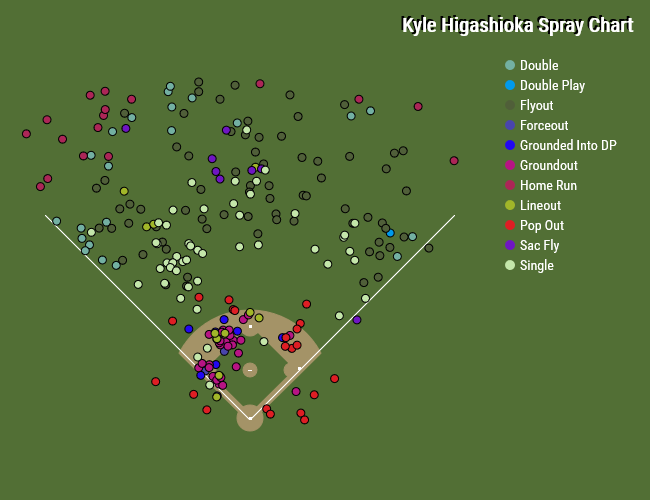 No one will confuse Higashioka for Alex Rodriguez when it comes to opposite field power, but a right-handed hitting catcher who can occasionally poke one out to right field is a nice little piece in Yankee Stadium. Higashioka's power was developing steadily before the Tommy John surgery complicated things. Now that he's healthy again, Higashioka is showing more power than ever before, and it's probably not a coincidence that it's happening right as he enters what figure to be his prime years.
3. He's a good defensive catcher. The scouting report on Higashioka has long said that he is an excellent defensive catcher, dating back to his draft year. Baseball America (subs. req'd) said he "receives the ball smoothly and is quiet behind the dish … he's consistently posting pop times in the 1.95-2.0-second range" during his draft year, which was a baseball lifetime ago. If nothing else, that tells us the defensive tools were there once upon a time.
The Tommy John surgery is significant. I know it's easy to overlook for a position player, but catchers are different because so much of their defensive value is tied up in their arms. From 2010-12, Higashioka threw out 36.3% of basestealers. Last year it was 25% and this year it's 30%. That's a pretty big drop that can be attributed to not just the elbow reconstruction, but moving to higher levels, where the baserunners are ostensibly better.
Catcher defense is difficult to measure as it is. It's damn near impossible in the minors. The folks at Baseball Prospectus whipped up some new catcher defense stats over the winter — I used them to look at Sanchez's defensive development — and they are, by far, the best information we have on minor league catcher defense. Data for 2016 rates Higashioka as 14.7 runs above-average defensively, seventh best among all catchers in baseball, majors and minors.
It goes without saying this data comes with a ton of caveats. It's one tool in the shed. That's all. Without seeing Higashioka catch every single day, it's pretty much impossible to evaluate him defensively. All we know is that he has a reputation for being a standout gloveman, and the latest numbers back that up. There's evidence this guy is an asset behind the dish, and that's huge. An outfielder or first baseman doing what Higashioka is doing this year probably isn't worth a second thought. But a catcher? That's different.
4. It's not uncommon for catchers to be late-bloomers. I have not seen any research on this, but anecdotally, it seems like catchers are late-bloomers moreso than any other position. By late-bloomer I don't necessarily mean someone who comes up for the first time at 25 or 26 or 27, but someone who doesn't stick in MLB for good until that age. Jorge Posada wasn't in MLB for good until he was 26, for example. Giovanny Soto won Rookie of the Year at 25. Carlos Ruiz, Ryan Hanigan, and Caleb Joseph didn't break in until they were 28. David Ross was 26 in his first full MLB season. The list goes on and on.
There's a few reasons for this. First and foremost, there is so much defensive responsibility at the catcher position that sometimes is takes players time to get it down. (It's also not uncommon for their bats to lag because they're so tied up in improving defensively.) There also seems to be some bias against young starting catchers. Unless you're talking about an elite catcher prospect like Buster Posey or Matt Wieters, teams usually don't throw these guys to wolves. They like to ease them into big league duties. Injuries can be a factor too, as they are in Higashioka's case.
Higashioka would not be the first nor the last catcher who broke into the big leagues closer to his 30th birthday than his 20th. Guys like Ruiz, Hanigan, Ross, and Soto show it's possible to break in late and still carve out a pretty long and successful career. Catcher is a highly valuable position, and if you can play it capably, teams won't care if you're a 27-year-old rookie. Sometimes it takes these guys time to develop and they don't hit their stride until, well, until they're Higashioka's age.
* * *
The Yankees have some very nice depth behind the plate right now thanks to Sanchez's development and Romine showing he's a passable backup. Higashioka's breakout season further adds to that depth and gives the Yankees another safety net in case they decide to do something like trade McCann or Romine this month or in the offseason. (Or even Sanchez in a blockbuster.) That assumes his breakout is for real, of course.
Higashioka will again be a minor league free agent this offseason, and given his monster offensive numbers and supposedly good defense, the odds are strongly in favor of him landing on someone's 40-man roster this winter. Young-ish catchers with those numbers and this kind of defensive reputation usually don't stay unemployed very long.
I think the Yankees should absolutely add Higashioka to the 40-man after the season. They can't let him go for nothing and quality catchers are so damn valuable that it's worth keeping him around to see if this breakout is for real. A year ago at this time Higashioka was pretty much off the radar, mostly due to injuries. Now he's suddenly someone who could factor into the team's short and long-term plans.