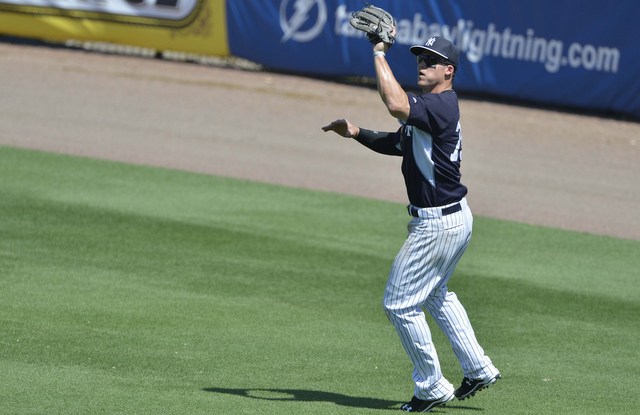 As recently as two years ago, Tyler Austin was so well-regarded that Keith Law (subs. req'd) placed him 85th on his annual top 100 prospects list, one spot ahead of current Orioles second baseman Jonathan Schoop. That was the last time Austin would appear on a top 100 list due to ongoing injuries and performance issues. His prospect stock cratered the last two years.
Austin, now 24, hit .263/.332/.390 (105 wRC+) with 17 homers in 806 total plate appearances from 2014-15, mostly at Double-A but also some Triple-A. He dealt with a bunch of injuries too, most notably wrist problems. Those numbers aren't that bad, but for a bat first prospect at a corner position, they're not nearly good enough to stay on the various prospect lists.
The injuries and lack of production led to Austin losing his 40-man roster spot last September. The Yankees designated him for assignment to clear space for other players and Austin slipped through waivers unclaimed. He went from a top 100 prospect prior to 2014 to unclaimed on waivers in September 2015. Austin didn't even get invited to big league Spring Training this year. That's quite a fall, one many players usually don't come back from.
"You never want to go backward in this game but I think it was a great learning experience for me," said Austin to Shane Hennigan back in June. "This game humbled me very fast and I found out the hard way. I'm going to try and not let anything like that happen again and continue to work hard and go from there."
With a healthy wrist and a chip on his shoulder after being passed over on waivers, Austin has rebuilt some prospect stock this year, first by mashing in Double-A and then continuing to do so in Triple-A. He put up a .260/.367/.395 (118 wRC+) line with the Thunder and went into last night's game hitting .316/.417/.649 (209 wRC+) with the RailRiders. Overall, Austin has hit .288/.392/.521 (161 wRC+) with 17 homers in 99 games. Those 17 homers are his most since hitting 17 during his breakout 2012 season.
The big bounceback season has put Austin back on the prospect map and apparently on the cusp of the big leagues as well. In recent days both Brian Cashman and Hal Steinbrenner mentioned Austin as a call-up candidate in the second half. When the owner mentions you by name in interviews, you're doing something right. I'm of the belief Austin should indeed get a look in the second half, and not just because his numbers are good. There are plenty of other good reasons as well.
1. He's a righty hitter with opposite field power. The old scouting reports on Austin said he had power to all fields and a level swing that made consistent hard contact. We didn't see that version of Austin from 2014-15 due to the wrist and other physical problems. This year, the good version of Austin has returned, and he's showing that all-fields power. Check out his 2016 spray chart, via MLB Farm: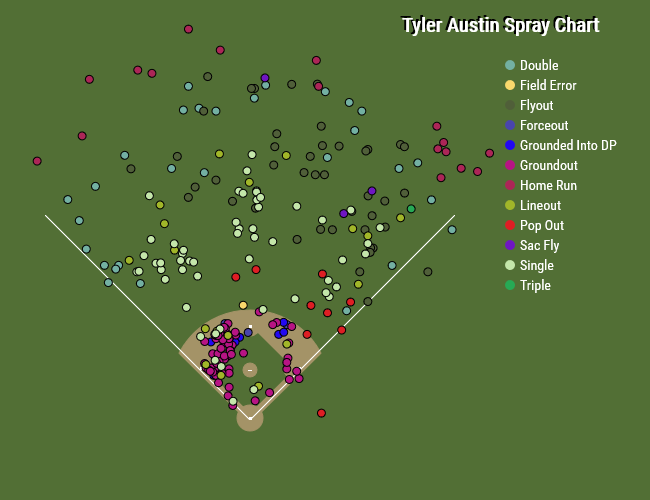 I count eight of Austin's 17 home runs going out to right field. Ten of his 29 doubles have been hit to the right field side of dead center as well. Needless to say, a right-handed hitter who can drive the ball with authority to right field is a damn good fit for Yankee Stadium. Austin has pull power as well, but that ability to go the other way is what made him a top 100 prospect back in the day. We've seen the oppo pop return in 2016.
2. He plays a position(s) of need. The Yankees originally drafted Austin out of a Georgia high school as a catcher back in the 13th round of the 2010 draft. He immediately moved to first base, then gave third base a try, then shifted to right field, and now he's back at first. Austin has moved around quite a bit over the years as the Yankees tried to find his best natural position. Turns out it's first base.
The Yankees have a long-term need at first base, and while everyone hopes Greg Bird fills that spot, this year's shoulder injury has thrown a wrench into things. At the very least, the Yankees figure to need a right-handed platoon partner for Bird next season, and that's a role Austin can fill. He could also be an option in the two corner outfield spots and an emergency option at third base. Austin offers a little versatility and is capable of playing first base, a position that is a question mark going forward until Bird shows he's healthy and productive.
3. This offseason is decision time. Back in November 2014, the Yankees added Austin to the 40-man roster to protect him from the Rule 5 Draft. They dropped him from the 40-man last September and he went unpicked in December's Rule 5 Draft, which was no surprise. No team bothered to claim him off waivers, when they could have acquired him for nothing and not put up with the Rule 5 Draft rules. Why would they then take him in the Rule 5 Draft?
This offseason Austin will not just be Rule 5 Draft eligible again. He's up for minor league free agency. And if he hits the open market, the smart money is on him joining an organization that gives him the best chance to break into the big leagues immediately. You could argue that team is the Yankees with Mark Teixeira likely to be let go and Bird coming back from shoulder surgery, but Austin may not see it that way.
The Yankees are going to have to decide whether to keep Austin by adding him to the 40-man roster — if he's put back on the 40-man, he can't become a minor league free agent — or likely lose him for nothing as a free agent. That's not ideal. Austin has two minor league option years left, so they could keep him and always send him back to Triple-A if there's a roster crunch. That's not a problem. Either way, it's decision time. Something has to happen.
* * *
It's important to keep in mind that while it's good to call a player up and get a look at him in the second half, it can be deceiving. Those 40-50 games are still a small sample size and they can play tricks on you. Luis Severino sure looked ready to take over as the staff ace following those eleven starts last season, right? Those 40-50 games are useful and they do help teams evaluate the player. They don't tell the entire story though. Hardly.
Austin's prospect stock took a huge hit the last two years, so much so that he went unclaimed on waivers. He's rebounded this season thanks mostly to good health, and if nothing else, he's put himself in position to be considered for a call-up. With Teixeira not hitting all year and a clear long-term need at first base, it would behoove the Yankees to call Austin up and get his feet wet at the MLB level down the stretch. His performance and those three reasons above are why it should happen.