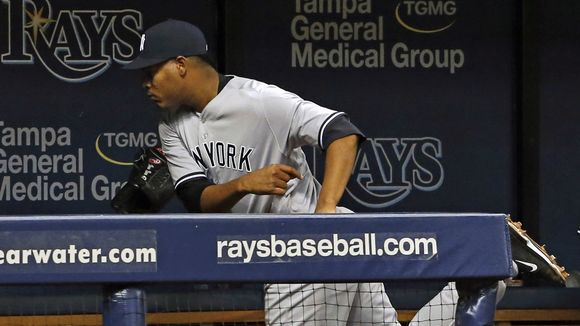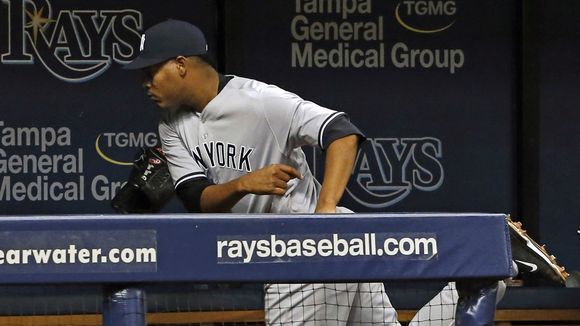 Loss for #Yankees, Win for #TeamSell
With this weekend's series against the Rays representing one final opportunity to convince the front office to keep the band together for a late-summer playoff push, the Yankees inched closer to declaring themselves sellers with another frustrating loss on Friday night.
All 10 of their hits were singles and they scored just one run in a 5-1 loss, going 1-for-9 with runners in scoring position. The the only other major-league team this season (through Friday) that had a game with double-digit hits, none for extra bases, and scored one or fewer runs was the Brewers in a 8-1 loss to the Phillies on June 5.
Ivan Nova — who had posted a 2.66 ERA in his previous four turns during a stellar month of July — was predictably horrendous in Tampa against the last-place Rays lineup, allowing five runs on six hits in 4 1/3 innings.
Tropicana Field has become a house of horrors for Nova. This was his first start at the dome since April 19, 2014, his final game before being diagnosed with a torn UCL that required Tommy John surgery. And he now owns a 7.03 ERA in seven appearances (six starts) at the ballpark, the highest among all active pitchers with at least two starts and 25 innings pitched there.
The Rays clobbered Nova, with five of the six hits he allowed going for extra bases. This continues a yearlong trend of tons of loud contact against Nova, who has given up an average exit velocity of 94.9 mph on line drives and fly balls, the second-highest mark in the majors (min. 100 batted balls).
Chad Green kept the Yankees within spitting distance as he relieved Nova in the fifth inning and went the distance, throwing 3 2/3 scoreless innings. It was his third straight relief appearance with more than two innings pitched and no runs allowed. Green is just the second Yankee pitcher in the last two decades to put together a streak like that; Ramiro Mendoza had a three-gamer in 2001 and a four-gamer 2002.
You can't spell 'Sell' without a couple 'L's'
Saturday's deflating 6-3 defeat gave the Yankees two losses in two games to the last-place Rays, providing another layer of evidence that this team is not fit for October and needs a re-boot.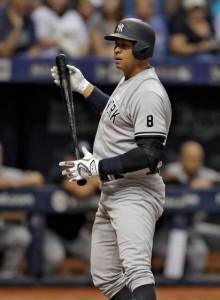 The Yankees got off to another rocky start as Nathan Eovaldi surrendered a first-inning home run to Brad Miller, the 20th homer allowed by Yankee pitchers in the opening frame this season; through Saturday's games, the only MLB teams that had allowed more first-inning dingers were the Twins and Royals, both with 22.
Eovaldi gave up a second homer to the Rays No. 9 hitter, catcher Curt Casali, giving him 21 homers allowed in 116 2/3 innings this year. That rate of 1.62 homers per nine innings is on pace to be the third-highest single-season mark by any Yankee qualifying pitcher, behind Phil Hughes (1.65 in 2012) and Terry Mulholland (1.79 in 1994).
Starting for the first time in a week, A-Rod did little to show management that he deserved more at-bats, going 0-for-4 with four strikeouts. It was the fourth game in his Yankee career that he came to the plate at least four times and struck out each time; only one other player in franchise history had four such games during their career: Mickey Mantle.
Drew Smyly, with a career strikeout rate of 24 percent (just a few ticks above the MLB average of 20 percent), is an unlikely candidate to be A-Rod's personal kryptonite. But these are the facts: He has struck out in nine of 12 plate appearances (including playoffs) against Smyly, his highest whiff rate versus any of the 600-plus pitchers he's faced more than five times in his 22-season career.
Just your average Yankees
On the same day the Yankees put the proverbial For Sale sign outside team headquarters in Tampa, they sunk deeper and deeper into the depths of mediocrity, losing to the Rays, 5-3.
They are now 52-52 this season, which includes a 44-44 record before the break, 8-8 after the break and a 13-13 mark in July. #TeamMediocre
It was their fifth time being swept this year, the same number they had in 2015 … with 58 games and two months remaining. And they've now scored no more than three runs in 55 of their 104 games, their highest total at this point in the season since 1972.
Michael Pineda once again delivered a maddeningly inconsistent performance, flashing dominance and looking strong at times (eight strikeouts), but ended up with disappointing results and a crooked final pitching line (five runs on six hits in six innings). It was his third game this season with at least eight punch outs and five earned runs allowed; no other American League pitcher has more than one such game.
Carlos Beltran put the Yankees on the board in the sixth inning with a two-run homer that sliced the Rays lead to 3-2. It was his his 22nd homer in 2016, matching Eddie Murray (1996) for the most by a switch-hitter in his age-39 season or older.